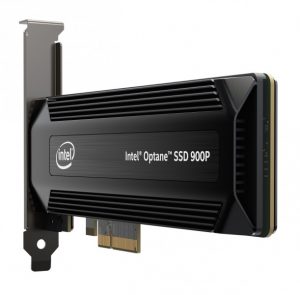 Intel has launched the Intel Optane SSD 900P Series, the first SSD for desktop PC and workstation users built on Intel Optane technology. The company in collaboration with Roberts Space Industries, announced the new SSD at CitizenCon, a Star Citizen community gathering in Frankfurt, Germany.
The Intel Optane SSD 900P Series delivers incredibly low latency and best-in-class random read and write performance at low queue depths – up to four times faster than competitive NAND-based SSDs, said the firm.
According to the vendor, with the new SSDs, users will unlock more potential from their platform. The Intel Optane SSD 900P Series is ideal for the most demanding storage workloads, including 3D rendering, complex simulations, fast game load times and more. Up to 22 times more endurance than other drives also gives the heaviest users peace of mind.
"The Intel Optane SSD 900P Series brings the workstation-class performance and industry-leading endurance of Intel Optane technology to a client SSD for the first time, and we know end users will find exciting ways to take advantage of the drive to do great things," said Bill Leszinske, Intel vice president, Non-Volatile Memory Solutions Group, and director of strategic planning, marketing and business development. "We are eager to see the possibilities unlocked by software developers, like Roberts Space Industries with Star Citizen, and the SSD to offer users new ways to use larger data sets and more complex workloads to do more."
"The Intel Octane SSD 900P Series is amazingly fast, easily the fastest drive I have ever used," said Chris Roberts, chairman and CEO, Cloud Imperium Games and Roberts Space Industries. "Our Star Engine developers have been working on technology to improve loading times using new techniques developed for Star Citizen and optimised for the Intel Optane SSD 900P Series, which is the fastest SSD we've tested. We continue to enhance Star Citizen so the performance benefits with Intel Optane drives will continue to grow, alongside Star Citizen, into the future."
The Intel Octane SSD 900P Series is available through local online retail outlets worldwide. Earlier in the year, Intel unveiled new Xeon chips to boost data centre business.