Travel website Musafir.com has signed a new regional GCC agreement with Amadeus, to further enhance its e-commerce offering.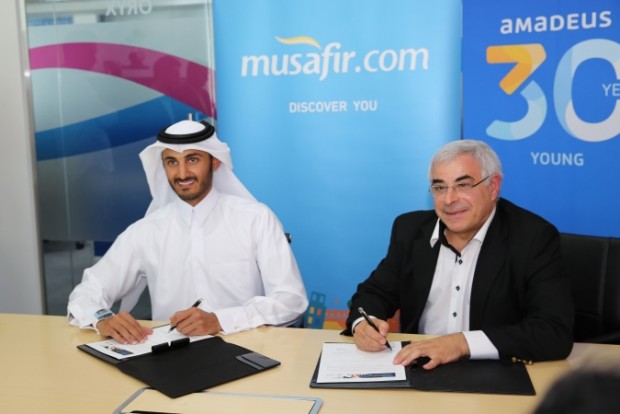 The agreement will see Amadeus provide the company with its business intelligence technologies and access to global travel content through the Amadeus system, for the benefit of Musafir.com's customers across the GCC region.
The company's website will be powered with Amadeus' latest advanced solutions to make the booking experience more efficient and convenient.
The announcement marks the latest milestone in Musafir.com's regional growth journey, following the recent launch of its online websites across the region and previous collaboration agreements with global partners including VISA, Singapore Tourism Board, Jordan Tourism Board, and leading banks in the region.
Sheikh Mohammed bin Abdullah Al Thani, chairman of the Department of Statistics and Community Development and co-founder of Musafir.com, believes the company is well-positioned to lead the online travel sector in the Emirates and beyond. "Forming strategic agreement with global industry leaders such as Amadeus, allows us to access premium travel products and further boost our technological progressions, which is something that matters most to our customers and partners," he said. "We are therefore delighted to be partnering with Amadeus who will lend us their extensive expertise, consultancy and fuel our future growth."
The agreement comes at a time when the online travel industry in the UAE is witnessing some of its biggest growth to date. According to a recent report by Amadeus and PhoCusWright, online travel bookings are expected to generate $12 billion in sales in 2017, up from $7 billion in 2014.
"Online travel agencies continue to grow steadily in the region as there is a clear shift in booking patterns, however this is only the beginning," said Antoine Medawar, vice president, Amadeus MENA. "Amadeus has invested in delivering innovative solutions that enable our partners to thrive in this industry with new business models and technology. In addition to delivering our products, we also bring in our expertise through consulting to optimise the online travel purchasing experience for our partners. We are excited to expand our agreement with Musafir.com and to continue working together to power pioneering travel experiences."