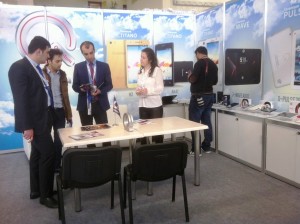 UAE-based smartphone and tablet manufacturer, Quantum Global participated at the 21st Azerbaijan international telecommunications and information technologies exhibition, BakuTel 2015.
Under the mobility segment, Quantum Global displayed the main trends for 2015 including 4G and Octa-Core smartphones, dual-operating system tablets and Intel processor tablets. Quantum has announced that it has embarked on a partner recruitment drive, as part of the company's broader plan to extend its geographical and business reach in the Middle East, Africa (MEA) and CIS. The move to appoint channel partners and distributors, follows the company's recent participation at BakuTel Exhibition and Conference 2015 in Azerbaijan, where it met with potential partners that serve the IT and telecoms sector in that country. The company said it is impressed with the impact its products have had this year in the Middle East market especially after launching its Titano smartphone array.
The company's Marketing Manager, Faraz Ali Khan said, "We are delighted to see that the brand is gaining traction in Eastern Europe. Our participation at BakuTel Exhibition and Conference 2015 in Azerbaijan was an eye-opener. The appointment of partners will help Quantum to broaden its reach in MEA as well as the CIS market and contribute to developing the channel in this geography."
Khan added that the company is also in the process of qualifying rolling out the QASP partners who will help the company to provide comprehensive after-sales support. He added, "Quantum wants to have partners that are well-trained and capable of providing post-sales service for all the products that will be sold in Azerbaijan. The process of recruiting partners has already started and we are discussing modalities of how partners will work with us. We are hoping to conclude deals in the first quarter of 2016."
The latest partner recruitment drive has seen the brand appoint distribution partners in East and West Africa. Earlier in the year, the company has also partnered with India-based Beltron Green Energy Telecom in a joint venture, which has resulted in delivering IT products and solutions to the Government of Bihar State.