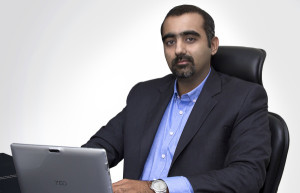 Deepak Bhatia, Sales Director, iLife, gives an overview of the market and discusses regional channel expansion plans for 2016.
Can you give us a brief overview of the devices market in the Middle East?
According to a report by IDC, the Middle East and Africa tablet market – which includes 2-in-1 devices – posted flat growth of 0.3 percent year-on-year in Q2 2015, according to the latest figures.
The Middle East and Africa tablet market – which includes 2-in-1 devices – posted flat growth of 0.3 percent year-on-year in Q2 2015, according to the report.
A total of 4.05 million units were shipped in Q2 2015, with tablets growing 0.1 percent YoY to total 4 million units. The 2-in-1 market grew 17.6 percent over the same period to make up the remaining 50,000 units. For the first half of the year, the overall market shrunk 3.2 percent YoY, which compares unfavourably to the 59.6 percent YoY growth recorded in the corresponding period of 2014.
The tablet market, which is nearing saturation point in many countries, is being cannibalised by the emergence of smartphones boasting large screen sizes. The market share of large-screen smartphones is increasing and 2-in-1 devices have shown positive growth.
The IDC report also highlighted that the growth of Windows will be spurred by greater adoption of tablets and 2-in-1 devices in the commercial segment. We also expect the share of 2-in-1 devices in this market to grow from around 1.2 percent currently to 3.3 percent by the end of 2016. The education sector will be pivotal to the growth of this form factor. We are seeing a steady increase in the adoption of 2-in-1 devices in this sector, primarily as a result of government-driven initiatives.
i-Life is one of the few tablet vendors that continues to grow in a declining market. Our wide range of products are popular in a growing number of regions and it is a brand that performs well in the adjacent smartphone and 2-in-1 category.
Smartphone shipments are set to total 155 million units in 2015 after increasing 66 percent YoY during the first quarter to reach more than 36 million units. Smartphones accounted for 63 percent of the handsets shipped in the Middle East during the quarter and 47 percent in Africa.
What have been some highlights over the last few months at i-Life?
i-Life Kids Tablet WiFi which was launched beginning of 2014 has been one of the most successful products in the Middle East in the tablet category.
Recently we have launched the advanced version of Kids Tablet which comes with 3G calling, SOS function, child tracking and complete parental control.
Also, we have launched the new ZED BOOK 10.1 inch which is an all-in-one device that can be used as a tablet, notebook and smartphone.
The ZED BOOK comes loaded with Dual Operating system that supports Android, Windows and supports 3G Phone calling.
What are some of the competitive advantages of i-Life's products?
i-Life is serious about product design, a rarity in the mobility business. All our products – including tooling – are designed in-house, from the ground up. These factors are key in ensuring that every i-Life product is consistent in terms of utmost quality, reasonably priced and unique.
We are known for developing unique lifestyle products such as Kids Tablet, smartphones, ZED BOOK, and other smart devices.
How do you plan to expand into the regional market?
i-Life is a well-established brand in the UAE, GCC, Egypt, Jordan, Palestine, Iraq and CIS markets.
In 2016, we plan to increase our focus in emerging markets such as Africa, Nepal, Bangladesh and Sri Lanka.
Can you elaborate on your channel plans for the next quarter?
Our channel programme further reinforces our commitment to an exclusively indirect sales model, and give our channel partners even more ways to succeed while delivering superior customer satisfaction.
Our recently launched channel programme called 'LIFE' was expanded to handle a greater number of qualified resellers, and was extended to the online channel. In regards to the remaining aspects of the programme, every authorised reseller within the programme will still be able to have increased support and engagement from the i-Life local representative and product marketing teams.