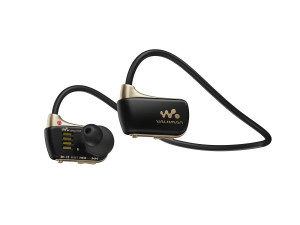 Sony's new headsets offer great value for money.
Available in 4GB or 8GB of capacity, the NWZ-W273 comes with space for 1000-2000 songs. Coming in black, white, pink and blue, Sony has tried to keep the look of previous W-Series MP3 players, using compact earpieces with a single connecting flexible rubber neckband.
Sony has designed the headset as a sealed unit, with no mini or micro USB ports, shipping with a specialised charging cable that doubles a dock for the headset.
Fortunately for Sony, its design team have done a better job than the branders who came up with the NWZ-W273's clunky and hard-to-remember name.
The first thing that strikes you with the NWZ-W273 is its tidy fit. When first worn, it fits tightly in your ears and is easy on the eye.
Before users even get on the move they can benefit from a fantastic feature. Sony have included the ability to charge the earphones for just three minutes for an hour of use; ideal for those in a hurry. Eight hours is its maximum battery life.
Users can also find their music on the run, by holding down the play button for two seconds to activate the ZAPPIN feature, and scan the chorus of most used workout songs to easily match exercise intensity.
Unfortunately, although the NWZ-W273 is certainly a solid piece of gear when used on land – fitting well and offering decent audio quality – the same cannot be said for its use in water.
Sony designed the NWZ-W273 to be waterproof up to a depth of two metres.
Be it upthrust or unorthodox swimming technique – or more likely a design flaw – the sound quality is virtually inaudible once the device is dragged underwater.
That being said, if the earphones are very tightly fitted then they still serve a purpose, though this does require some effort.
Sadly, this renders Sony's depth pledge redundant; more of a reluctant reptile than a graceful seahorse.
In spite of the NWZ-W273 failing its remit of fully functioning underwater, it is a good quality set of sports earphones that provide decent value for money at $99.
For any runners/cyclists/other athletes that are looking for robust audio quality in a neat package, these are well worth forking out for.