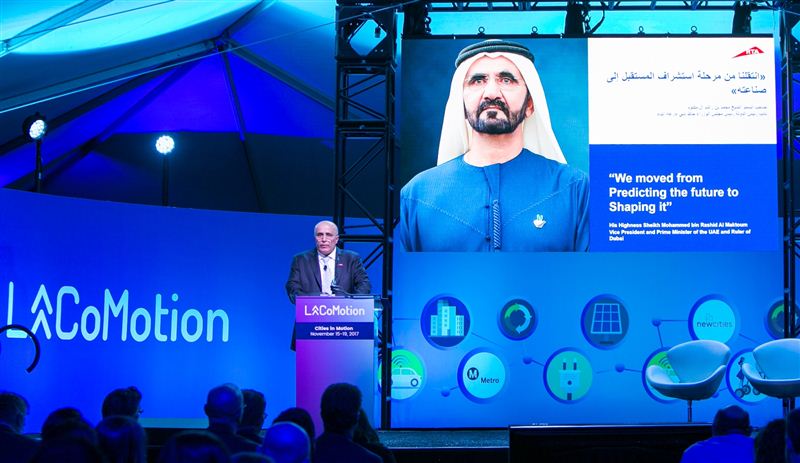 The RTA has launched its Dubai World Challenge initiative that aims to tackle some of the biggest challenges around urban transport through self-driving vehicles.
The Dubai World Challenge is an international competition aimed at encouraging industries of autonomous mobility to solve existing problems such as traffic congestion, low public transport ridership, "first and last mile" challenges, and broadening the scope of self-driving transportation.
The Dubai World Challenge covers three main categories: transporting people and goods, and innovation.
The RTA was among the participants in LA CoMotion Congress; one of the biggest global platforms dedicated to the future of mobility held in Los Angeles aimed at bringing a radical change in urban mobility technology and developing technology-driven solutions for urban mobility issues.
HE Mattar Al Tayer, Director-General and chairman of the board of executive directors of the RTA, also met with Tesla CEO Elon Musk, and discussed developments related to the 200 vehicles purchased by the RTA from Tesla and operated as part of Dubai Taxi fleet to serve the Dubai International Airport.
During his participation in the main session of the Congress, Al Tayer, said, "The Dubai World Challenge for Self-Driving Transport promises to be the largest global platform for businesses and R&D centres to undertake scenarios and applications of this technology on Dubai roads. We have identified five transit means, global trends and emerging technologies, namely: self-driving transport, emerging transport modes – such as the Hyperloop and air taxi – shared mobility in several cities including transport on demand, and smart enablers assisting in the deployment of future modes. The sustainable transportation, such as electric/hybrid vehicles and hydrogen-powered vehicles, is also part of future trends."
Al Tayer went on to discuss the main hurdles that the emirate's transportation industry faces. "The future of transportation faces several challenges such as customising transport modes to different conditions and environments, identifying funding and providing affordable prices, and techniques of migrating from conventional transit modes to the new modes," he said. "To overcome these challenges, coordination and joint action between public and private sectors should be stepped up. Such a transition requires conducting sound research on new technologies and modes, carrying out suitable and sufficient trials, completing all tests and obtaining government accreditation before introducing these new modes and technologies."
He also highlighted the RTA's plans to enhance the technology around the emirate's tram service. "The second phase of the Dubai Tram features trials of fully self-driving trams as well as self-driving vehicles and minibuses. The RTA will also explore providing self-driving BRT, and implementing first and last mile coverage initiatives in partnership with the private sector."
"This MoU enhances RTA's benefit from futuristic elements related to mobility directly & indirectly, connects the RTA with organisations & entities responsible & conducting futuristic studies, and shares knowledge related to the future of mobility worldwide," said Al Tayer.
The RTA signed an MoU with NewCities at the event; an organisation comprising a global network of public and private sector leaders as well as the future of urban mobility technology innovators.
Al Tayer signed the MoU on behalf of the RTA, and John Rossant Chairman of NewCities signed on behalf of NewCities.
The MoU calls for more cooperation between the RTA and NewCities on future mobility studies, initiatives and projects in Dubai, providing information that helps the RTA carry out agreed studies or projects and exchanging information about the future of transport in cities.