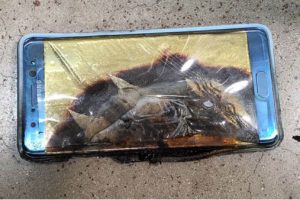 Samsung has announced it will refurbish and sell some of its Note 7 smartphones, in a drive to manage its stockpile of the recalled devices in an "environmentally friendly" manner.
The move comes following consultations with regulators in various markets.
Over 4 million devices were recalled in September after thousands of them around the world burst into flames. Airlines and public transportation systems around have the world went on to ban their usage.
The casing of the original battery was too small, causing it to short-circuit and ignite. It was replaced with a battery that had a different manufacturing defect but led to the same result.
The recalled phones could pose an environmental hazard if handled as waste.
A Samsung statement said that the devices would be "recycled and processed in an environmentally friendly manner" with any salvageable components detached for reuse and metals extracted by specialist recycling companies.
"Regarding the Galaxy Note 7 devices as refurbished phones or rental phones, applicability is dependent upon consultations with regulatory authorities and carriers as well as due consideration of local demand," a Samsung statement said. "The markets and release dates will be determined accordingly."