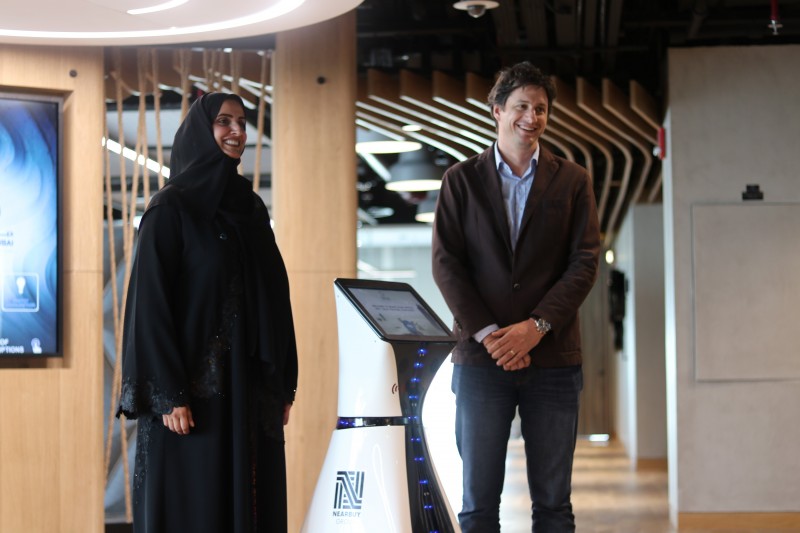 The Smart Dubai Office has partnered with regional technology business solutions provider Nearbuy to host a trial of the first robot receptionist in the Middle East.
Farah, which stands 1.50 metres tall, started work today at the Smart Dubai Office headquarters in the Dubai Design District.
It features a touch-screen panel where visitors to the office can check in, automatically alerting the employee they are meeting of their arrival. The robot receptionist will then escort the guest to the meeting room, allowing them to settle in while waiting for their host to join them.
Farah, which means happiness in Arabic, was named following an internal competition conducted at Smart Dubai. It will be subject to a probation period of three months, like a human employee.
Her Excellency Dr Aisha Bint Butti Bin Bishr, Director General of the Smart Dubai Office, welcomed the organisation's new robot receptionist, "Smart Dubai is delighted to host this ground-breaking experiment in artificial intelligence – the first of its kind in the region – at our offices. Our objective is not to replace humans with robots, rather to understand where we can automate some repetitive administrative functions to allow us to invest in and create new types of sustainable employment opportunities for talented people."
According to HE Dr Aisha, Farah has not replaced any of Smart Dubai's team members as they already had a touchscreen reception facility. "It is our hope that this three-month experiment will give us some great insights into the potential uses of applied artificial intelligence in our quest to make Dubai a world-leading smart city. We are also looking forward to sharing the insights with other partner government entities as we additionally seek to maximise the use of new technologies in the public sector."
Farah has been integrated with sophisticated programming that makes it capable of performing a range of other duties relevant to the traditional receptionist role, according to Smart Dubai. This includes taking guests' orders for tea, coffee and other beverages, which it can then transmit to the office pantry for fulfilment, as well as security screening and taking payment orders where needed.
Nicolas Standeart, CEO and founder, Nearbuy, which owns Farah, said, "As well as adding some fun to the workplace, robots are already providing invaluable, reliable and cost-effective business support to a number of companies globally. As a UAE home-grown company that is pioneering tech-based business solutions internationally, we are delighted to be partnering with Smart Dubai to experiment with workplace-based artificial intelligence in this exciting city we intentionally chose as a home base for our global business. We have no doubt that the insights gained will go on to benefit many organisations in the region and further afield."
Dubai government firms, in a bid to further its initiatives in keeping up with the Fourth Industrial Revolution, has been actively adopting and implementing disruptive technologies such as AI and Robotics. Earlier this month, DEWA has announced the recruitment of five robots as staff at its Customer Happiness Centres.
In addition, in May this year, Dubai Police introduced the 'world's first' operational robot policeman, which harnesses IoT, AI and the latest smart technologies, can use its facial recognition software to help police officers identify and catch offenders, as well as broadcast live video feeds.
Gartner estimates that by 2025, one-third of jobs will be replaced by robots and smart machines, and that prediction will inspire both feelings of excitement and trepidation in different sectors of the working population.