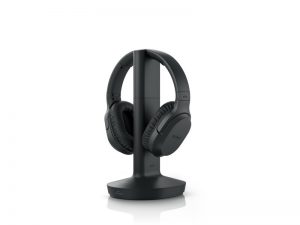 Sony Middle East and Africa (MEA) has launched the Sony MDR-RF895RK Wireless Home Headphones in the UAE. Powered by Noise Reduction Technology, the MDR-RF895RK offers decent sound quality and wireless connection to customers' home entertainment.
The headphones can connect with the wireless transmitter to the TV or Hi-Fi equipment with the included cable. According to the company, it emits a high-quality digital audio signal for a wireless connection to the headphones, and doubles up as a charging station when they need a top-up.
The MDR-RF895RK is easy to connect from the transmitter dock to the TV with the supplied cable, and allows the user to sit back and relax as the headphones sync to the dock. The firm said the headset is also easy to charge by simply placing it back on the receiver cradle.
The device permits movement within a range of 100 metres and the enhanced range from the transmitter dock lets the user move from room to room without losing an audio connection. A long battery life of up to 20 hours also means the user can enjoy the longest binge-watch or movie marathon before having to replace them on the cradle to recharge, said the company.
The MDR-RF895RK is packed with 40mm drivers powering the audio, delivering sounds with clarity and precision. "Offering uncompromised sound quality when connected to televisions", the wireless headset's noise reduction system helps users block out distractions and other interference.
The device also has a Voice Mode command that provides clearer dialogue for shows and movies.
 The wireless headset is designed for long-listening sessions, thanks to the cushioned and comfortable ear-pads that perfectly fit around the ears. The ear-pad's twist and tilt feature allows the headset to be adjusted and used even by those with smaller ears.
The MDR-RF895RK is available in the UAE at the Sony boutique store at The Dubai Mall as well as other retailers for AED399.