The UAE's infrastructure ministry said it had adopted artificial intelligence (AI) technology to optimise its resources on numerous local road developments.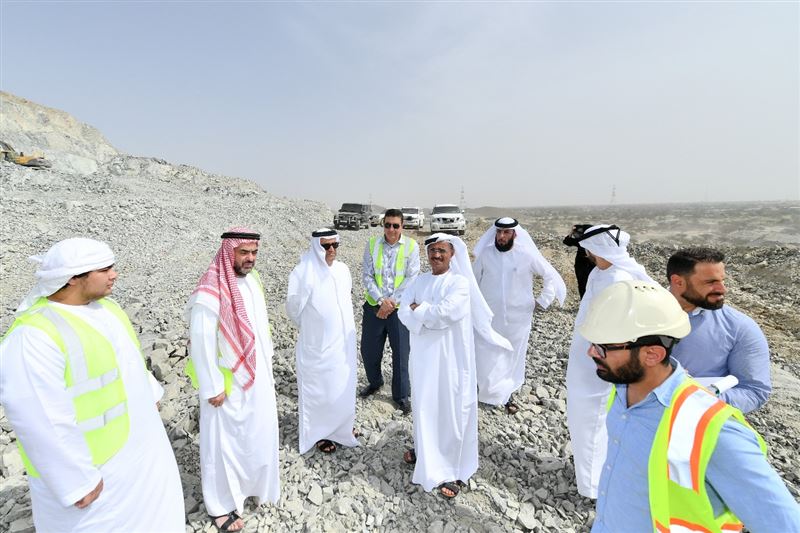 Dr. Eng. Abdullah Belhaif AlNuaimi, minister, Infrastructure Development, along with Omar Bin Sultan Al Olama, Minister of State for Artificial Intelligence, highlighted the ministry's application of AI technology in the federal roads projects during their field tour to the Kalba Ring Road development project.
According to the Dubai Media Office, the new project is expected to contribute to a reduction of 54 percent in project duration, 37 percent in fuel consumption, 80 percent in manpower dependence and 40 percent in equipment and manpower needed.
AlNiaimi emphasised that the Ministry of Infrastructure Development is working on applying the latest technologies of infrastructure development according to the highest standards while renovating its roads construction standards.
Accordingly, a number of projects enabled by AI have been developed in cooperation with the private sector, which is in line with the UAE's vision and its strategy of AI that was recently announced.
UAE minister then said that automating equipment contributes to supporting the sustainability and environment system, which is considered a main pivot of the ministry's strategy, in terms of reducing fuel consumption by 63 percent, emitted toxic gases, projects waste, preventing workers' exposure to work environment hazards and maintaining occupational safety.
"UAE strategy for Artificial Intelligence is a key driver for transforming the UAE into a world-leader in innovation and leading global indicators by 2021," said AlNuaimi. "Technology is certainly an essential component for supporting the rapid growth of the Ministry of Infrastructure Development projects and initiatives, achieving global leadership in the field of infrastructure, maintaining the country's accomplishments in leading the global competitiveness index in roads quality for four consecutive years, and ranking fourth in the infrastructure quality index."
AlNuaimi announced that the launch of the second phase of the road project connecting Sheikh Khalifa Street in Fujairah with the Khatm Melaha Customs Center and the E99 Road (Kalba Ring Road), which is approximately 7 km long. Expected to be completed during the third quarter of next year 2019, the cost of the road project will reach around AED 60 million.
UAE AI minister Al Olama, said, "We are keen on cooperating and coordinating with all ministries and institutions to implement various applications of AI. We have a huge and sophisticated package of such programs and initiatives that will interpret the country's strategy for AI. The futuristic vision of our wise leaders emphasizes the leading role of our country in this field, as we have the capabilities, resources, legislation and infrastructure to qualify for such a status."
He noted that the UAE adoption of AI starts in the infrastructure sector as the data inputs are clear and direct and the impact of this technology will be quick and apparent. "The application of artificial intelligence will have a positive impact on safety in this sector and will reduce cost in a very drastic matter, with an increase in efficiency and a reduction in labour used by 80 percent."