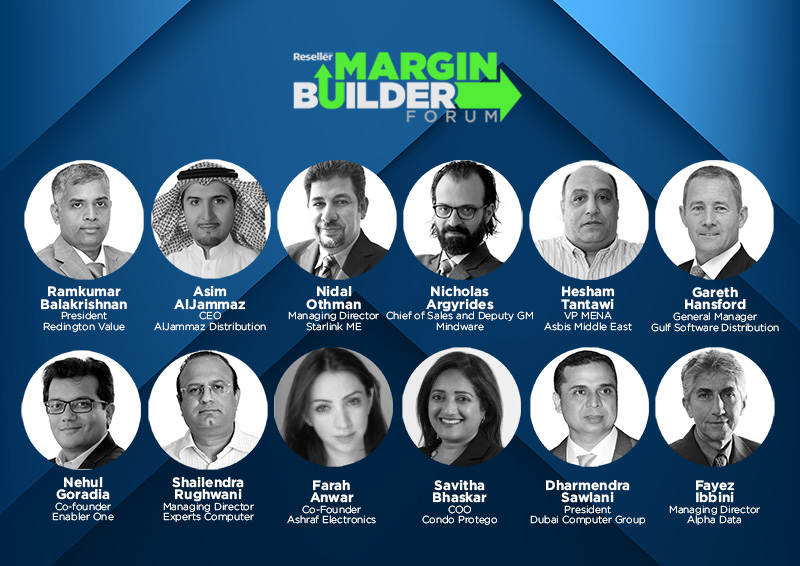 An impressive speaker line-up will examine key challenges and growth strategies for partner businesses at Reseller Middle East's inaugural Margin Builder Forum on 8th May 2018. 
The channel industry is pivotal to the growth of global vendors as regional partners own customer relationships. However, channel businesses continue to face old and new challenges hampering profitability and growth.
Inspecting these challenges, Reseller Middle East's inaugural Margin Builder Forum, scheduled to take place on 8th May 2018 at Emirates Tower, is an educational event that sheds light on how partner businesses can grow profitably. The conference will explore how today's channel businesses can address the most pressing challenges in the industry, from effective management of cash flows to evolving their operations to offer comprehensive solutions built on emerging trends and technologies. It is a unique platform designed to be all-inclusive and enlightening for the channel community.
The half-day event will feature panel discussions and keynote addresses from industry stalwarts.
Ramkumar Balakrishnan, president, Redington Value will kick start the forum by presenting an insightful keynote address on how channel businesses can enhance profitability. Sustaining profitability is the single most important aspect for partners today.
With years of experience in the channel business under his belt, Balakrishnan will share insights that partners can implement and learn from.
Among the highlights of the forum is the panel discussion on, 'How to increase profit margins,' which will explore effective ways for partners to grow their margins. Industry veterans Fayez Ibbini, MD, Alpha Data; Shailendra Rughwani, MD, Experts Computer; Nehul Goradia, co-founder, Enabler One and Gareth Hansford, GM, Gulf Software Distribution will delve into how partners can differentiate their offerings, maintain cash flow and broaden their revenue opportunities.
Besides declining margins, regional channel partners continue to battle with a number of other challenges that hinders their daily operations.
In the panel discussion 'Combatting challenges in the channel', Hesham Tantawi, VP MENA, Asbis Middle East; Dharmendra Sawlani, president, Dubai Computer Group and Sohrab Saeed, VP group credit, ENBD along with other experts will deliberate on how partners can overcome pertinent issues such as evolving their businesses to the digital age, credit issues, understanding implementation of VAT, counterfeit goods and other market challenges.
The conference will conclude with a thought-provoking dialogue on the future of IT channel. Speakers from topline regional distributors such as Ramkumar Balakrishnan, president, Redington Value; Nidal Othman, MD, StarLink; Nicholas Argyrides, chief of sales and deputy GM, Mindware and Asim AlJammaz, CEO, AlJammaz Distribution will exchange insights on how the industry will evolve over the next few years and what will drive that change. The session will examine the factors that will dictate the success of regional channel businesses and discuss measures that need to be undertaken by partners to transform their operations today.
Register today to exchange inspiring and practical ideas with industry experts and to learn strategies to transform your channel business.