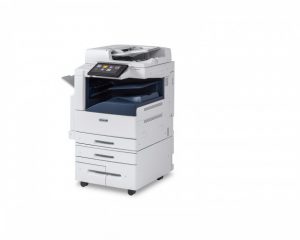 Xerox has introduced two new product series – the Xerox AltaLink C8000 and B8000 – as a part of the firm's ConnectKey portfolio that launched earlier this year. According to the company, its ConnectKey technology transforms traditional printing devices into smart, connected workplace assistants that reflect the evolving needs of today's businesses.
The AltaLink product family serves large work groups and busy offices by delivering new levels of simple and secure on-the-go capabilities that allow employees to complete their work quickly and efficiently from anywhere.
The Xerox AltaLink C8000 series features scan speeds of up to 80 ppm simplex and 139 duplex and fast, reliable printing at up to 1200 x 2400 dpi. Customers can choose from 30/35/45/50/70 ppm. The Xerox AltaLink B8000 series has scan speeds of up to 140 ipm simplex and up to 200 ipm duplex. Customers have the option to choose from 45/55/65/75/90 ppm.
Both the series feature a tablet-like touch screen interface that can be personalised for different work environments or users. They offer built-in apps on the Xerox App Gallery that can help organisations create workflows tailored to their needs.
The AltaLink family has comprehensive safety features that address and secure points of vulnerability. It keeps confidential communications and information safe, audits device access attempts and protects both data and device from malicious intent.
AltaLink multifunction printers have advanced built-in solutions using McAfee whitelisting technology which constantly monitors for and automatically prevents any malicious malware from running.
The Xerox AltaLink C8000 and B8000 are available immediately.