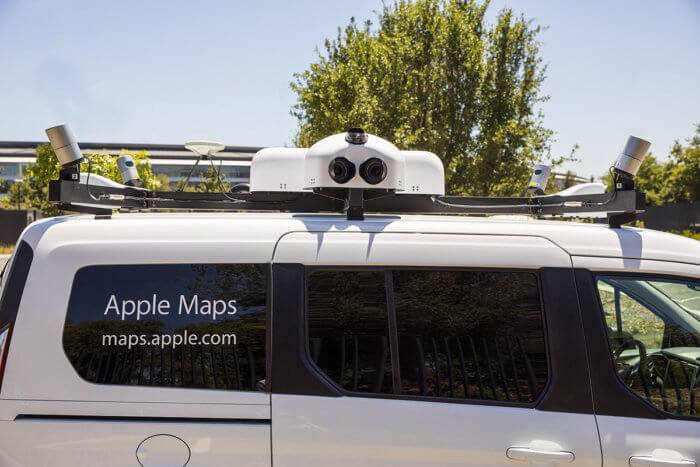 During WWDC earlier this month, there was one app that was conspicuously missing from the iOS 12 demo: Maps. Instead of adding AR directions or AI-powered restaurant recommendations, Apple is tackling the biggest problem with Maps: the maps themselves.
A new report by TechCrunch's Matthew Panzarino outlines Apple's major undertaking to replace the array of third-party navigation data in Maps with first-party data collected by cars and users. Panzarino got to ride in one of Apple's mapping cars and spoke to senior vice president Eddie Cue at length about the new project, which is years in the making.
In short, Apple is mapping the world's streets, buildings, parks, and playgrounds from the ground up to challenge Google's stronghold. And the first results will arrive sooner rather than later. Panzarino says Maps' new maps will launch in San Francisco and the Bay Area with the next iOS 12 beta and will cover Northern California by autumn.
Maps is probably both the most used and most reviled app in Apple's catalogue. While the six-year-old navigation app has certainly improved from its melting-bridge beginnings, no matter where you're going, Maps pales in comparison to Google and even Waze, and this change will hopefully improve things. There's still the issue of search and Siri, of course, but for now, we'll take what we can get.
The new three-point maps remake start at the ground level, literally. You might remember reading about Apple cars popping up in various cities around the world. Whether these cars have any ties to Apple's autonomous Project Titan initiative remains to be seen, but their main purpose is to collect precise navigation data and deliver it back to Apple.
Apple has outfitted a fleet of fans with cameras and GPS to capture navigational data.
But while the mapping cars might look funny on the road, Apple's navigation fleet is no joke.
"In addition to a beefed-up GPS rig on the roof, four LiDAR arrays mounted at the corners and 8 cameras shooting overlapping high-resolution images—there's also the standard physical measuring tool attached to a rear wheel that allows for precise tracking of distance and image capture," Panzarino wrote. "In the rear there is a surprising lack of bulky equipment. Instead, it's a straightforward Mac Pro bolted to the floor, attached to an array of solid state drives for storage. A single USB cable routes up to the dashboard where the actual mapping capture software runs on an iPad."
From there, the maps are delivered to Apple's data centre, where "a suite of software eliminates private information like faces, license plates and other info from the images." In fact, Apple's engineers never even see the pre-scrubbed images, so any personal data that is captured won't be seen by human eyes.
That's just one of the layers of privacy protection Apple has imposed on its new Maps project. The rest concern your driving data, which Apple is using to fill in the gaps and keep maps as up-to-date as possible. However, this "probe data," as Apple calls it, is randomised and anonymised "with no way to tie it to a specific user or even any given trip," as Panzarino explains.
And finally, Apple is also using high-resolution satellite data "to better determine foliage, pathways, sports facilities, building shapes and pathways." When synchronised with the car and user data, Apple can create maps that are far more accurate and reliable than the ones on your phone right now.
Apple expects to roll out its new maps over the next year, and it's possible users won't even notice. Apple isn't rolling out a redesign to Maps anytime soon it's merely replacing the data inside it with richer, more detailed views. As Cue said, it's about taking Maps to "the next level."
Apple has even reconstructed replicas of hundreds of actual road signs and licensed subway system fonts to ensure the digital representation of the world is as close to the real one as possible. That's a far cry from the patchwork we have now that pulls data from TomTom, OpenStreetMap, and others to generate a map.
The new maps in Apple Maps will be far more detailed than the current version.
"We have been working on trying to create what we hope is going to be the best map app in the world, taking it to the next step," said Cue. "That is building all of our own map data from the ground up."