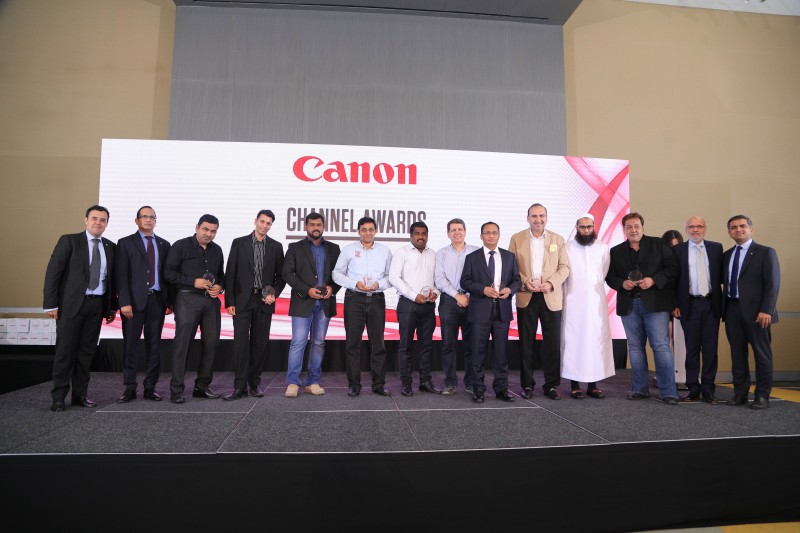 Canon Middle East has awarded eight partners during the 9th annual Canon Middle East Channel Awards. The awards ceremony, which is a platform to celebrate business performance and innovative selling practices, saw over 100 key IT distributors showcasing their best solutions and practices among their peers, said the firm.
As part of Canon's constant engagement with and support towards channel partners, the aim of the awards is to equip partners for success and enable them to become leaders in the industry. Canon has created a clear roadmap for partners that supports growth, and recognises and rewards achievement, and provides visibility to measure earned success.
The winners were categorised according to best sales practices during the past year across Canon's innovative products. Six channel partners received the 'Best Performance' award across the B2C and B2B units, including Tina Technology, Earth Gate Trading, Blue Bell Computers, Al Noorie Computers, and Era Computers. Two channel partners received the 'Long Term Strategic Partner' award, including Accent Office Supplies and Humaid Buajeel Computer Trading LLC. The 'Overall Performance Award' went to Copier International Trading.
"Canon is fully committed to supporting our channel partners, to ensure that our end-users can purchase with utmost confidence that they are obtaining the best products which translate their visions into reality, backed by a matchless sales and support experience from our business partners. It is important that we constantly help develop our channel partners, to ensure that our innovative solutions enable our customers to transform effectively," said Venkatasubramanian Hariharan, B2C business unit director, Canon Middle East.
"Through these awards, we are building a platform to strengthen our relationship with our partners and celebrate quality performance. Our aim is to provide our partners with the tools required to meet customer needs and flourish as a business. Our channel partners are integral for Canon's growth in the region, and with the evolving technology landscape, we are committed to helping them adapt to these market changes and the growth in consumer demands. Canon's channel partners are armed with long-term and proven ability to deliver sales and service of Canon products," said Shadi Bakhour, B2B business unit director, Canon Middle East.
Held in Dubai, the event also showcased Canon's latest innovative products in Laser and Inkjet hardware. Canon also announced a strategic partnership with Trigon, a reputable IT distributor in the region. Appointed as Canon's tier-1 partner in the UAE, the partnership will focus on system integrator and value-added reseller channels, SMEs, and corporates across the B2B and B2C focus areas.