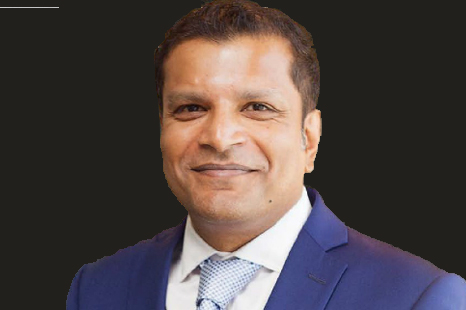 With thousands of global clients dependent on its market data, Thomson Reuters needs powerful IT infrastructure to translate information and data into game-changing numbers. Gop Menon, chief financial officer for the firm's Middle East and North Africa region, discusses the tech initiatives underway in the region.
Gop Menon recalls a moment that perfectly sums up the mercurial nature of his industry. "I was at a conference in 2008, shortly after the Financial Crisis had begun," he says. "Staff across industries around the world were being cut, but I seemed to the only person saying we were recruiting. I guess you could say bad news all round equalled good news for us."
Menon now sits as CFO of Thomson Reuters Middle East and North Africa, and the firm is making technology one of its top priorities to expand its regional reach. Over 350 staff sit in the Dubai office today, while 700 people work across the Middle East and North Africa region that Menon's work covers. Menon manages a finance team of nine from the Dubai office, with some operations outsourced.
For Menon and his employers, success is a question of blending high-performing technology platforms with skilled staff. "Our biggest cost is people," Menon says. "Our business is the collection of content and data, and in order for that to be dispersed worldwide, it's essential to make an investment in people in order to carry out that process."  While Thomson Reuters information gathering capabilities are essential in the company's access to game-changing information, the process of monetising content is dependent on the deployment of powerful analytical tools and IT infrastructure.
Eikon, Thomson Reuters' flagship financial product, provides data from exchanges around the world, featuring analytical tools for finance professionals. "This provides clients the latest market data, and is vital for our clients in terms of gaining insights into their competitors," Menon says.
Given the importance of data delivery in Thomson Reuters' work, a lack of timeliness in transmitting information can lead to irate financial customers. "Fractions of a second become very important in our industry," Menon says. "We make sure we invest in IT infrastructure that can deliver latency, in order to deliver real-time, accurate data. In late 2015, an Emerging Businesses unit was established within Thomson Reuters, and consists of three main technology-driven initiatives. Chief among them is the Accelerate SME drive, which is a community platform to give an avenue for businesses to interact and develop their business. The tool allows users to develop their profile through adding data on their business, and allows them to be "rated" via an algorithm. "Now, we're trying to say that we have much more than a financial business," Menon says. "Obviously, we're helped by the fact that VAT's come into the region, and we're trying to position ourselves as the software solution provider for indirect tax, too."
Menon speaks particularly highly of the 2012 integration of finance and business news portal Zawya, which has added clout to the firm. "It's added another tier to our customer base," Menon says, "and is fantastic for private company information across the GCC and MENA regions."
Given the range of IT platforms that Thomson Reuters depends on, many will ask whether it should be classed as an information or technology company.  "It's a bit of a conundrum for us. We see ourselves as a technology company, with data at our core. It's the way the world is evolving. There's now a data overload taking place, so it's crucial that we can make tools smarter so customers are able to filter the right data."
Delivery of technology is a top priority for Thomson Reuters. "Even in difficult times, everyone needs clarity, data and information, and to make sense of what's going on," Menon says. "As a data provider, we're well placed to make use of analytics to shed more light on a situation."