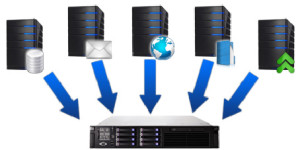 Automation is beginning to paint a future of completely virtualised data centres. These changes are especially apparent in the Middle East. The region is moving forward quickly in terms of virtualisation, and to compound the changing nature of the data centre, the Middle East is leapfrogging technology that remains in place in other, more developed areas of the world.
The data centre is, without a doubt, the most active and critical element in the modern IT infrastructure in terms of operation dependence and investment. Yet, traditionally, data centres have simply scaled up by adding physical storage capacity. This has resulted in server sprawl and wasted resources and is simply, most experts agree, not a long term solution to data and processing issues.
"The data centres we have are based on 20 year old technologies," explains Yarob Sakhnini, Regional Director MEMA, Brocade, "and the simple fact is that they can no longer keep up with demand." Some 91 percent of respondents polled, he goes on, state that their current IT infrastructures still require substantial upgrades to meet the ever-changing and unique networking requirements created by virtualisation, convergence of video, mobile services and cloud computing.
It seems that the Middle East is moving exceptionally quickly in terms of virtualisation adoption, which directly affects the future of data centres. The drivers of this push forward are many. "Over the past decade, the Middle East has witnessed a digital transformation driven by smartphone penetration," explains K.S. Ganesan, Chief Technology Officer, Infrastructure Services, Cognizant, "as well as businesses with high growth aspirations and governments pushing for digitisation."
The Internet of Things, as well as SDN and NFV, have also done their part to change the face of the modern data centre. As consumers and businesses begin to create untold amounts of data, and simultaneously demand on-the-go access and computing power, the infrastructure that supports this storage and processing must adapt appropriately.
As such, modern data centres are more modular, catering to a number of processes and services, as well as more flexible and more densely packed with processing power. Speeds have increased from roughly 1GB to 40GB and will inevitably reach 100GB in the near future. That being said, the power consumption of most data centres has increased in step with rising demands.
Digitisation of services and software has already transformed the modern data centre. Virtualisation and cloud-based apps have led to data centres streamlining operations to more effectively support business operations. To achieve that goal, the modern data centre's fabric unifies the traditional server, storage and network operations.
To further the goal of efficient and agile operations, modern data centres turn to automation. "In the Middle East," says Paulo Pereira, Senior Systems Engineer Manager, Cisco UAE, "most data centres are starting to include a layer of orchestration in order to automate some tasks, and provide a fast end-to-end delivery of service." In short, data centres must be fast, efficient, accessible and agile to keep up with the volume of data and processes that modern businesses and consumers create.
Still, as modern computing issues are addressed by modern solutions, businesses still need to deal with legacy applications when looking into new data centre designs. Industries like healthcare and banking still rely on large mainframe applications, which may need to stay in place. However, those applications that can and should be transitioned from traditional solutions to modern virtualised solutions can often be a pain point. Joe Fagan, Senior Director, Cloud Initiatives EMEA, Seagate, lends some hope to the situation, "Tools to convert physical systems over to virtualised platforms are now widely available," he says. "One of the initial hurdles with virtualisation was the ability to make legacy applications cloud-friendly but the industry has worked quickly towards this aspiration and it will not be long until that hurdle is overcome." Cherif Sleiman, General Manager, Middle East, Infoblox, suggests that emulation may be the best solution to address legacy applications. "Emulators," he says, "are entities in the virtual infrastructure that serve as a conduit and essentially replicate the legacy application in the new environment, very similar to what IBM did with the SNA/IP integration."
The future data centre may look very different relatively soon. "Industry experts expect to see a change in the shape of the data centre field in 2015," says Subash Chand, Solution Architect, Intertec. "There has been regional change in the evolution of the data centre," he says. Some of these changes are already obvious, and some are coming down the pipeline.
One change that we can already see in play has to do with an unchangeable physical factor – the temperature. With increasing power demands, and unmerciful summer temperatures, one change in data centre design that is already quite apparent in the Middle East is cooling. "With the rising cost of energy," explains Ganesh Bhat, Head of Data Centres, eHosting DataFort, data centre operators are exploring various ways to take care of cooling, as this consumes a lot of power. We will see a continuous focus on energy efficiencies, higher power densities and liquid or free cooling."
With changes in data centre design coming so quickly, there are still innovations that are not quite fully implemented yet. "Three foreseeable data centre trends that have not been implemented yet," says Aaron White, General Manager, Middle East and Pakistan, Hitachi Data Systems, "are Big Data business analytics, true hybrid cloud data centres and fully SLA driven applications that are hardware agnostic."
The data centre operation industry has moved quickly, and continues to pick up speed – so much so that it can be difficult to determine which technology will be made obsolete. "Traditional data centres can take 24 to 36 months to build," says Dave Hughes, Technical Director, CommScope, Middle East and Africa. "Technologies, trends and techniques evolve so rapidly that the data centre you are building today could be obsolete before you ever deploy it. With the shift toward the virtualised data centre and the cloud, data centres are now built with the capacity to expand in order to provide enough bandwidth for the applications of today and the foreseeable future."