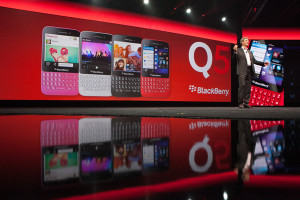 The noticeable change in focus by BlackBerry was hard to miss at BlackBerry Live in Florida, with the news of yet another smart device release on BB10 and the eyebrow-raising plan to offer the popular BlackBerry Messaging (BBM) on other platforms grabbing the headlines. Aparna Arya reports.
The BlackBerry Enterprise Service (BES) offering has given customers the option to manage BlackBerry devices whether it is a government or a company network, and the company is now providing that feature so that customers can manage non-BlackBerry devices. Moreover, it is also providing security for data regardless of what devices the customers use — a signal of intent?
Even though the move has long been in the pipeline, the official launch of BES 10.1 has made way for enterprise customers to begin upgrades in the second half of the year — a development that might also boost sales for the company's new line of Blackberry 10 smartphones.
The BB10 OS introduced a new member during the event; the Q5 — the second QWERTY based smartphone in the range. However, the difference being that the Q5 will be targeted at consumers in the emerging markets.
"BlackBerry is excited to bring a new BlackBerry QWERTY smartphone, the BlackBerry Q5, to our customers in selected markets around the world," said Thorsten Heins, CEO, BlackBerry.
"The BlackBerry Q5 gives you the best of everything with its cutting-edge BlackBerry 10 functionality and a physical QWERTY keyboard."
The future of mobile computing
At the conference, the company also laid out a bold vision for its recently released operating system that powers its new line of devices.
"BlackBerry understands mobile better than anyone else — it's in our DNA," Heins claimed.
Elaborating on this further, the enterprise update session of BlackBerry Live gave the participants a chance to know in detail how the BlackBerry Enterprise System (BES) 10.1 scores over BES 10.
There are four important features of BES 10.1 which bear mentioning; a regulated level enterprise mobility option, single server deployment, high availability, and new reporting and dashboards.
Enterprise buying in
Even though winning customers in the smartphone market won't be easy for BlackBerry, organisations, both government and corporate, have already started installing BlackBerry Enterprise Services that allow them to run BlackBerry 10 devices.
In fact, The New York City Department of Information Technology and Telecommunications confirmed it intends to deploy some 2,000 BlackBerry 10 smartphones by this summer, while one of Canada's top banks, BMO Financial Group, endorsed BlackBerry 10 as its platform of choice.
Talking about security, Scott Totzske, SVP, BlackBerry security claims that there really is no competition for Blackberry when it comes to security. "There is nothing more secure than a Blackberry device. We build everything from the ground up."
According to Totzske, the combination of hardware, software and infrastructure is unique to BlackBerry and it's the totality of the security that differentiates them from the rest. This security is available on Android and iOS through secure-workspace, where there is separation of personal and corporate work space.
"Our industry is defined by innovation and the pace of innovation has picked up a lot. Security in BlackBerry depends on how we look at evolution of security. We look at the modern smartphone, how the user interacts with it, what do organisations need to do their job and balance these tasks," remarked Totzske.
The event also highlighted the importance of smartphones for emerging economies in Asia, Latin America and the Middle East. Smartphone uptake is exploding in these emerging markets as a product of rising wealth, brand desire, access to education, and a need for key services in health, welfare, education and finance. For instance, 28 Middle East carriers have launched the BlackBerry Z10 so far, and 15 have launched Q10. What's more, BlackBerry supports 50 app developers in the region to develop Arabic content.
Mobile is an engine of growth and, in many ways, emerging markets are further advanced in mobile service innovation. Many businesses in these markets are built first for mobile and, in some areas, a lack of telecoms infrastructure is in fact driving mobile internet innovation. At the same time, alongside this growth, the industry also needs to play its part in supporting local governments to address socio-economic challenges, to enable progress, and to build mobile ecosystems for sustained growth in the future.
All the panelists were unanimous in their viewpoint on how the emerging markets should be viewed – as unique centres for innovation.
Discussions also focused on what customers want when it comes to apps. BlackBerry has done extensive research to identify trends based on demographics, region, gender and more.
Jeff Murphy, Senior Product Marketing Manager, BlackBerry, provided some customer insights. He pointed out that research done by BlackBerry user demographics showed that BlackBerry customers are mature (the 35 to 64 age group are the highest users) and smart (most are employed graduates).
The research showed that the applications used also vary with age. For instance, the age group of 25 to 34 uses maps, weather and social networking the most – though many popular 'main-stream' apps still remain unavailable on BB 10.
What kind of apps are people looking for?
To understand that, Murphy said, developers need to look at two characteristics — frequency and favourites. Social networking apps (Facebook, Twitter, etc.) stand out in both — they are the favourites and are used most frequently.
According to research done by BlackBerry, region wise, if developers look at developed and emerging economies, there are discrepancies in what people would like. While social networking tops the chart for both, moving on, emerging economies show more preference for weather and eBooks as compared to instant messaging and finance for developed countries.
Based on age, the priority for the target audience in the age group of 14 to 24 is games, while for 35 to 44, the preference is weather.
Moreover, in a push toward social networking that features characteristics of Instagram and Facebook, BlackBerry introduced BBM Channels, which allows users to "subscribe" to channels and connect to and receive updates on their favourite brands, publications and celebrities.
Is this a comeback for BlackBerry? With the Q5 making its debut and the BBM going multi-platform. Will it revive BlackBerry's fortunes? Heins and co certainly hope so, but sentimentality doesn't sell devices – not anymore, at least.