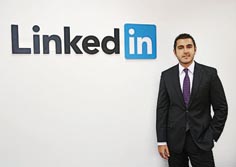 Professional network LinkedIn has joined Facebook on the list of global social media websites that have launched offices in the Middle East. It believes this development can help Middle East enterprises connect with target audiences.
LinkedIn has become the latest big social media name to set up a presence in the Middle East, choosing Dubai as the location of its first office in the MENA region.
Located in Dubai's Internet City, the office will serve as regional headquarters to support the five million members in the region, a million of which are based in the UAE.
"We are very excited to be opening an office here in Dubai – a city recognised by the world as a crossroads for global business exchange," says Farhan Syed, Director, Global Sales Strategy, LinkedIn, who came to Dubai for the launch.
"Members are already networking in over 2,000 LinkedIn groups in the region, exchanging strategic business insights and exploring opportunities together. Having a strong local presence will help serve our members better here, ultimately making them more productive and successful."
To address its growing customer base in the region, LinkedIn has appointed Ali Matar as Head of Hiring Solutions, MENA.
"The Middle East is a vibrant and growing region which is home to a mix of high growth local businesses and multinational corporations across industries, attracting professionals from all over the world.  With over 77 million Internet users in the region, social media adoption has been growing consistently here," Matar says.
"Given our growth across the region we believed the time was right for us to establish a local presence so that we may better serve and support our growing membership base and establish our commercial operations. In particular, this will enable local clients and customers to take better advantage of LinkedIn's hiring solutions, which have been positively disrupting the recruitment industry around the world, helping companies identify and hire top talent in the most effective way possible," he adds.
The Middle East expansion follows the opening of LinkedIn's Spanish office in March. It brings the number of LinkedIn offices in EMEA to nine, including Paris, Stockholm, London, Munich, Milan, Dublin, Amsterdam and Madrid.
Matar says the presence in Dubai will increase the regional awareness of the opportunities that LinkedIn holds for enterprises, including for lead generation, talent management and recruitment, and build brand awareness with critical audiences.
"With tools like 'Groups', 'Polls' and 'Answers', enterprises have a tremendous opportunity to identify audiences who understand their business and engage with them on a massive scale. Our new 'Company Pages' also allow businesses to build their brand identity in a meaningful and compelling way. By giving enterprises better tools to reach the right audiences, we want to increase their opportunities for growth," he says.
He adds that LinkedIn is a particularly powerful tool for business startups, and points to examples.
"Whether it is new leads, contacts or simply building your brand, your presence on LinkedIn can help you kick start your dream business. A user in the Netherlands was unhappy with the battery life of his iPhone and through LinkedIn he found a supplier of a longer life battery in China.  He has now set up a business selling these batteries.
"A small company in the UK that designs cycling helmets was having trouble finding commercial contacts. Through LinkedIn it connected with the right people at British Olympic cycling which led to a contract to supply British Cycling – and we saw these on their athletes during the Olympics."
A key barrier in the enterprises embrace of social media is questions over its ability to provide clear ROI. However, Matar claims the benefits are clear and plentiful.
Enterprises can use LinkedIn for marketing needs with its marketing solutions or for recruitment purposes with its hiring solutions.
Its suite of marketing solutions includes display ads and social ads to help generate awareness, LinkedIn 'Groups' and 'Polls' to help strengthen relationships, and partner messages and company pages to help brands drive leads.
"These tools provide enterprises with highly targeted advertising that reaches affluent and influential professionals. Brands can tailor their engagement and target specific audiences based on their profile data. Furthermore, they can measure member engagement with advertisements and easily evaluate their ROI," Matar says.
"Recruiters looking to tap into LinkedIn's member base have access to high-quality active and passive candidates. Through LinkedIn's recruitment tools, HR professionals can search and target specific candidates based on a number of parameters including skills and languages known. This helps reduce the time spent in the recruitment process and drives cost effectiveness for businesses."