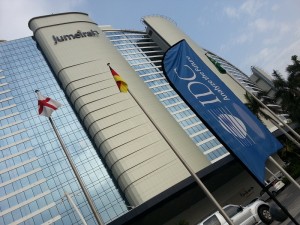 The sixth edition of IDC's Middle East CIO Summit had a strong sense of urgency to it. From the nature of the speeches on the evolving roles of the CIO to the densely packed exhibit hall – full to the brim with vendors clamouring for the attention of visiting IT executives – the summit made clear that things are changing quickly. And what was even clearer was that CIOs needed to respond, and respond fast.
In his summit-opening speech, Jyoti Lalchandani, Vice President and Regional Managing Director, IDC Middle East, looked back to the first edition of the show, back in 2008. "Key discussions we were having were in areas of seeing increasing influence from business managers," he recalled. "Closer to home, we were looking at markets like Saudi Arabia, which we saw as key. We were also seeing the rise of the SMB sector.
"We were seeing the increasing influence of the consumer market, we'd seen the launch of a huge number of Web gadgets. But more importantly, we were seeing the start of something called 'everything online'."
Fast-forwarding to the present day, Lalchandani explained that these trends were now in full swing, adding that CIOs need to take note of them. The predictions that were made in 2008, he said, have come to pass, yet they've affected the landscape in more ways than anyone could have imagined back then.
The sum of these trends has resulted in the so-called "third platform", which, Lalchandani said, is made up of four forces that are transforming the industry. IDC touched upon the third platform at last year's summit, but it was a big focus this year. The forces, made up of social media in business, mobility, big data and the cloud, are changing the ways in which companies operate, and, therefore, changing the demands that business managers make of their IT departments.
"Today, third-platform tech represents just about a quarter of overall spending, but what's fascinating is that the third platform is already here," Lalchandani said. "Unstructured data has already crossed the structured data mark, and if you look at cloud services, it's skyrocketing. And in 2013, mobile data will surpass fixed-line data."
IDC predicts that 90 percent of IT industry growth will be driven by third-platform technology from 2013 through to 2020, and that 80 percent of competitive energy should be focused on strengthening third-platform offerings.
These four forces are already causing big concerns for CIOs in the Middle East. In a report created for the summit, IDC spoke to 111 CIOs from across the region – with an average IT team of 127. It showed that 45 percent are looking at investing in big data analytics over the next two years, while 40 percent will be looking at bring-your-own-device policies in the same time frame. Private cloud investment will be a part of 36 per cent of CIOs budgets over the next two years, and 34 per cent of CIOs highlight the mobilisation of enterprise applications as a key concern over the next two years.
These four forces, then, are changing the influences around ICT departments, Lalchandani said. The stakeholders are changing, and the people influencing IT budgets are certainly being impacted. Already, IDC says, CIOs find that line-of-business managers are beginning to influence their spending decisions, based on these four forces. As their employees demand the change, Lalchandani said, the CEOs and CFOs demand their IT departments to accommodate it.
Indeed, line-of-business managers are set to play an even more important role in regards to the IT department as time goes on, IDC predicts. Over 48 percent of CIOs believe that CEOs play an important role in driving ICT investments, the report noted. This is having profound effects on the way in which CIOs operate, not least because they now have to justify their budgets.
"With economic woes, accountants get involved," said Mark Walker, Programme Director for Insights and Vertical Industry Practice, IDC. "CFOs start asking difficult questions. In 75 percent of firms that CIO Magazine spoke to, the CFO plays a vital role in determining IT investment.
"If the CFO says the CIO is not making a contribution, you're going to have a hard time. We don't like to hear this; we like to call our own tune. But recently, it's been difficult because we've been focusing too much on the technology aspects. Last year, 20 percent of IT budget approvals required line-of-business approvals. By 2016, that's going to increase to 80 percent."
To the old-fashioned CIO, this may sound like a nightmare, but much of the IDC conference was dedicated to how CIOs could forge relationships with their line-of-business colleagues and justify their spending. On hand to explain how was Jarkko Huhtaniitty, Regional Manager, HP Financial Services Middle East.
"When you are building a business case, you need to look at the total cost of the IT investment," he said. "Only 30 percent of the total lifecycle cost is to do with the acquisition. You need to be looking at the total cycle from acquiring all the way up to retirement. If you can present a business case in this frame, and demonstrate to the CFO that you understand costs, your chances for getting the investment are much higher."
Huhtaniitty explained that areas such as big data and cloud deployment should be the easiest to get budgets for, as it is easy to make business cases for them. With big data, for example, any CFO would jump at the chance to efficiently mine large swathes of data for information that will help him make better decisions. Cloud deployments, meanwhile, will allow his workforce to work efficiently wherever they are.
Perhaps typically for a vendor representative, Huhtaniitty also explained that more frequent technology upgrades would be better for the company. However, he was at pains to point out that he wasn't simply trying to sell more products and services – there was real evidence to suggest that regular tech refreshes could save companies money.
"The buying and holding of assets is not the way to go," he said, referring to a white paper on asset lifecycles. "You should be shortening your lifecycles. This paper clearly shows that a well-defined strategy where you are shortening lifecycles gives you the best results in terms of cost. It also increases your flexibility. With new technology, you use less physical servers, less energy, less space in data centres, and software costs go down."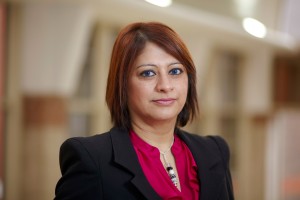 Another area in which CFOs are willing sign off investment is security. Indeed, security seemed to be a large part of the IDC CIO Summit. Rashmi Knowles, Chief Security Architect, RSA, gave an illuminating speech on the security challenges facing CIOs over the next few years. She provided insight into how businesses can stay flexible enough to accommodate trends such as BYOD but still guarantee security for their IT systems.
"You're still going to have to offer that flexibility – in fact it's going to get worse," she told CNME after her speech. "When the next generation of people come in, that's where your big risk is going to be, and so you've got to use more relevant tools. It's about making security invisible, and about offering the flexibility and control, but, as a user, you're not aware of having to go through these stages."
That said, Knowles did admit that it was difficult to stay one step ahead of hackers looking to invade company's IT systems: "We see collaboration between hackers now. We've seen hackers using the cloud to work together to create malware."
She then described a graph – which she had omitted from her presentation – that displayed a curve illustrating the sophistication of attacks. "And then there's another curve," she said, "which shows how security technology is progressing. And there's a gap – there'll always be a gap."
However, Knowles echoed other vendors' claims that security is not always to do with technology, but includes people and processes. With a solid security system, and proper education among employees, CIOs stand a much better chance of fending off attacks, the consensus seemed to be.
There was plenty more for the CIOs to sink their teeth into over the course of the one-and-a-half-day event, though it would be impossible to detail it all within these column inches. But perhaps the main thought that the visiting delegates could take away was that, with their roles in such a state of flux, CIOs should focus on innovation – making the impossible possible, and enabling their businesses to harness the latest technologies.
"The third platform is already here," Lalchandani concluded. "We believe it's already transforming the industry. Clearly, expect to see major changes over the next few years in terms of decision-making on the part of line-of-business executives and CEOs. But this is an important opportunity to focus on innovation. Your role is going to change significantly over the next few years."