Asim Al Jammaz, CEO, AL Jammaz Technologies, tells Anita Joseph, Editor, Reseller ME in an exclusive interview, how the company is driving change and innovation in the distribution market.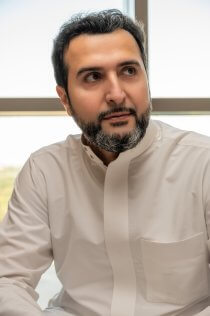 How has the last year been like for AlJammaz Technologies and what are some of the key learnings, especially post the challenges of 2020? 
I think during the pandemic it was difficult for everyone-the difficulty was mainly related to running the business itself. In our case, our vendor partners and our team management have been guiding us for the last 10 to 15 years on how to be automated in our systems and been pushing us for many, many years to be digital-first and this is a credit I would honestly like to give them, because without their guidance and support, we wouldn't be as digitised as we are today.  
Because we were digitally on track, the moment the pandemic happened, we were running our operation from our homes for our team. This is something very good that our IT department was prepared to do and it really helped us, but the difficulties were really about life in general and how we are able to manage everything, our families.  
This is something I used to look into – our teams, their families, the difficulties they're facing while being locked down during those difficult days. I think it was an experience that we learned a lot from. We learnt that anything and everything is possible. Yet, if you came and told me a few years ago about the pandemic, that one day it will happen, I would have laughed and told you it's only happened in the movies. But it happened and till the last minute I could not believe that things could have reached where they did. So we need to be ready for anything, at all times.  
The distribution business helped partners and vendors keep the business going during the pandemic. At that time, there was a lot of demand for IT and digital solutions because the government & the private sector alike, wanted to expedite their digital transformation goals. Interestingly, even for companies that were ready for digital, we were not expecting the kind of traffic that they faced. So, even they wanted to scale up their digital journey.  
I think the distribution industry helped accelerate the digital transformation journey by providing easy and smooth logistics services during these times. I remember, how, during the pandemic we used to receive calls from our partners and end users even at 2am, when they would call asking for solutions and technology support. I was really proud of my team because they were up to it and were really working hard day and night to support the customer and provide them with the right solutions. And if you ask every vendor that we have been working with, they will tell you about our availability of stock that we have in-country either in Saudi Arabia or in UAE. It was amazing that we were able to deliver and I remember very well where, during the lockdown, we even had to work over the weekend to support the customer. I'm really proud of what we have been able to achieve and what my team has delivered, during those challenging days. So if you ask me about our numbers, I will tell you it was a record for us. And why? Because digital transformation was in fast track mode and we were enablers of this transformation.
As we emerge out of the darkness and go back to normal, what is your take on the distribution industry in the region? Where is it standing right now? What is it poised for?
I remember very well when we started our operations over 20 years ago. At that time, we were the only one (this is what I remember)-we were the only one that positioned ourselves as a value-added distributor. This is because I when I graduated, I faced an issue working with distributors. I used to contact them and tell them I need a product and also ask for help to differentiate between the various models. A lot of them used to send me by email the prices only, without showing any interest in explaining what was good or not good for me and the difference between the various models.  And mine was a small business, I did not have necessary technical support in-house. And so, I decided to fill that gap in the markets and come up with a business model where we provide consultation to our customers and partners, not just with a model number, but by really adding value and helping them with what they need- the right product and the right model. As we started, this is really was a big differentiator for us in the Saudi market and differentiated us from other distributors. In fact, all the vendors who worked with us they said they were actually seeing the difference.  
Then value added distribution became the trend and everyone started calling themselves a value-added distributor, even if they were adding zero value. I am sure a lot of them enhance their capabilities to add more value because this is what markets require today in the distribution space-it's not about just adding that it's about being an extension of the credibility of the vendors.  They need to be a really skilled provider of technology solutions, implementations and consultation. Today, it's not just a server or a storage-it's really a hyper converged solution and this is a complicated environment. And you need a level of expertise today, that even the partners and the resellers don't have. So, if we try to rely on the vendors of providing the solutions and technologies, vendors will provide it for their product. But today, it is not about providing solutions for one product. It's how you can grab a piece from every vendor to create one compelling solution for the customer.  And until we have partners who can provide the solution, it's the job of distribution.  
Where does Al Jammaz Technologies position itself today and where does it stand? How are you incorporating technology into your products and offerings?
Today, Al Jammaz Technologies is all about helping partners transform toward cloud services and As-a-Service, regardless of whether it is in the public, or in private. Today, we work with cloud providers and also with technology solutions like HPE Greenlake and Dell Apex, that provide as-a-service on premise. Our focus is really helping our partners, move from doing the classic business that we used to do trying to sell server storage, towards trying to sell it as a service either on the public cloud or with one of our vendors. This is a journey-it's not something that partners can layer in one day. It's not something that end users can easily trust. And the trust is not because it's not a mature technology-it is a mature technology but some technical expertise is missing in the market. So some of those administrators are not yet certified yet towards on premise solutions of as a service or on the cloud, or at least they are, but they're not confident to run it, so they are worried to lose their cloud. And this is our job here-we need to do a lot of training and knowledge education. This is why we are building our academy for partners and for end users to educate them about As-A-Service: Cloud Service, Security-As-A-Service, and so on.  
The other thing is cybersecurity. With all the cloud and the accelerated Internet connectivity today, the highest risk is always cybersecurity.  So, cybersecurity is another area where we are investing heavily in. IoT also is something big- emerging technologies and IoT overall. And in Saudi Arabia and UAE we are seeing key government initiatives towards supporting implementation of these technologies and this is why this is a key element for us to focus and grow our portfolio.  
AI is also important and we have now started a business unit just focusing on AI-related solutions. AI vendors consist of a lot of small vendors. So, we're trying to create a portfolio of trusted AI vendors for our partners-either AI for physical security, AI for corporate communication, AI for collaboration and AI systems for internal digital solutions and ERP.
What are some of the plans that Al Jammaz Technologies has in store for 2022? What's the growth strategy going to be?
Our core strategy is really to expand our efficiency across different markets. We've been building our infrastructure, building a relationship of trust with partners in the GCC, as well as a team that can really provide all the services that our partners expect from us. We really believe that we are ready to support whatever operation and business the market requires.  So, this is a key growth strategy focused on the future, working with our existing partners, or working with new partners to try to cover the GCC market. This is our growth plan of expanding our reach and markets.  
For the local market, our plan is to transfer 25% of our existing business towards cloud as-a-service. We want that by 2023, that a minimum of 25% of our existing revenues today, is all As-a-Service and cloud. This is to go towards transforming for the future- definitely working more with cybersecurity vendors, bringing to the market expertise that can help to implement and integrate with different cybersecurity solutions, bring more digital solutions that can help us provide new digital solutions to our customers and partners and grow the portfolio of cloud-either on premise or on a public cloud. In the end, it's a journey-we want to enable our partners to transform from the "classic" business that they're doing today, to As-a-Service, so that 25% of our revenue is transferred from on-premise towards the cloud. This will not happen without the support of our partners.  
I believe that the potential in the industry is tremendous. To give you an example, in Saudi Arabia, they are expecting the IT market to double in the next few years. UAE is also headed in the same path. In this context, the only thing that we need from vendors is for them to invest more towards their capabilities in this country so that customers can trust the distribution capabilities of the market. We also expect our partners to invest in their qualifications and the skills of their respective technical teams. We have already begun investing in these areas and we're going to go ahead with this.