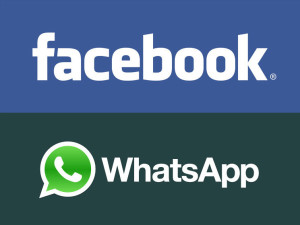 Facebook's $19 billion acquisition of messaging service WhatsApp will certainly disrupt and enrich the social media market.
Facebook CEO Mark Zuckerberg sees WhatsApp as a critical element in Facebook's pursuit of connecting more people around the globe, and he's absolutely right to think so.
He was doubtless aware that his social network was running a serious risk of being left behind, with the rise of more satisfying messaging alternatives.
Revelations soon emerged following the deal's announcement that in the summer of 2009 Facebook turned down WhatsApp co-founder Brian Acton for a job. An expensive mistake it would seem, but in time they will doubtless reap the rewards in having acquired a service that has 450 million worldwide users.
WhatsApp's service currently lets people use their Internet data plans to send messages to each other as an alternative to paying a carrier such as AT&T or Verizon for SMS.
The app is slicker and more complete than Facebook's messaging service. Its rise from being a startup in 2009 to a company that serves 6% of the world's population has been swift.
The deal could hail the start of a strong year for technology mergers and acquisitions, following Lenovo's recent announcement that it would buy Motorola Mobility from Google for $2.9 billion, and agreeing a deal to buy IBM's x86 server business for $2.3 billion.
The number of tech M&A deals in the first half of 2013 fell below 2009 recession levels, according to the PwC 2014 Technology M&A Insights report, but now looks set to rise.
WhatsApp will offer Internet-based voice calling by the end of June, CEO Jan Koum said during a speech at the Mobile World Congress conference in Barcelona.
With the announcement, WhatsApp will be a more complete and a smarter alternative than competitor Viber, and it servers to open new doors for Facebook.
It seems likely that in the near future Facebook will use WhatsApp to mount a platform that can rival video-calling service Skype.
Both Zuckerberg and Koum have sought to quiet rumours they might use ads to make more money from WhatsApp, but WhatsApp's pledge to charge users 99 cents after a year of use will surely come into question.
Equally the acquisition raises questions over the role of Facebook's messaging app, Messenger, which offers a similar service to WhatsApp.
Perhaps more problematic is that fact that Facebook will soon have access to the data of WhatsApp users. No question, its security policy is in jeopardy.
Time will tell, but the acquisition has surely prevented a likely long-term slump for the social network. Watch this space.