Struggling to efficiently backup its 650 virtual machines, Ras Al Khaimah's Electronic Government Authority opted for a solution that could save time and ensure the safety of mission-critical public sector data.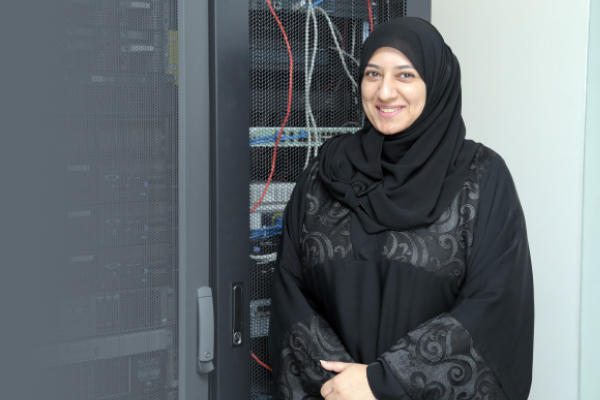 When it comes to securing data concerning a nation's citizens, there really is no margin for error. Whether it's a question of securing private records from a country's – or in the case of Ras Al Khaimah, an emirate's – legal system, or ensuring that citizens' identity details are easily accessible, high standards are paramount.
RAK's Electronic Government Authority (EGA) is no different. Formed in 2004, EGA serves as a hub for the emirate's 22 government departments, providing end-to-end projects and support services.
"As the entity responsible for providing the IT infrastructure which helps all of Ras Al Khaimah's government entities – including the Economic, Justice and Land departments – access information and collaborate effectively, the reputational and monetary impact of downtime on our organisation is immense," Alia Al Kindy, Manager IT Services, EGA, says.
As EGA set itself on a path to implement more integrated solutions with modern technology, it focused its attention on virtualising its environment. Opting for VMware vSphere, EGA established 400 virtual machines for its virtual desktop infrastructure, and a further 250 for its mission-critical applications, together counting towards a 95 percent virtualisation rate for the organisation. However, although progress had been made on this front, EGA lacked a reliable backup solution for its virtual servers.
"Backups regularly failed and by the time we uncovered the issues and found solutions, we had fallen behind our backup objectives," Al Kindy says. "Our inability to drill down into the cause of slow backups was frustrating. We had to ensure high availability for all our critical servers and applications." She also saw this as an opportunity to cut IT overheads, as the licensing structure of EGA's existing backup solution was complex and expensive. EGA's previous backup solution was "very costly" and needed a proxy server for virtualised environment backups. Furthermore, Al Kindy was keen to test EGA's backup capabilities, but had no virtual lab in which to do so.
EGA undertook a POC process in which it evaluated a series of vendors, and carefully considered individual specifications before presenting their ideas to senior management. "We have to evaluate what each department wants, and what solutions will suit their needs," Al Kindy says. "At the end of the day they are our customers, so it's important that we can provide a protecting shield for any of their confidential data." EGA eventually opted for Veeam's Availability Suite for its backup, restore and replication capabilities.
Although EGA had very minor configuration issues, the overall implementation was carried out without incident. Al Kindy attributes this to the level of support she received from the vendor. "The product only took one week to integrate and was seamless, with no issues," she says. "Veeam's support made the whole process easy." Now the process has been completed, Al Kindy finds it easy to pinpoint the project's successes. "One of the best things about Veeam's solution is its automated backup and avalability capabilities," she says.
For Al Kindy, two features that stand out are Instant VM Recovery and Virtual Labs. "With Instant VM Recovery, we can recover virtual application servers within just five to 10 minutes, while Virtual Labs allows us to safely test and develop applications," she says. This has given EGA the confidence to run mission-critical applications including VDI, email exchange, databases, mobile device management, ERP, Sharepoint, video conferencing, and endpoint protection on its VMs.
While EGA's main data centre is based in Dubai, it maintains multiple server rooms at the offices of each of the government departments it serves across Ras Al Khaimah. Despite the distributed nature of its server infrastructure, the IT team is now able to centrally manage all its VMs from a single console. "It allows us to easily identify any potential reasons for backup failure, and won't make a virtual machine heavier," Al Kindy says. "The reporting aspect of the solution is absolutely fantastic, and a major time saver."
Al Kindy takes great pride in the effect that her work has had on RAK's Government. "It's allowed our department to have greater impact on the Government's operations," she says. "In the case of data loss, we can easily react, and with backups in place we can easily carry out data restoration." The solution has proved to be a major time saver in this respect, where virtual machine backups previously took two hours to complete, but are now finished in less than half an hour. Veeam's Availability Suite also has its own proxy server for virtualised environment backups, satisfying EGA's previous need. In-built deduplication and compression have been major boons. "Prior to Veeam, our backup windows were significantly longer and due to failures and issues, required active monitoring every half an hour or so. This meant that every day, at least one or two of our team members were spending time on a non-productive task," says Al Kindy.
RAK Government's Economic and Public Prosecution departments have been major beneficiaries of the new solution, with both being heavy users of VDI. "This contains critical data, which has to be backed up," Al Kindy says. Over 200 users from the Economic Department are now using VDI, and are experiencing "quick" and "safe" backup. The Land department, which has 40 users, is now also interested in using the solution.
In terms of cost, EGA has also made "impressive" savings on software licencing. "We can now monitor all devices and virtual machines – a greater number than we'd previously had – for the same cost," Al Kindy says. "One resource was also dedicated to backup, but now has been automated, we can put this employee to better use elsewhere." EGA estimates it has recovered 30 percent of the project investment in just the first eight to 12 months and expects to achieve full ROI within 24 months.
Looking forward, Al Kindy believes the upgrade has the potential to act as a springboard for future related projects. "We hope to virtualise our network, and we're certainly keen on upgrading to the latest set of Veeam features," she says. EGA is now also considering implementing a disaster recovery site in Ras Al Khaimah, and Al Kindy is keen to continue the new partnership. "Veeam has helped us drive efficiency, productivity, resource and time conservation and most importantly, customer satisfaction. In short, it gives our IT department total peace of mind."