At the age of 11, Hatem Manawy, now Regional IT Director, Middle East, North Africa and Central Asia at the food and hospitality giant Americana Group, fell in love with technology. More specifically, it was the unboxing of his first Atari game console that sparked what would become a life-long relationship with all things tech.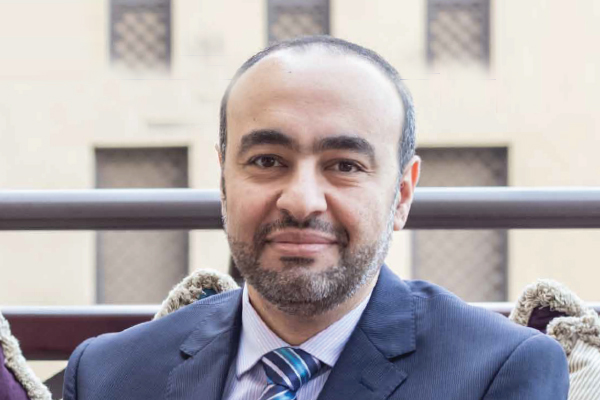 "It was amazing," he recalls opening the gift. "The Atari was the best thing at the time." Later that year, the young Manawy watched a show on television about computer programming, and he knew that he wanted to be involved in the profession. "It was the automation that interested me. It was a complete mind shift," he says.
His hometown, Giza, just outside of Cairo, was small but bustling. "When I began travelling later in life, I was surprised at how quiet other cities were," he recalls his first trip abroad. His family was relatively small, with just one sibling, his sister. "Now I also have a son and a daughter," he says. "I guess it is kind of a family tradition."
Half way through his 10th grade studies, Manawy decided to take what would be the first in a series of calculated risks. "I decided to study for my General Certificate of Education instead of completing high school," Manawy explains. "My parents were against it at first, but I insisted. When they saw I was serious, they supported the idea. I had a private tutor, and studied constantly. When the exams came round, I passed with high marks."
In 1988, Manawy went on to study at Cairo University. "I knew I wanted to work with computers, and at the time, that was under the faculty of Electronics and Communication," he recalls. "I had a professor, Dr. Ahmed Darwish, that had a huge impact on my studies. He taught us in a way that was completely new at the time, using real-world scenarios and applications." Dr. Darwish had such an effect on him that, years later, Manawy would dedicate his graduate school thesis to his mentor.
Manawy completed his bachelor's degree, and in 1993 was hired at Giza Systems, as a UNIX Systems Specialist. He hadn't intended to begin his career at the time. "I wanted to take some time off, but a friend of mine was going to turn in his CV, and he convinced me to come. When I got to the offices, it turns out that the two systems specialists in charge of the UNIX department – a man and a woman – were getting married. They needed someone to start immediately. A few days later, I started." There, he configured and supported UNIX networks and their associated products. "It was a learning experience," says Manawy, "it was the first time that I felt real responsibility in my career. When I had a problem, I couldn't call the people that I replaced – they were on their honeymoon!"
It was during his time at Giza Systems that Manawy travelled for the first time. "I went to Birmingham for some training," he recalls. Before going, Manawy did a bit of planning. "This was so long ago, before Google. I had to go to the British consulate in Cairo and photocopy maps." When he arrived in the UK, the culture shock set in, "I just couldn't believe how quiet it was. I was used to Cairo with all the noise of that city. It was amazing to experience a place so different from my home." It was this experience that began a love of travel. "I don't like to go and just stay in a hotel and take taxis. I want to experience other cultures," he says.
He decided to continue his education, this time focusing on Intranet security. "I was working during the day and studying at Cairo University at night, it was a very busy time for me," he recalls. At this time, Manawy was convinced he wanted to be a university professor and an IT consultant. "I eventually wanted to study for my PhD."
In 1995, Manawy decided it was time to move on from Giza Systems. He took a position at NCR Corporation – an organisation that would be a breeding ground for many up-and-coming IT experts at the time. "I was only there for a year, but I learned a great deal about supporting the customer," says Manawy of his customer-facing Computer Services Engineer position. In the end, he determined that his position was a bit narrow, and returned to Giza Systems, this time as a Senior Pre-Sales and Networking Engineer. "I was glad to be back in Giza," says Manawy, "but I admit it was then that I learned that sales was simply not my thing." After nearly two years, he moved on again, this time to a multi-national company.
Manawy completed his master's degree in 1997, but quickly learned that IT consultancy may not have been best at the time. Instead, he went looking for the next step in his career. "I started at Energizer in 1998 as an Information Systems Manager. It was around that time that everyone was becoming concerned with Y2K. It was my job to prepare the company for the change-over." He also worked on the iScala ERP system as well as planning and operations for a number of infrastructure and applications.
During this time, Manawy decided to take on an MBA at the American University of Cairo. "I thought I had been busy during my master's but this was even more so," he says. Manawy had been working during the day and studying at night, but he was now a father. "I had a young daughter at the time, and then my son was born in 2003," he says. "I was worried I couldn't do everything to be a good employee, a good student, a good husband and a good father." Thankfully, he says, his wife was exceptionally supportive, and in 2004 he graduated with his MBA.
Manawy moved up the ladder at Energizer, taking on the role of Regional Information Systems Manager for Africa and the Middle East. "It was at this time that I became truly familiar in the art of working with different cultures," he says. "The way people interact – particularly with their boss – is very different from culture to culture," he says. "In one place it may be acceptable to be casual with your manager, in another place people may be so polite that it is difficult to even tell when they are upset."
In 2008, Manawy moved companies again, but still remained in Egypt. This time he would take on the Regional IT Manager position at pharmaceutical giant Eli Lilly. "It was a completely different game," says Manawy. "I had a Romanian boss at the time, and he used to say 'We run IT as a business.'" This was a significant departure, says Manawy, from his previous positions. "Beforehand, we used to ask whether or not we had a budget for the project before we started. Now, if the company needed something from IT, we would create the budget for it." Having a direct line between IT and the end goal of the company gave Manawy renewed purpose and a wider view of the business side of IT.
However, a few years later, he was approached to join Americana. "It would be the first time that I would live overseas – I had always lived in Egypt," says Manawy. He had visited Dubai for work in the past, but taking on the "expat" life would prove to be very different. "Everyone in my family was on board. We wanted to have new surroundings." With his wife and children prepared for the move, they shifted houses – and Manawy shifted jobs – to Dubai.
Though he admits to having little free time these days, the few moments he does have, Manawy spends with his family. "My daughter is always changing what she wants to be when she grows up. Right now she wants to be a dentist, I think. My son loves video games, but I admit he always beats me, so it is a bit humbling."
Though nothing may be as exciting as opening his first gaming console at the age of 11, there are still elements of technology that seem just as magical to Manawy. "I think what we are doing with virtual reality is really exciting. We could be having this interview in different parts of the world, and it would feel like we are just sitting across from each other," he quips. "It is a game-changer for the consumer."
As for the advice he would give an up-and-coming CIO: "Never stop learning. Technology doesn't stop changing, so you should always be learning something new."