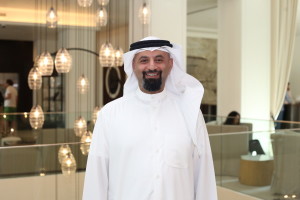 "I first got the idea from a billboard on a highway." Tariq Al-Usaimi recounts the moment he was inspired to transform the way Kuwait Credit Bank (KCB) does business. "I saw other banks advertising that they could approve a customer loan application in 24 hours, or even 30 minutes. I saw no reason why it should take this long."
Like any CIO, Al-Usaimi passionately believes that technology is a driving force in his business, but he is often left scratching his head as to why others within KCB fail to see its value. "It seems obvious to me that a bank should have high quality technology services for its customers," he says. "Not only to enhance internal operations, but also to keep customers satisfied and allow us to go to market quicker. A lot of figures within KCB didn't seem convinced of its worth – a perception I wanted to change." With 40 percent of Kuwait's population aged 24 or under, he was also especially conscious that the bank should retain its appeal with the country's youth. "Services need to be accessible in a timely and convenient manner," Al-Usaimi says. "Customers – especially young people – quickly give up if they do not get quick access."
Alarm bells began to ring in 2011 for KCB's IT department, when the company received overwhelming and unprecedented demand for one of its new loan schemes. The programme was targeted at women – who had previously struggled for financial aid within Kuwait – and even Al-Usaimi was taken aback at its levels of interest. "The response we got was totally unexpected," he says. "In truth, we were not prepared for what ensued – which definitely cost us business." Would-be customers were forced to apply in person as opposed to through online platforms, which created queuing issues – and a great deal of paperwork for KCB. "We were in a major need of an overhaul," Al-Usaimi says. "Things just couldn't continue in that manner."
The loan approval process around that time was both lengthy and expensive, with Al-Usaimi estimating that it cost KCB $800 to process each request. "There were nine stages in each application," he says. "Five employees were involved in that process, which was reliant on paperwork and form filling. The amount of time used by employees was wasteful, while customers were given needless waiting time. I didn't see any reason why we couldn't transfer this process to a fast online platform, and effectively create a branch of KCB in every Kuwaiti home."
The final straw for Al-Usaimi came in 2014, when the Kuwaiti government passed the Law Concerning Electronic Transactions. Article 3 of the act stated that digital transactions would now carry the same legal weight as written signatures in contracts and agreements.
One of the biggest hurdles Al-Usaimi would face in his bid to push through any changes was internal resistance. Although the company's senior management bought into his ideas, the real issue was appeasing mid-level managers who felt their importance could diminish. "They feared that the changes would make their roles redundant," he says. "They realised that there was a chance that they could have less authority, and I suppose it's only human nature to feel that way." Overall, Al-Usaimi estimates that it took him roughly a year to convince other management figures of the need for change. "No one understood the implications of the new law," he says. "It seemed obvious that once electronic transactions carry the same weight as handwritten signatures, that contracts of all sorts will shift to online platforms."
A cornerstone of Al-Usaimi's solution would be its ability to interact with other government agencies, which would enable customers' credentials and identities to be quickly verified, allowing the loan to be approved. "We partnered with the Public Authority for Civil Information and Public Institution for Social Security," Al-Usaimi says. "We envisaged a solution where information could be quickly pulled from those agencies to certify details such as an applicant's employment status, so we could swiftly approve or deny applications." All this information would be swiftly sent to a KCB artificial intelligence system, which would require substantial computing power.
The infrastructure powering the solution comprised four key components, which "brought KCB's cloud together." "We relied on Cisco UCS Blade Servers, VMware virtualisation, EMC storage and SAP's database," Al-Usaimi says. However, acquiring this technology was not a straightforward process for KCB's IT team. "We had to compile a complete study for the management to be fully convinced," Al-Usaimi says. "We needed a three-year roadmap for its return on investment and exactly where we stood and would stand in terms of our computer power, software and our data centre."
On 20th January 2015, having completed all work on the automated loan approval solution, Kuwait Credit Bank issued its first online-approved loan cheque. The impact of the project has had vast tangible and intangible results for the company. "I really think it's unbelievable what we've achieved," Al-Usaimi says. "It used to take 1080 minutes to approve a loan, and now it can be done in 90 seconds. The process was a matter of pushing papers from desk to desk, queuing and waiting, but this is thankfully a thing of the past." In terms of direct savings to the bank, Al-Usaimi estimates that the total cost saving from the loan approval process is 1.6 million Kuwaiti dinar, or $5.25 million. "The cost of the process has been reduced by 96 percent," he says.
The solution's ability to interact with the other government agencies to verify customer data has provided another vital benefit to the organisation – the capacity to vastly reduce user input error when applying for a loan. This has had a transformative knock-on effect – the potential to slash the possibility of fraud against the bank. "If person X has passed away, and an imposter attempts to pose as that person, the system will instantly recognise that the loan cannot be approved," Al-Usaimi says. "You see artificial intelligence everywhere – in cars, homes, on mobile devices – but only in the back end of banks. We wanted to bring it to the front end, so the customer could feel the benefit of it via a quick and seamless loan approval."
The solution can also account for potential spelling mistakes made on behalf of legitimate customers, as well as comprehending the nuances of name-spellings in English or Arabic. "It can recognise that a name like Tariq, or Muhammad, which has a variety of spellings, could have been misspelt by the customer," Al-Usaimi says. "It can then correct this with minimal waiting time."
Customers still wishing to make their application in-person at a KCB branch are able to do so, while the service is available 24/7 online, in keeping with Al-Usaimi's pledge to deliver it inside 90 seconds. "This in itself is nothing new, but is a huge step forward for us," he says.
Al-Usaimi attributes a large portion of the project's success to his talented and innovative team, who devised the ingenious concept. "One of my team members suggested that we build a system to automate the whole process," he says. "That person, along with two other programmers, has been the driving force behind this initiative. I have them to thank for everything."