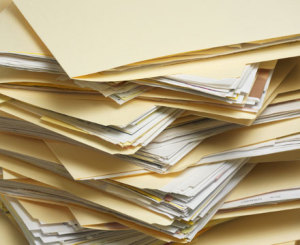 It will come as no shock to anyone that the UAE's Ministry of Labour creates and manages a great deal of paper. Documents, from the HR to the legal and finance departments have historically taken up rooms filled with boxes, which in turn are filled with files. In the recent past, the Ministry  attempted to digitise its archived files, but the solution was difficult to use and thus sat, underutilised, on the virtual shelf. It was clear, in light of government archiving regulations and the need to keep files available, that this paper problem was not going to go away and it certainly was not going to get any better.
Instead of shoving another box into another room to keep the issue out of sight, Ahmad Al Nasser, Director, Information Technology, Ministry of Labour, and Nabil Al Zarouni, IT Deputy Director, Information Technology, Ministry of Labour, decided to take a proactive approach.
Al Nasser and Al Zarouni decided that they needed a user-friendly, scalable and approachable solution to digitising the department's many documents. "The Undersecretary of Labour Affairs has a requirement that all employee files be archived," explains Al Nasser. "Thus, we began our search for a document management solution with the idea that we would begin the process with the HR department files and documents." In addition to the archival requirements, the Ministry of Labour has recently adopted an environmental initiative designed to cut down on the Ministry's eco-footprint. "It is called Green IT," says Al Nasser, "Any way that we can use technology to cut down on the waste of resources such as paper is a benefit to the environment."
Not only conscious of the paper archive's effect on the environment, the IT team at the Ministry of Labour was reminded on a daily basis of another pressing issue, "It takes up a great deal of physical space," explained Al Zarouni, "literally rooms and rooms of HR files have been taking up areas that could be much better used. Without the files filling rooms, we can use our space more efficiently."
It was Al Zarouni that was tasked with finding a vendor to meet the needs of the Ministry of Labour. "We had purchased a solution a number of years ago," recalls Al Zarouni, "but there were too many steps to digitise and archive a single file, so no one used it. If no one is using the solution, it is not a solution at all." With a clunky old system sitting on the virtual shelf, Al Zarouni knew that a costly error was out of the question. He needed to choose the right vendor for the job.
The first decision was whether or not to upgrade the old system, or to implement a completely new system. Al Zarouni did a bit of calling around. "I inquired with other end-users, and found that most of them were also dissatisfied. I decided that there was no reason to upgrade a system with which no one was content. It became clear that we simply needed a new way of doing things."
As a new solution was clearly the way forward, Al Zarouni set to narrowing down his possible vendors. "I selected three possibilities," he says. He used every resource on hand to make a decision. "I spoke with users of each solution. I even used Gartner's Magic Quadrant." In the end Al Zarouni decided on Laserfiche, a vendor that provided everything the Ministry needed in a document solution. "All of the end-users I spoke to were satisfied, and more importantly, when we looked at what Laserfiche could do, we really believed in the solution."
Still, Al Nasser and Al Zarouni approached the solution with caution. "We wanted it to be fully tested on our end-users," explained Al Nasser, "we wanted to make absolutely sure that the solution would be used." As such, the team, in partnership with Laserfiche, agreed to a one month long Proof of Concept period.
After such an extensive trial period, the IT team at the Ministry of Labour expected to see a few hiccups. "We were surprised," recalls Al Nasser, "by and large our end-users were very satisfied." Al Zarouni agrees, "Sure, there were a few complaints at first, but mostly people took well to the new system."
With the new Laserfiche solution in place and the Ministry of Labour staff satisfied that they had found a vendor that could meet their needs, the IT department set to planning the roll-out. "We worked closely with Laserfiche to come up with solutions to our unique issues," says Al Zarouni. For example, he says, some employees of the Ministry of Labour have been employed with the agency for over twenty years. "Their files were huge. If you can imagine every sick day, every leave request and every certificate for a long-term employee. Some files were just enormous." To meet that need, Laserfiche came in with an answer. "They separated the type of document in each file with a barcoded file," explains Al Zarouni, "Each barcode indicated what type of document followed. For example, behind one separator would be the leave requests for one employee. In that way we could just line up the HR file and feed it through the scanner."
It is customer service such as this from Laserfiche that has kept the Ministry of Labour satisfied since the completion of the roll-out last March. "We look at Laserfiche as a partner, rather than just a vendor," says Al Nasser, "they have been there for us with anything we need."
The results of the digitisation of the documents of the Ministry of Labour's HR department were immediate. "Here is a real example," offers Al Nasser, "Someone called me over Ramadan, when there was hardly anyone in the office. They needed the latest copy of an employee's passport. What would have, in the past, taken a few days, took literally a few seconds to find and email to me."
The proof, as they say, is in the pudding. "We knew that the project had been a success when something new and strange began to happen to us," recalls Al Zarouni. "Other departments within the Ministry began to ask for the document solution." For the first time, rather than IT pushing a system on every department and running into resistance, other departments were demanding that their systems be upgraded as well.
The Ministry of Labour plans to continue to work with Laserfiche to digitise their documents. The finance and legal departments will be coming up next, and the team hopes to have the entire Ministry archive digitised by next year. "We feel good about our partnership with Laserfiche," says Al Nasser, "and we are confident that it will continue."
In the future, the IT department at the Ministry of Labour hopes to take the digitisation process to the next level. "We are hoping to see a fully automated system," says Al Nasser, "and we plan to continue our commitment to limiting our use of paper."
A paper problem may not seem like a big deal until it is solved. Digitising the Ministry's documents has freed up time, money and physical space. With these new resources at hand, the Ministry of Labour can get back to taking care of business.