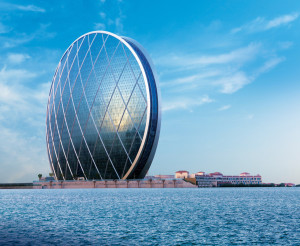 As of early 2012, Aldar Properties and Sorouh Real Estate were the two biggest real estate companies in Abu Dhabi. In March 2012 these two powerhouses began discussions of a possible merger. The plan to merge the two companies was approved by January 2013 and the IT departments of both Aldar and Sorouh came together to begin laying a blueprint for what would prove to be a massive and complex undertaking.
Undaunted, the IT team, headed by Sreedhar K. Reddy, Director of IT, Aldar, set out to create the technology backbone of what would be one of the largest listed real estate companies in the Middle East and North Africa region. With over AED 47 billion of combined total assets, and market capitalisation of approximately AED 28 billion – as well as one of the largest land banks in the region – the merger of the two companies has been an unquestionable success. The combined company has a diversified portfolio of assets with total equity of AED 14.7 billion and an attractive pipeline of assets under development in Abu Dhabi. The company also holds one of the largest land banks in the region, 90 percent of which is located in investment zones.
This merger would not have been possible without an exceptionally strong IT team and clear leadership, not only from Reddy, but also from the highest echelons of both companies. "We were lucky to have good communication with the executive management," says Mohamad Maaz Khan, Senior Manager, Enterprise Business Solutions, Aldar, "that, combined with trust, support and leadership, allowed us to move forward quickly." To deliver  the integration of a multitude of systems and applications, over 50 physical locations and data centres, the Aldar IT team needed a solid plan.
Early on, the two companies formed a team dedicated to monitoring all the working parts of the merger – the Integration Management Office. It was through this committee that the IT team was able to communicate anticipated concerns before they became roadblocks on the path to a successful merger. "Even before we could think of merging the two staffs, we had to merge our recruitment systems," recalls Syed Omer Salam, Assistant Manager, ERP HCM and BI, Aldar. "Every employee at both companies had to reapply for his or her position as if they were applying to a new job. This was very sensitive for everyone involved, so it was paramount that our recruitment portal ran seamlessly." This is just one example of the IT department thinking ahead to pave the road for the merger while always keeping the employees and customers in mind.
"The key," says Abdul Baset Al Kamali, Senior Manager, IT Infrastructure and Support, "was staying one step ahead and anticipating the needs of the company. We needed to fix problems before they happened." To that end, the combined IT team created a comprehensive plan to merge all systems, applications and data centres in record time. To keep business running, the team first had to create a number of interim solutions. In this way, the team was able to begin the merger with little to no interruption of business.
A dedication to keeping business running without a hiccup drove the Aldar IT team. "We were working weekends, holidays and even overnight," recalls Rakesh Narang, Assistant Manager – IT Network, Security and IP Telephony and Fahad Farooq, Senior Specialist, Database Administration. The result of this dedication is that the Aldar employees experienced no downtime at all during the transition. Business continued as usual which was an important factor in keeping up employee morale during what could have been a tumultuous transition. "This is something that everyone on the team is exceptionally proud of," says Reddy.
Though the companies considered hiring an external program manager to oversee the IT projects, with the support of the management, the IT team decided to manage the projects internally. "The outside vendors said that it would take 18 to 24 months to deliver the integration projects, but we had a mandate to deliver them faster, and with no downtime," says Reddy, "so we made it our goal and, in the end, we completed everything we had hoped for by maximizing the business and technical knowledge available within the organization." In fact, most planned merger projects were in implementation stage by day one of the start of the new merged business and were largely completed by end of 2013.
When it came to consolidating applications and systems, the merged team had to take an objective stance. "It wasn't just about which system was older, or bigger, or more complicated," says Reddy, "we should have the best system that will serve us well in the long run." When two systems with the same function were presented, the IT team along with the business teams had assessed  the business process and supporting applications and decided which one would be the best choice for the new, merged company. Though they found that some employees were resistant to a change in some systems, internal training sessions eventually brought everyone on board.
The IT department at the merged Aldar has achieved its goals and managed to consolidate the offices and the IT infrastructure including data centres. The merger has achieved significant synergies through reduced staff costs, consolidated offices, reduced hardware and communication costs and savings on software licenses and support services.
With such a large merger carried out in such a short period of time, one would think that the IT team would have been worried moving forward with important decisions that needed to be made in a flash. On the contrary, with managerial support and a unified effort, the IT team was able to move on tough decisions confidently. "The only time I ever remember feeling nervous," recalls Tarek Al Siyada, Assistant Manager, Systems Administration, Aldar, "is when we were physically transporting hardware from one data centre to the other. I remember we loaded everything up in the evening and then ever so carefully we drove to the new centre. I am surprised we weren't stopped for going too slow!"
The result of the Aldar IT team's dedication to excellence, long hours, careful planning and collaborative efforts is apparent in the result of the merger. In record time, the IT department was able to meet the brief and more, with no downtime and without the need to hire outside consultants. The secret to their success? "We just have an excellent team here," says Reddy, "perhaps we didn't always agree on the way to move forward, but when we approached management with a decision to be made, we approached them as a unified group."
"In planning our merger integration, we asked for a reliable and robust IT platform to be delivered on time- it is a complex but crucial enabler of our success. I am particularly proud at how our team came together to deliver on this difficult enterprise wide project. They successfully managed a highly complex task while merging a department itself. Their achievement has been one of the highlights of our merger integration." says Greg Fewer, Chief Financial Officer, Aldar.
The successful completion of this integration has set the bar for corporate mergers to come throughout the region.