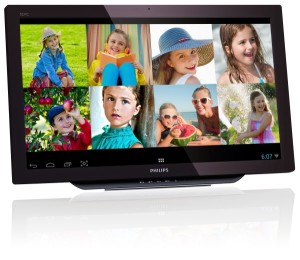 MMD has announced a touch-controlled monitor powered by Android. It is available in 21.5-inch and 23-inch models, and with their inbuilt computing power, are set to provide ease of use and a seamless display experience into living spaces at home, and public-accessed areas such as web cafés, schools and hotel lobbies, according to the company. With a 16:9 widescreen viewing with full HD screen, it produces sharp scan pictures, enabling users to stream HD movies in compelling viewing quality, complemented by good stereo sound.
With direct access to the Google Play Store, users can enjoy Android games and stay connected with friends through social networking apps on the smart All-In-One displays, says the company. Supporting intuitive touch gestures such as pinch, zoom, rotate, swipe and scroll, and large on-screen icons make for better readability. For better ergonomics, it can be adjusted to near-horizontal position on the tabletop, or positioned upright for working or viewing at a desk.
It also supports USB 2.0 ports and comes with an integrated webcam, microphone, WiFi supporting 802.11 b/g/n standards, 2 GB of main memory, and a 8 GB of internal storage, which can be extended via SD card.