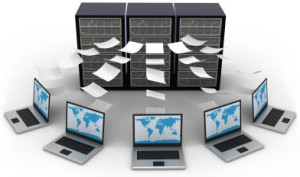 Incessant as the hype surrounding the third platform is, mobility and cloud in particular have undeniably paved the way for the rise of another technology: Network Attached Storage.
The proliferation of mobile devices, and the expected 40% increase in spend on cloud across the Middle East in 2014 has opened up the market for storage that is cloud-based and can be accessed anywhere, anytime. This is largely driven by the explosion of digital content and the internet of things.
Organisations are on the hunt for simple, scalable and cost-effective ways to store and serve business-critical information securely over a network, and an efficient NAS service has the promise of powerful remote connectivity, with the option of extending usability.
Savitha Bhaskar, General Manager, Condo Protego, feels that scale-out NAS is the key to its evolution, "You have different solutions for scale-out NAS," she says. "This is where the industry is evolving.  It is changing and becoming more and more granular with the emergence of more purpose-built technologies depending on the type of NAS in question. You can now take things like video streaming and security images and VDIs and store that to a dedicated scale-out NAS solution instead of on the file server."
NAS seemingly offers high flexibility in storing, sharing and accessing data, providing high convenience along the way. Modern NAS devices offer remote access to data, which effectively creates a personal cloud where data can often be accessed via desktop software or a mobile app. This can effectively amount to having a full server without a PC. Khalid Wani, Sales Director, Branded Business, Middle East, Africa and India, WD, sees the malleability of NAS as a key draw, "With NAS data can be centralised on a single point and multiple computing devices can then easily access this data regardless of whether they are PCs, smartphones or tablets," he says. "NAS devices also offer flexibility in terms of storage capacity, so depending on how much storage you need and the level of data redundancy that you want, an appropriate NAS can be purchased."
Ayman Al-Ajouz, Sales Manager, MENA, Seagate, believes the high performance of NAS devices means they can effortlessly slot into an organisation's IT framework, "Today there are special HDDs built for small business servers, backup servers, and central storage systems, which are rigorously tested to provide industry-leading capabilities for small 1-5 bay NAS systems," he says. "These are engineered for high performance even when several applications are open at the same time; NAS HDDs also support multiple HD video streams and user profiles. Additionally, they have near silent-acoustics, ensuring that the office environment is not affected by loud noises whenever the NAS HDD is in operational mode."
In the age of hacktivism, where cyber security anxieties evade no organisation, there are inevitable concerns over any cloud-based service, and whether data is secure wherever it is stored. Sakkeer Hussain, Sales and Marketing Manager, D-Link, Middle East & Africa, believes that NAS devices are equipped with sufficient security, but users are often negligent in employing them, "Almost all NAS devices that are available today include user security features to allow or restrict file access based on usernames and passwords; you can also allow certain folders for everyone on the network to access or you can set it to completely closed and allow users to access specific folders only," he says. "However, since most of the NAS are being used at home, many users just remove all these security features in exchange of easy access to the files.  They often do not use file restriction access, so anyone on the network can easily access the files without the hassle of putting their username and passwords. It is important for the NAS user or Admin to know how to implement the security feature required in his environment – without this awareness your NAS could have zero security."
Wani realises the potential harm of user ignorance towards NAS, "Organisations should take a holistic view of security which includes protecting vital data that is stored on a NAS from external threats, malicious internal intent or even staff fault/error," he says.
A key advantage that NAS possesses is that it is attractive to SMBs who do not have the budgets or staff of larger enterprises, and are unable to invest in expensive cloud products. Consequently, a large number of SMBs are looking to combine cloud with NAS to get the benefits of cloud, but without the high cost.
Al-Ajouz is all too aware of this, "Given the limited budgets that many local small and medium enterprises are challenged with, setting up a robust IT infrastructure that supports and protects a company's data is often an uphill task," he says. "Managing servers, connecting different platforms, making sure data is secure, and doing it without dedicated IT professionals on call can be a serious headache."
Hussain sees Active Directory as a key advantage for SMBs, "NAS devices have evolved into more functional storage systems," he says. "There are different scenarios in which a NAS can do the job – instead of a more expensive SAN.  Modern NAS devices support Active Directory which makes them suitable to most SMB environments.  One of the main benefits of using NAS is the cost, it is a cheaper investment and also cheaper to maintain compared to a full-fledged SAN.  It also leaves a smaller carbon foot-print and consumes less power."
Although the advantages of an SMB using NAS are more evident, that is not to say that it has no place in the enterprise sector. With larger volumes of data and users, enterprises have more complex storage architectures, and this can equate to a broader range of storage systems combinations.
The option of using NAS as a means of business continuity in the event of a private cloud system being unavailable is has an allure to enterprises. Hussain sees enterprises employing a combination of storage types, "SANs provide block-level storage for access by servers and NAS devices offer file-level storage for access by end users.  In fact many organisations use a combination of DAS, NAS and SAN devices," he says.