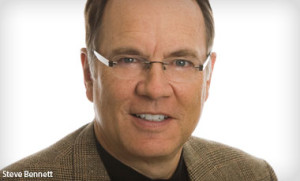 It seems sadly ironic that the role of Symantec CEO is shrouded in insecurity.
The antivirus and security software vendor this week sacked Steve Bennett. This is the second time they have fired a CEO in less than two years, following their decision to oust Enrique Salem in 2012.
Both decisions seemed slightly sporadic, with the company experiencing transitions-of-sorts.
It has struggled to revive growth amid eroding PC sales, and it seems interim CEO Michael Brown won't get too much time to stake his claim for a turnaround.
Symantec has been going through a structural reorganisation that includes cutting executive and middle-management jobs, splitting its sales force to create specialist personnel for each product, and focusing on its most promising products.
Symantec reported a five percent decline for Q3, and has said it is committed to reaching its target of more than five percent organic growth and more than 30 percent adjusted operating margin by fiscal 2017, but is this realistic? With the ongoing decline in the PC and storage business, Symantec, like other vendors, will have to look elsewhere for sources of revenue.
The company has been losing market share to more agile network security software vendors, such as Palo Alto Networks and FireEye.
"It's a jaw-dropping move, especially because Bennett was key to the company's turnaround. I view this as a major step back," Daniel Ives, Analyst, FBR Capital Markets, said.
Symantec Chairman Dan Schulman was keen to frame the decision to remove Bennett as a long-term one, "This considered decision was the result of an ongoing deliberative process, and not precipitated by any event or impropriety," he said.
A special committee of the board will immediately begin a search for a permanent CEO with the help of an executive search firm, the company said.
At board level, stability is key, and there is always the risk that Symantec could be taking two steps back via Bennett's removal.
If the board has a clear long term plan for reviving Symantec's fortunes, then a fresh start could be exactly what the company needs.  If Bennett has been made a scapegoat then the perpetual uncertainty generated by the company's hierarchy could spell decline.
Bennett was due to deliver a keynote at Dubai's m-Government conference on 24th March, but he was relieved of his duties the day before.
On the week of his sacking, the California-based company's shares closed at $20.90 on the Nasdaq. Meanwhile, Bennett left safe in the knowledge that he will receive an $18.6 million payoff.