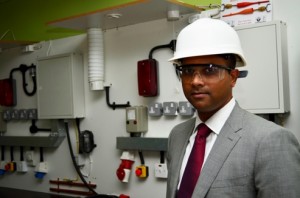 A ship in harbour is safe, but that is not what ships are for. Emcor Facilities Services (EFS) says this snippet of wisdom was its driving inspiration when it ventured into the unknown with the Middle East's first private cloud implementation.
Most organisations can be separated into two areas when it comes to IT – those that wait for new technologies to prove successful before jumping on the bandwagon, and those that risk failure in order to lead and pioneer.
There are of course positives and negatives to both. Those that play it safe are reducing on potential challenges, but are probably not going to get the same benefits as those that reap the first rewards of that new technology.
The latter, on the other hand, are rolling the dice. They're delving into the unknown and as such can win big or lose badly.
The latter are also a rarer species, but it would certainly be safe to say EFS falls into that category. The total integrated facilities management (FM) provider decided to implement something that hadn't been done in the Middle East before – a private cloud.
EFS, which operates 15 companies across the MENASA region, offers large service infrastructure and FM professionals with specific expertise, currently managing 100 projects valued in excess of AED1 billion and employing over 1,000 FM professionals.
It manages its clients' assets by optimising the lifecycle of their facilities. Assets are maintained by recording and analysing their service data history.
"Our key clients' facilities are over three million square meters in area, which indicates they are large government establishments spread geographically with enormous data to be analysed," says Terence Sathyanarayan, Head of Group Technology, EFS.
In such an environment, high availability computing that is on-time and with anytime access is demanded, so EFS embarked on a large and ambitious project to consolidate infrastructure, integrate all disparate systems and create a centralised infrastructure from its head office in Dubai.
"This model embraces service-oriented architecture, along with governance and industry best practices, and encapsulates these factors into a new high availability data centre to ensure business and IT continuity," Sathyanarayan says.
A necessary move
If EFS hadn't upgraded, updated, consolidated and standardised its technology portfolio, Sathyanarayan says it would have struggled to streamline backend processes to reflect industry best practices.
"Our approach was to deliver infrastructure-as-a-service (IaaS) by rapidly deploying a hybrid-private cloud and at the same time ensuring this does not affect the bottom line of depleting project budgets," he adds.
A key reason for EFS moving to the cloud was to relieve the IT burden on existing budgets as with the hardware no longer on-premise, each operating company only has to pay for connectivity.
However, Sathyanarayan adds that another key reason was in order to use Oracle JD Enterprise One as its business application system.
"Being a Tier 1 application, it required a competent technology delivery platform. Delivering a full technology stack within quick turnaround, lower CAPEX and ensured compliance can only come with the costs that cloud computing permits," he says.
EFS carried out an in-depth cost benefit analysis of hosted verses in-house data centre environments, and also got a validation by an external feasibility audit from CapGemini, before deciding on hosting its infrastructure and applications.
"This then led to the initiative to construct a 'hybrid-private' cloud. Our experience in maintaining one of the largest data centres in the region led us to the decision to focus on our core business, which is FM. In our opinion, building and operating data centres should be left to IT organisations," Sathyanarayan says.
"The idea in this project was to migrate to a model where we would invest only in core infrastructure and move the rest to a lease model that would allow us to focus our future investments in people, process and applications, instead of capital expenditure," he adds.
Its strategy was to migrate its systems to a hybrid model, which involves investing in high-end computing hardware and security like servers and firewalls, and where the data centre infrastructure – including core switching, perimeter security, load balancers and storage area networks – would all be leased.
Sathyanarayan says this concept of reducing overheads by outsourcing IT was welcomed by the board at EFS.
"The objective was to undertake initiatives and invest in technologies that would help us boost the bottom line for the company and, although the cloud model itself continues to be smoky for many in this region, we leveraged the mature components to deliver a solution with agility," he says.
EFS like to keep its IT team lean – it currently stands at around seven – because of its preference of outsourcing IT. It handled strategy changes on-premise, but leaves the day-to-day processes to the service provider.
"The idea is that because our business is facilities management we didn't want to focus on IT," Sathyanarayan says. "When it comes to server and security management, you need a plethora of IT services on site, and we didn't want that to hit our bottom line. We didn't want to block our CAPEX in resources and IT – we wanted to outsource that and pay as we go.
"Here at EFS we are business managers, not IT managers. We want to make sure human resource, which is normally 60% of a company's budget, is not hitting the bottom line. So we outsourced it and that came in as an OPEX – a running cost – so it doesn't hit the PNL."
Unique concept
The project involved a unique hybrid build-out of a private cloud – set up for production, staging and business continuity management, along with a disaster recovery environment – that all leveraged eHosting DataFort's (eHDF) data centres in Dubai Outsource Zone (DOZ) and Dubai Internet City (DIC).
A key reason why eHDF was chosen, Sathyanarayan says, is because EFS' selection process of reviewing five competent vendors identified it as the only fully managed service provider (MSP) on the telecom provider's backbone at the time of the selection exercise.
"We also must not forget the most important element in any technology delivery success story, which is people. Therefore, the incumbent MSP we chose had to have a pool of highly qualified resources that doubled up as our outsourced IT department, which is what eHDF had," Sathyanarayan says.
Another of the key considerations of the project was strong local support, and Sathyanarayan says this was one of the major advantages of working with eHDF.
"Although we were working with market leaders from outside the region (we currently use JD Edwards Oracle on demand from the UK), for this particular project we wanted to ensure our hardware and data were within national boundaries," he says.
"eHDF was also the only MSP with three production and disaster recovery data centres in the vicinity of Dubai. Both data centres were in different seismic zones. Furthermore, in an economic climate as we are in today, price was of course the ultimate deciding factor and eHDF managed to meet our expectations," he adds.
With eHDF's data centres ISO compliant, it meant that 30% of the work was already done.
The other 70% was internal processes and EFS appointed external auditor ITB (IT Butler e-Services FZ-LLC) to come in and perform vulnerability assessments and penetration testing to assure the systems were watertight from a security perspective.
"Before doing that we checked the background of IT Butler. We signed an SLA with them and they do all of our security testing. We needed someone independent from eHDF because they advised us on what SLAs we needed between us and eHDF," says Trilok Mohnani, Senior IT Infrastructure Officer, EFS.
Furthermore, Mohnani dispels the myth that switching to the cloud involves more security concerns than an on-premise data centre.
"Whenever you deploy any new IT project, you have to think about security, but when you move into the private cloud the security concerns are the same as implementing your own data centre," he says.
The only real difference, he adds, is the need for "extremely stringent and tight" SLAs with the service provider due to their access to EFS' data.
"There is a completely different mechanism rule book when it comes to forming an SLA with a cloud service provider. We had to define what access they had and if there is a termination of contract, how we get all of those things back. We spent a good amount of time on that," he says.
However, the project was not completely smooth, Sathyanarayan admits.
"If there's one way to describe a smooth project – it's a pipe dream. Any experienced project directors will admit that building the region's first-of-its-kind private cloud is not without its challenges, especially when the technology used is unchartered territory for many," he says.
The key challenges for EFS was using specifically selected hardware and integrating it into the data centre infrastructure, as opposed to public cloud where the service provider leases its own choice of hardware.
EFS expressed a desire to use the Oracle Spark T4 servers on a Solaris 11 platform and wouldn't compromise for anything less, and as such the hybrid setup was necessary.
Big success
The project went live in July following a six-month implementation and, despite the challenges, Sathyanarayan calls it a big success.
"All credit has to go to the project management team from EFS, Oracle and eHDF and the experienced steering committee that all together delivered the project successfully. It was a massive challenge, but with professionalism and a strong working relationship, we succeeded and made the idea a reality," he says.
The secret to this success, he believes, was EFS' decision to get its IT systems ISO 27001-certified during the implementation process. It remains the only FM company in the Middle East to have that certification.
"This ensured the IT systems were installed as per industry best practices and it meant that security standards and bench marks were set high to ensure confidentiality, integrity and authority of our data," he says.
The project has enabled EFS to standardise its business processes and reduce CAPEX, while data loss prevention was also enabled across the organisation.
"This was a very critical aspect as we have a very unique method of working. The project also gave us security across the organisation and the ability to be proactive to client requirements and provide agile solutions. We don't have to re-deploy ERP anymore for other regions and locations and, being on the cloud, our users can access the system anytime and anywhere, so long as they have an Internet connection," Sathyanarayan says.
"We could leverage the high performing infrastructure of eHDF on the network and storage areas at a fraction of the cost as compared to purchasing dedicated solutions and implementing them ourselves."