From the Dead Sea to the Dalai Lama, Suhayeb Jaabo has taken in a lot in his career. The Magnolia RM Investment Group Head of IT has developed a fresh outlook on business and life, through an impressive CV that has spanned several of the Middle East's prime locations.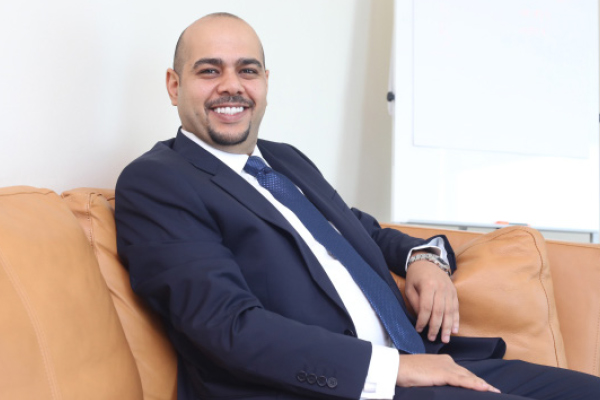 Suhayeb Jaabo continues to value knowledge and precision in IT. "Only when you've finished a course of study do you realise how little you actually know," he says. "Of the hundreds of IT professionals I've met and worked with, only 10 or 15 really stand out as being accomplished."
The Magnolia RM Investment group head of IT believes his field to be intricate and highly scientific. "It may seem a farfetched analogy to some, but I really do think IT is akin to the human body. The brain is like a processor, the body has storage systems and a complex network that delivers various messages for different purposes and processes."
Spending the majority of his childhood in Saudi Arabia, Jaabo obtained his Bachelor's degree in computer science from the Applied Science Private University in Amman, Jordan in 2003. He kicked off his career in the hospitality sector, joining Amlak Hotels in Jordan as IT supervisor, where his work covered five properties. He was tasked with overseeing the infrastructure and overall IT management, an experience that pushed him out of his comfort zone. "I loved programming – and still do. I love the concept of creating applications to automate processes or tasks whether its personal or professional, but my role encompassed other elements which served as great experience," he says.
After two years at Amlak, Jaabo upped sticks to work across hotels in two of the Middle East's most famous tourist sites – Petra and the Dead Sea – as Mövenpick's IT supervisor in 2006. Jaabo quickly ascended the ranks at Mövenpick, becoming assistant IT manager in the early stages of his tenure, and then IT manager after just one year at the tender age of 26.
His time at the properties afforded him some unique opportunities, with Mövenpick Petra hosting the Petra Conference of Nobel Laureates, and the Dead Sea venue playing host to the World Economic Forum. "I was lucky enough to meet the Dalai Lama – he was a big fan of our chefs," Jaabo says.
The events also served as a fantastic professional learning curve. Catering for the technology demands of world leaders was challenging and fascinating," he says. "They demanded secure communication outlets, and we provided them with ISDN and leased lines. On top of that, they brought a lot of their own equipment which we had no access to, including Including SCIF – sensitive compartmented information facilities – for secure communications. There was a forbidden tent that we couldn't access. The experience taught me that there was a lot out there that we have no idea about."
Nonetheless, the rigour of working for a "large enterprise" like Mövenpick taught Jaabo plenty about business. "The nature of IT in hospitality meant I was working until 3.30am every night, and waking up five hours later," he says. "I had a room within the property, and quite often staff would have to wake me because I wouldn't be available to serve the hotel's guests."
Eventually tiring of the slow pace of his personal life in Petra, Jaabo opted to return to Amlak, this time for a role in Dubai as IT manager. His time at the company remains a great source of pride. "We implemented a state-of-the-art infrastructure there," he says. "We spent around AED 3 million on first class IP telephony, core switches and touch screens."
After spending two years in the role, Jaabo felt compelled to move away from hospitality, and joined Belhasa International as IT manager for security and operations. "I was keen to move to a diversified company," he says. Emirates Driving Institute fell under the Belhasa umbrella, and Jaabo was tasked with equipping 900 learner cars with "intelligent systems". "We completed an award-winning vehicle tracking project which helped deliver quality control," he says. "It was important to track the speed and location of vehicles, as well as providing an effective communications channel to ensure that lessons were conducted properly."
Following a variety of other successful projects at Belhasa, Jaabo joined food and beverage company Magnolia Restaurant Management Investment in 2014 as group head of IT. The firm operates as a franchise for a range of renowned brands, including Chuck E. Cheese, Flippin' Pizza and Just Falafel. His work at the firm has taught him the value of integrating IT assets effectively. "When operating across businesses, it's important to assimilate with each company culture, and that applies to IT systems," Jaabo says. "Businesses require creative data for decision-making purposes, clever stats or data that assist in getting the job done."
Still a firm believer in continuing professional development, Jaabo is currently undertaking a Master's degree in IT management at the University of Wollongong in Dubai, a course he is due to complete this year. "I believe it's important to have practical skills as well as certifications," he says. "Whenever you face a challenge, you need to be ready to take the appropriate course of action.
He goes on to add that the term 'IT' is not all encompassing in a decision-maker's position. "I believe our role is more of a 'business technology' manager, so BT," Jaabo says. "I'm an ambassador of IT to the business. Many IT managers focus on technology. They might say 'I want Oracle because it's the best,' but does that really suit your environment? By 2020 or 2025 I believe most infrastructure will be in the cloud, and that is a prospect that can enable businesses."
Jaabo started his professional development by gaining certifications in subjects that continue to benefit his current business assignments, including OCA, MCSA, ITIL, CCNA, CHTP, CISA, CISSP, PMP, CITM, CDCP and recently ACIArb, which specialise in arbitration. "I believe that a successful head of IT should have sufficient knowledge in the fields that he is required to oversee projects within, in order to be able to manage risks involved, and. more importantly, business short-term and long term impact."
Having lived across the Middle East, Jaabo continues to be impressed with the pace of business in the UAE. "Everything is very fast here," he says. "People can often be wasteful with investments because they change their mind too quickly, but it's great to be kept on your toes. In Saudi and Jordan, things are much slower, and projects take ages to finish."
Jaabo says Frank Underwood, protagonist of American TV series House of Cards, has qualities that he admires. "He does certain things that I can't condone, but I do like the way he chases what he wants," Jaabo says. "He is determined and gets results."
He goes on to add that he expects his team to apply common sense in their approach to tasks and in their organisational skills. "I love interacting with my IT team and like to make it clear that I have three rules. Firstly, to be smart. By that I mean you have to make sure your success is measurable; there are no loose ends and things are done in a timely manner. Second, if things are not documented then they may as well not have happened. Everything needs to be in black and white.
"Lastly, don't 'but' things. Sometimes completing one step creates five more, but if they aren't completed then neither is the task."