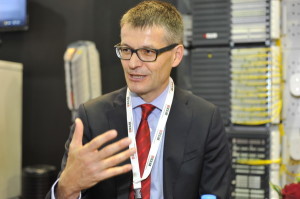 Swiss cabling company R&M is celebrating a milestone this year. During its 50th year in operation, they are coming with solutions and expertise that fit the region's booming investments. CNME sits down with CEO Michel Riva to see what is in store for the company this year.
What are you doing this year that is different from previous years?
Most importantly, we are celebrating our 50th anniversary in business. This year our focus is on data centres. We have seen a significant increase in data centers in the past few years. It is now one of the main drivers for our industry. We also introduced a new software this year called R&MinteliPhy. This solution allows data centres to immediately improve capacity utilisation, profitability and availability. It also helps with analysis and documentation and with all typical management tasks involved with passive infrastructures. We have invested a lot of innovation in these aspects.
R&M has been growing in the Middle East – why do you find this region to be so important?
I'd say in the course of the last two years we have seen a good increase in the industry in the Middle East. For our company the Middle East is very broad, and we are very positively investing in this region and we really believe in those investments.
Two years ago we made an investment here in Dubai to put up an assembly implementation and we are now finishing up a similar project in Saudi Arabia.
What are some of the key trends driving structured cabling market in this region?
I think that there are various aspects. Most importantly, there are a great deal of investments in the region. We have EXPO 2020 coming up, as well as a lot of construction projects in the region. The investments that we lost during the recession are coming back. I think that investments like that are driving the IT industry in general here. We see many more projects using higher standards. This helps the cabling market.
What is R&M's go to market strategy in this region? What role does the channel play in your business?
We invested in this region early on. We normally work with installers and partners as well as end-users. We work more on the remote side with distributors.
How do you see the uptake of Cat6A solutions? Which verticals are adopting advanced cabling systems and newer technologies?
I would say the last 12 months we have seen a significant increase in the uptake of Cat6A solutions. Probably 40 percent of new projects are using Cat6A solutions. You can see verticals like banking, universities and data centres using Cat6a solutions.
This region is still predominantly an unshielded market. Do you see a demand for shielded solutions now?
We have seen in other regions and in this region a move from Cat6 to a Cat6A solution. More modernised markets are using shielded solutions. There are different reasons for that – most importantly that there is a stronger link with data centre solutions. That is a great benefit. We offer both solutions. However, we are seeing shielded solutions gaining momentum globally.
Are plug and play solutions more in demand?
We have seen plug and play solutions become more and more important, particularly with data centre solutions.
What is your advice to customers who are looking to future proof their networks?
Today, you can have everything. You can have an array of high-end solutions. At the end of the day, you need to make an investment that will last over the next ten to 15 years. You need to find solutions that fit your business and that will last over time. R&M has experts in the region to assist all industry verticals. There is really no single cabling solution for a business, so we provide expertise that fit the business.