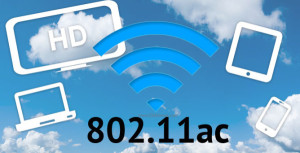 The newest version of the 802.11 standard – 802.11ac – is ready for prime time. The official IEEE standard is finished, the Wi-Fi Alliance has issued a specification for interoperability, essentially all enterprise-class Wi-Fi system vendors are shipping (or have at least announced) 802.11ac products, and price/performance is significantly improved over 802.11n products. 
The move to gigabit Wi-Fi is picking up steam for obvious reasons – 802.11ac is faster, more agile and more robust than any of its predecessors. Providing Wi-Fi at the speed of a wired network, the latest version of wireless standard is revolutionising how enterprises support the large number of devices connecting to their networks.
Though installing this next-generation Wi-Fi technology will become mandatory soon, there are many questions that you need to address before making the move. The biggest challenge facing IT managers is justifying the investment given the fact that many 802.11n installations are still underway, and the vast majority of these are far from saturated or even fully depreciated.
"802.11ac is the most rapidly adopted wireless Ethernet application ever," says Valerie Maguire, Director of Standards & Technology, Siemon. "The growth predictions for this year alone are astounding, with Infonetics estimating that 802.11ac routers will make up 42 per cent (74 million devices if the market stays at the 2014 level of 176 million routers) of all Wi-Fi enabled router shipments. Strategy Analytics also estimates that sales of consumer devices with 802.11ac Wi-Fi capability (including routers and gateways) will exceed the $1 billion mark."
She adds that the increasing presence and capacity of mobile and handheld devices, the evolution of information content from text to streaming video and multimedia, and limits on cellular data plans that encourage users to 'off-load' to Wi-Fi are all driving the need for faster Wi-Fi networks. Clients with 802.11n installations underway are strongly encouraged to transition their design to support 802.11ac to avoid bottlenecks and congestion, increase capacity, and reduce latency in their wireless network.
Manish Bhardwaj, Marketing Manager, Middle East & Turkey, Aruba Networks, offers another reason for deploying 802.11ac, "Now the 100 Mbps or 200 Mbps rates enabled by 802.11n, breakthrough figures that put it on a par with 10/100 Mbps Ethernet just a few years ago seem barely adequate for some emerging video applications. If organisations are forward thinking and are looking to improve performance, then 802.11ac is the answer."
Luckily for users, a broad range of deployment scenarios are available with what might just be the last major WLAN upgrade, which enables a cost-effective fit for virtually every situation. Given the higher throughput of 802.11ac, is it safe to assume that only fewer access points will be required in any given installation?
Not necessarily, says Maguire. "Unlike 802.11n devices, which can be configured to transmit in either the 2.4 GHz or 5 GHZ spectrum, 802.11ac devices will transmit exclusively in the less crowded 5 GHz spectrum. This spectrum supports higher transmission rates because of more available non-overlapping radio channels and is considered 'cleaner' because there are fewer devices operating in the spectrum and less potential for interference. However, one disadvantage to operating in this spectrum is that 5 GHz signals have a shorter transmission range and have more difficulty penetrating building materials than 2.4 GHz signals. This transmission range, coupled with the fact that the typical user is anticipated to be connecting more Wi-Fi enabled devices (6-8 devices per user is anticipated) at any given time than ever before, means that the density of wireless access points will likely remain unchanged or may even slightly increase as clients migrate from 802.11n to 802.11ac."
Saleem Al Balooshi, Executive VP , Network Development & Operations , du, says 802.11ac technology indeed provides higher throughput, but less coverage due to the nature of the 5GHz frequency band compared to 2.4GHz band. "So to maintain good coverage with high throughput, both frequency bands design need to be considered and number of access points will not be changed," he says.
Another option to consider is whether to rip-and-replace, or simply add a new 802.11ac network to your existing WLAN. "All 802.11ac access points (APs) will be backwards compatible with 802.11a/b/g/n. This will allow for a gradual migration away from these legacy devices to 802.11ac on a more time-manageable schedule. However not all of the features from 802.11ac will be available for use with these legacy devices. In some deployments, 802.11ac APs will be rolled out in phases," says Bhardwaj.
An overlay network is the way to go if the bulk of network traffic is still in the 2.4Ghz band, using traditional b/g channels. Since 802.11ac only uses the 5GHz band, there will be little or no disruption to your current user base, and new clients with 802.11ac technology will immediately benefit from the new network. And, if you have clients that already support 802.11ac technologies (like the newer Macbooks) you will even see a benefit on your existing 2.4GHz network as these users will seamlessly migrate to the new 802.11ac network, freeing up bandwidth on the 2.4GHz channels.
ABI Research predicts that 70 percent of smartphone shipped by 2015 will have 'ac' chipsets, and since smartphones are probably the biggest BYOD challenge, moving them off to a new 802.11ac network in a new frequency band will provide some instant relief.