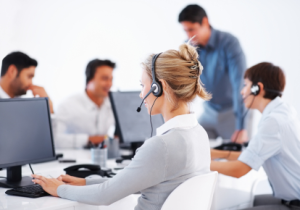 The IT help desk's role is something of a poison chalice. On the one hand, its duty is vital, one that an organisation depends on to function efficiently. On the other, employees are demanding, and often expect that IT should be easily kept under control without any unnecessary glitches. A well-organised help desk can not only serve as a firefighting unit, but can help drive business value through various means of support. A disorganised one will find itself facing plenty of difficulties.
A commitment to IT governance and policy-driven issues is key for help desk staff, ensuring some form of order within the diagnosis and action stages. Over 50 percent of IT service disruption issues that are reported by end users are undetectable with traditional back-end monitoring tools, so a help desk must be well-prepared when it comes to tackling threats. Help desks need solutions to diagnose and proactively fix issues, before more users become victims to the same problem. A help desk that has a strong grasp on KPIs, with a list of metrics that can track performance, including SLA compliance, response and resolution times and support costs will be on the front foot in dealing with the challenges ahead.
"An effective help desk should have clear visibility on what needs to be achieved," says Kumaravel Ramakrishnan, Marketing Analyst, ManageEngine. "Whether it is a customer satisfaction rating of 90 percent for the quarter, or an 80 percent SLA compliance for the year, or to bring down the cost per ticket by 20 percent this year; the IT team needs to clearly know what they are working towards. There needs to be a concrete plan that lays out a roadmap to achieve these goals. This involves people – hiring, identifying skillsets and training; process – incorporating best practices, identifying and closing gaps in process workflows; and technology – identifying areas of automation, and the selection of right tools."
As the first point of contact with end-users, the IT help desk's efficiency and level of service can impact an organisation's brand image. Ramakrishnan sees the value of internal forums and specific training plans for each individual in the team, "Every help desk team should have a focused training plan for staff in different job functions," he says. "New recruits to the team should have a training plan with a checklist of items to be covered in different time frames. Training can be structured to be a mix of on-the-job and classroom training with continual assessments to measure progress. Depending on the need, training can be outsourced. There can be an internal knowledge forum or a closed group within the company intranet where questions can be asked, and topics discussed. These can spur discussions, sharing and contribution of new artifacts to the knowledge base."
Bryan MacKenzie, Managing Director, Middle East & North Africa, Quintica, also believes workshops are key, "Getting team members together in workshops is vital to develop a common understanding of terminology and processes, and also to be able to share experiences and examples so that a full understanding of the benefits of a structured procedure can be absorbed," he says.
The age of BYOD poses another headache for the help desk, with employees demanding the use of their own devices on company premises, posing both network and security issues. In addition, incident tickets must be effectively used to ensure the help desk's priorities are clearly defined.
"Care must be taken to ensure that incident tickets are categorised according to urgency and impact on business, which often means ensuring resources are allocated to more critical matters than the HR Director being unable to find an email, or an office printer paper jam," MacKenzie says. "To avoid any negative perceptions, successful service desks will initiate communication plans to make sure service level expectations are shared, and know that the ultimate improvements in service performance and availability are published."
Two of the biggest issues for employees are when a fault reoccurs, or when changes to a system fail. Both reflect poorly on the help desk. Root cause and impact analyses and change management are vital processes in ensuring that user satisfaction remains high and the risk of problems is minimised. In addition, help desks should be there to provide support to projects that often get left on the backburner; ones that are sidelined due to a lack of resources. Infrastructure visibility is a key advantage for a help desk.
"The biggest challenge the help desk faces is lack of accurate information," Maged Eid, Regional Director, Nexthink, says. "The ability to have real-time visibility across the entire IT infrastructure and endpoints makes it easy to find the source of an issue, the number of end-users impacted and identify axes of investigation."
As well as expected ticketing systems to log and track status, efficient solutions are key, says Eid. "Help desk staff need solutions with advanced analytics and dashboards to ensure all end-users are experiencing the best performance with their workstation and the right configuration of their computing environment," he says. "IT analytics solutions provide help desk staff with a complete view across the enterprise from the end-user perspective. This real-time view gives help desk staff the visibility to rapidly diagnose problems, and accurately understand and evaluate how the organisation is performing." In other words, this is tantamount to possessing monitoring tools that allow support staff to identify existing and potential problems before users begin to report them.
Communication, in many cases entailing feedback, is an important aspect of assisting a help desk to improve its performance. Analytics can offer easy access to the knowledge required by help desk staff to restore or preserve the level of service that end-users expect. Modern service applications usually have a portal interface to provide a self-service capability to end-users. Indeed, most employees in this age are able to fix many problems themselves with an easily accessible knowledge base.
MacKenzie feels that feedback surveys are antagonistic, "Although survey feedback is useful for IT management, it should be simple and limited – because users don't like filling in feedback forms," he says. Ramakrishnan, however, sees them as an important part of the process, "Feedback surveys can be an ongoing exercise or scheduled at pre-defined frequencies," he says. "Two key areas where organisations can collect feedback are the help desk performance and the usefulness of knowledge base articles. Just like how a help desk can have different channels of ticket logging like email, self-service portal and phone calls, feedback should also be collected from as many channels as possible. End users must be given an option to provide ongoing feedback from their self-service portals on issue resolution and knowledge base items. Survey emails, live chat and remote support tools are a few other systems that should be in place for feedback collection at the end of a customer session."