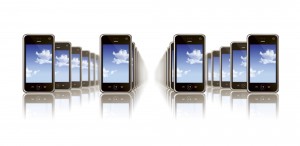 Consumerisation of IT has created a desire in every employee to access corporate information using a array of personal mobile devices. Nancy Sudheer discovers that today's CIO faces the challenge of ensuring a device-independent mobile environment that will allow users to access information – anywhere, anytime.
In a business environment, mobilising IT means taking information from  inside the secure environment of a company's IT infrastructure and delivering it into the hands of employees and partners outside in less secure or public places. Therefore, ensuring the secure transmission and storage of  this information on mobile devices is a key concern with any CIO today.
Across the Middle East smartphone uptake has been massive, led by consumers who appear to have great inf luence over the technology they use. It clearly indicates a great appreciation of the benefits of smartphone  technology and a willingness to use it in their personal and professional life.
According to market research, smartphones now account for one in four  mobile handsets sold in the world and is experiencing around 20% CAGR per  year.
"This can be challenging for CIOs who need to deal with employees who insist  in using a particular manufacture or type of device. Risk assessment of these  devices is crucial before accepting these devices onto the network and is feature: Mobility one way CIO can retain control over their usage. Therefore,  we expect to see companies provide recommendations to staff on  appropriate purchases," highlighted Matthew Hands, Enterprise Channel  Manager at RIM Middle East (manufacturers of BlackBerry).
Likewise with the fast emerging  tablet devices there will be an appetite for individuals to use these devices connected to the corporate network. BlackBerry, one of the leading players in the enterprise mobility segment is  now looking at integrating its smartphones with the new PlayBook. The tablet  is focused on the business environment and utilises the same management infrastructure as that of any other BlackBerry smartphone. These devices will  llow users greater functionality and is expected to further increase staff  productivity. They are likely to become more commonplace than laptops as  they are lighter and more compact, yet deliver the equivalent computing  power and with faster highspeed wireless networks like 4G LTE which are  highly responsive.
Ensuring true mobility
Employee productivity in the enterprise environment improves with device independence. Particular devices can be chosen keeping in mind whether it  provides the best performance and usability for a particular task without worrying about whether apps and data needed will be available on that  device.
Nass Nauthoa, general manager, Intel, GCC said, "Today there are concepts  like virtual containers on a notebook PC with hardware-assisted virtualisation capabilities, employees can have access to mulitiple  environments (corporate and personal) on a single PC—something that is not  possible on a mobile Internet device. However, employees may also want to  carry companion devices for travel or home use for light computing tasks,  such as access to the Internet, contacts, or schedules. Device independence  gives employees the f lexibility to use the best device for each specific  circumstance."
True mobility facilitates business continuity, collaboration and increases productivity. True mobility expands beyond devices to processes and workgroups. Mobility in the workplace is about taking existing workf lows  and creating a different kind of experience, not just for the individual, but for  the group the individual works within.
Tarek Abbas, systems engineering  director at Juniper Networks MEA explained, "True mobility facilitates business continuity, collaboration and  increases productivity. Mobility expands beyond devices to processes and workgroups. In the workplace it is about taking existing workf lows and  creating a different kind of experience, not just for the individual, but for the  group the individual works within."
Individuals often assume that because they have a smartphone or  implemented a new WLAN network, they've embraced mobility – but they  really haven't; more needs to be done to bring about precision and  difference.
Process within an organisation is important. It has to be made simple to be adopted and change working methods. And the outlook towards business. A  good process will help employees make choices aligning with the top management requirements.
"Organisational process will also be a large determinant in the success of mobility within an enterprise. Many a times by adopting an online presence  via a portal can lead to successful deployment of enterprise mobility devices. This portal can look into aspects of ordering mobile devices, approvals,  criteria determining which device is appropriate for the role of an employee  by setting out a clear mobile policy. Helping employees report breakages and  oss of devices," explained Wael El Kabbany, general manager at British Telecom MENA.
He added, "Having an enterprise mobility process in place for the  management of enterprise mobility devices is critical. It is essential that an  organisation truly understands its enterprise mobile estate, the associated costs and has clear policies in place for employees. Mobile asset  requirements may also change depending on employees leaving the  company or change of roles."
"True enterprise mobility" means a broad spectrum of solutions that  leverage the latest in mobile technology from smartphones, to cameras,  barcodes and mobile networks. Raj Bala, CTO at Cognizant stated, "To gain  the most from mobility, enterprises must reshape themselves. This involves  assessing how to achieve the enterprise's goals using new technologies such as mobility. Often, existing business processes have to be reengineered to  achieve optimal use of mobility. New business processes also have to be put  in place to exploit mobility. Only then can true enterprise  mobility be achieved, rendering a significant competitive advantage to corporations undertaking this transformation"
The physical realities that used to be an important aspect of doing business, are paving way for virtual readiness, where businesses can be conducted from anywhere, at anytime, on any device and at much faster speeds, with  complete f lexibility and security.
Abdulla Hashim, senior vice president, business solutions at Etisalat noted,  "Mobility has clearly emerged as a business transformation tool and Etisalat is all set to be at the driving seat to deliver value to customers with its range  of innovative services. Mobile applications can be customised and applied  across various industries to provide higher business efficiency and  productivity."
"Mobility solutions have created a paradigm shift in the way businesses are conducted in the UAE. While on one hand, proliferation of mobile devices are  elp to liberate the workforce by creating on the move avenues for easy access to e-mail and business applications; on the other, the same  proliferation and growing reliance on mobility is creates higher stress for the  CIOs who have the additional task of integrating and controlling mobility to obtain optimum  workforce efficiency. This is where organisations need to  collaborate with solution partners such as Etisalat who understand every  component of the mobility ecosystem."
One device rule
While some companies still follow the  one-device rule most IT leaders today  removing away from it. The leading banks  in the world are an example where they are now giving employees the option of choosing their own  platforms.
Manish Mishra, vice president, HCL Technologies Middle East has worked with customers to manage mobility and mobile device management solutions that can handle the complexity of managing multiple devices and  platforms thus reducing the need for a one device rule.
The implementation of a one-device rule depends on the type of enterprise ordivision, where the maximum devices are deployed. This is closely linked to the applications needed by the employees, added Sylvaine Dekeyrel,  marketing virtualisation manager, NEC IT platforms (EMEA).
Given the multiple end-user environment, a mobility deployment can be  classified into different categories, Hozefa Saylawala, director, Motorola Solutions said, "Consumer, rugged or semi rugged are classifications which
are important as connectivity has to be ensured with the integration of the  real time information. This is accessed by mobile and multiple back-end  systems. End-user access devices must also suit different user and environmental needs."
Today there are secure mobile application accesses, strong authentication,  high availability, scalable architecture, and compliance reporting available  in a seamless system. This brings the same level of control to mobile devices- including employee-owned smart phones that IT applies to laptops and  desktops.
"Comprehensive and robust management features enable IT to effectively  secure its mobile workforce, ensure that policies and configurations are persistent, and deliver automatic and real-time compliance management. Most solutions today also help enterprise end-users drive down support  costs and overall TCO by leveraging the native capabilities of each  enterprise's existing data center infrastructure and IT network, including  directory services," said Abdelhamid Gamal, Telco AM from McAfee Middle East.
It is equally essential that security policies must be consistent and uniform across an enterprise, regardless of access, "A secure mobility solution should provide a simple deployment mechanism for enforcing role-based granular  access control to corporate applications with a zero-touch provisioning  access for new employees and authorised users in the organisation," added  Abbas.
As safeguards are put in place to protect data and intellectual property, companies can allow employees to select the tools that suit their personal  work styles and facilitate their job duties, improving employee productivity  and job satisfaction manifold.
Even technology majors like Intel have opted to allow their employees to use personal mobile devices in the enterprise. The IT team is actively involved in integrating employee-owned hand-held devices into the enterprise  environment.
Secure mobility
Employees must understand the value of data on their devices. This must be clearly understood by setting security policies (such as web browsing) down  to the end of the device. Device encryption is another important element  which must be integrated for stolen or lost devices. "To understand the value  of data it is important for an organisation to explain the corporate value of  the available information to the users. Training of users is another essential  element as any technological solution always needs the support of the users  to ensure that it works," stated Nigel Hawthorn, vice president EMEA  marketing from Blue Coat Systems.
This same level of control must be brought to mobile devices — including employee-owned smartphones — that IT applies to laptops and desktops.
"Comprehensive management features enable IT to secure its mobile  workforce, ensures that policies and configurations are persistent, and  eliver automatic and real-time compliance management. This helps drive down  support costs and overall TCO by leveraging the native capabilities of each  enterprise's existing data centre infrastructure and IT network, including  directory services," added Gamal.
A comprehensive policy within the organisation ensures restricting transfer  of specific files and documents, blocking email attachments using user-configurable criteria, customising application control, and denying  internal and external Web access based on various user-configurable  options.
Florian Malecki, senior product marketing manager from SonicWALL EMEA  explained that IT still finds it challenging to manage mobile devices as data  and network resources have to be clearly defined. "Data and network resources have to be accessed from mobile devices. Security companies  today are supporting clients on this front providing easy to install, manage  and use solutions. Organisations need to understand that there will be many  rapid changes in the smart phone platform, beyond the control of corporate   IT. Administrators must deal with multiple operating system platforms, including Apple iOS, Google Android, Nokia Symbian and Microsoft Windows Mobile, with an additional potential for new providers from emerging  technology powerhouses."
The burden of juggling support for multiple smart phone platforms can also take IT resources away from securing other aspects of the network. Smart phones operate in two worlds: they can connect to the corporate network  over wireless, or bypass the network entirely using mobile cellular  connections. An employee might download Malware from the Web over 4G,  and then disseminate it to the network over the corporate WiFi.
Today, a CIO cannot restrict "Personal-Liable" devices as they bring both  benefits and disadvantages to any organisation. While having your employee  pay for and manage their own device has cost-savings benefits, supporting an  nrestricted number of  platforms is a nightmare for any CIO. This is not  going to change in the near future as the adoption by employees of converge  devices increases within an enterprise environment.