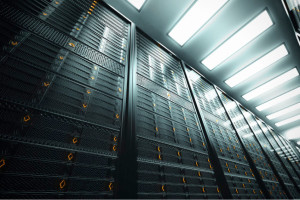 With the disk-based storage industry struggling to keep up with demand, and the speed increases promised by flash storage, many businesses are doing away with their traditional storage systems, opting instead for all-flash arrays.
Whichever way you look at it, hard-disk storage space is running out. It might sound like an impossibility — after all, vendors can simply carry on creating more disks. But the reality is that, because of super-fast Internet and Big Data, the supply of storage can't keep up with demand.
Industry insiders estimate that the storage demand is going to continue to grow north of 50 percent.
"What we're struggling to do as an industry is keep up," Mark Whitby, Vice President of EMEA Sales and Marketing, Seagate, tells CNME. "The rate at which we squeeze the data onto the disk is growing at about 15 percent, and that's finite."
Whitby acknowledges that, as a storage vendor, it's a good problem to have, but that doesn't change the fact that, at some point, an enterprise will have to compromise on the amount of storage it can have — at least when it comes to traditional disk storage.
Surprisingly, though, the answer could lie in flash storage. It's surprising because, even up to a couple of years ago, the notion that flash storage could replace traditional storage altogether was branded nonsense. Flash technology simply wasn't able to offer the kinds of capacities that enterprises — or individual users — demanded. What's more, it was still prohibitively expensive.
Now, though, the vendors have worked out how to make flash storage a genuine contender against traditional, disk-based storage. Many vendors now offer all-flash-array storage stacks, and they're asserting that, in the long run, it'll actually be cheaper to run these devices. Aaron White, General Manager, Middle East and Turkey, Hitachi Data Systems (HDS), explains why the idea of flash storage is beginning to take hold.
"Today, enormous amounts of data are being created from a variety of sources, such as applications, new mobile devices, Big Data analytics, and the cloud. This is changing the speed with which business is conducted and the scale at which it occurs. Many businesses are now turning to flash to implement new and innovative ways to provide enterprise-grade service while delivering higher performance, lower costs and increased efficiencies across the data centre. When done right, flash systems allow companies to accelerate access to information for faster decision-making, analysis and productivity," he says.
According to White, the flash systems of today can offer businesses the ability to access information more quickly, and consolidate data in less space. This should deliver both cost and time savings. He also claims that modern flash systems offer increased performance and durability over hard drive-based systems. That said, not all vendors are offering such good flash-based options.
"The majority of flash storage vendors use industry standard SSDs for flash, which have technical shortcomings in enterprise situations. To combat this, HDS engineers its own controllers that prevent this — offering customers four times the performance at a similar cost," he says.
HDS hasn't got the market to itself, though — HP's new all-flash arrays have also been highly rated, as have a number of new systems from EMC. The upshot is that there are now a number of serious options for anyone looking to update an outmoded disk-based storage system.
But is flash really the way to go? According to White, if you've got the budget for the initial investment, all-flash arrays provide significant advantages over the ageing disk-based competitors.
"Businesses of all sizes can benefit from all-flash arrays. Regardless of business size, they are coping with massive amounts of data from applications on mobile devices, tablets, the cloud and other sources. Businesses are often so overwhelmed by the amount and variety of file and other data cascading through their operations that they struggle just to store the information, much less make it easily accessible for business analysis and interpretation," he says.
"Traditional disk-bound storage can't keep pace with the growing volumes of data. Traditional storage solutions are neither agile nor fast when it comes to accessing that stored data. Flash storage enables businesses to expand their storage capacity quickly while maintaining agility and gaining overall efficiency."
What's more, businesses should see a significant return on investment from an all-flash system — White claims that HDS's Accelerated Flash Storage system can lower the cost per bit by up to 46 percent.  Indeed, HDS claims that its new infrastructure solutions can reduce the total cost of ownership by up to 30 percent — and other vendors claim similar savings with their solutions. This, with the added benefits described by White, makes flash storage an altogether more appealing prospect.
But what about cloud? Can smaller businesses forgoe the need for much on-site storage at all by migrating their storage needs over to the cloud? Many are already doing this with the likes of DropBox, Google Drive and Amazon Web Services. With cloud services offering a compelling alternative to traditional disk-based storage, is flash storage a moot point?
According to Whitby, the answer is no. Yes, many smaller businesses have benefitted immensely from cloud-based storage systems, but the cloud won't be the answer to everyone's problems, he says. After all, the data still needs to be stored somewhere, and if everyone suddenly migrated to the cloud, it would mean that the cloud providers would have to invest in warehouses of storage. That cost would be passed onto the customer, meaning that one of the biggest benefits of cloud storage would then be lost.
If cloud isn't the answer to the problems behind traditional disk storage, then, we land squarely back on the flash argument. But this need not be a bad thing. According to White, flash memory will end up playing an enormous part in allowing businesses to take advantage of the global explosion of data.
"Flash memory will play a large role in helping businesses manage the exponential growth of data. Enhanced solutions will enable businesses to accelerate insight, improve decision-making and free up resources to attain innovation that transforms businesses. Cost-effective flexibility and elasticity of private cloud deployments offer the speed and ability to sustain peak workloads. These benefits are vital to support the service levels enterprises require to meet user demands," he says.
In the Middle East, IT departments are beginning to wake up to the benefits of flash storage. As prices go down and the technology begins to offer the same — if not better — capabilities as traditional, disk-based systems, businesses have realised that flash storage is now a real alternative to what they were using before.
"HDS has seen increased adoption in the region for flash storage," White says. "One in three of HDS' clients last quarter represented new relationships, all of which were about modern storage strategies. Flash storage offers a solution that boosts businesses performance power, storage capacity, and reduced costs."
And with disk-based storage already running out, perhaps many businesses are thinking that it's better to get on the flash train sooner rather than later. Whatever happens, though, it's clear that disk-based storage can't keep up with the demands of modern businesses. And with few other alternatives around, flash-based storage looks like the safest bet.