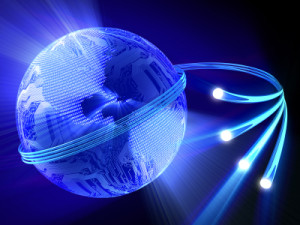 It would seem that the telecoms world saw something of a shift during 2013. While margins from traditional revenue streams surrounding voice and text continued to fall, demand for data went through the roof, and it continues to climb. Undoubtedly, 2013 was the year of mobile data.
Evidence for this can be found in the UAE market alone, though the country's operators are hardly the only ones in the region to have seen the shift from voice- to data-driven business models. Operators are capitalising on their investments in LTE, offering more varied data bundles than ever before. And when it comes to voice and text, operators have resorted to offering cheap international rates to customers who top up their pay-as-you-go accounts, just to get more prepaid credit flowing. Quite how long such tricks will keep revenues up remains to be seen, but it's clear that the rising demand of data-driven services has disrupted the industry completely.
That said, already operators have taken the data-driven business by the horns and many are experiencing fantastic growth as a result, according to Omar Alsaied, Middle East Carriers Sales Director Ciena.
"Regional operators are still experiencing massive growth in traffic and data services revenues. The business sector specifically is driving demand and revenue growth for most operators. We are still seeing investments in network access for both residential and business use, in addition to investment in the network infrastructure where fibre optics technology is playing a significant role," he says.
Over the course of 2014, then, can we expect to see more of the same? Well, it would be difficult to argue that demand for data-driven services will slow any time soon. With smartphone penetration getting higher every year―and with more people buying LTE-ready devices―user demand for on-the-go connectivity is only set to increase.
There are opportunities to be found here, however. According to Pan En, Vice President, Huawei Middle East, the impact of the apps and software ecosystems in the telecoms industry has been nothing short of astonishing. And as more and more developers bring their products to market, the popularity of data services will continue to skyrocket, pushing operators' revenues up.
"Today, we estimate that software innovation outpaces network innovation by at least a factor of five. Application developers often reach the market in only three to six months, while operators often take 18 to 24 months to launch a new service," he explains.
"Behind the popularity of data services in 2014, we believe, will be developers focusing on more specific app categories based on their primary expertise—whether that be for business, media or entertainment apps. Operators, meanwhile, need to tap into the right developers to address their own service portfolio, while developers can distinguish themselves in presently underserved niche markets."
To cope with this demand for data, it is a reasonably safe bet that operators will turn to LTE networks that can handle the loads and deliver faster download speeds on the go. Tunç Yorulmaz, Executive Vice President and Head of Sales, Ericsson Middle East, believes that a number of operators will begin to view LTE as a real differentiator over the coming year.
"On the path to the Networked Society, in which everything that benefits from a connection will have one, we expect to see many new innovations in the telecom industry. LTE can offer a technological edge to operators and it can be a real differentiator to rivals. LTE can also help acquire new spectrums and avoid many Wide Code Division Multiple Access limitations. Other operators see LTE as a solution to their 3G networks that are overloaded," he says.
"With the increasing demand for high data services by customers, who are becoming used to watching their favourite TV shows or movies in HD on their smart devices, we can predict that operators will increasingly deploy LTE/4G solutions and associated services."
Aside from the demand for data services going up, new trends are also expected to hit the region's telecoms market over the course of the next year. According to Rabih Itani, operators in 2013 realised the benefits of investing in Wi-Fi technology, not only to offload from their congested 3G networks, but also to establish new revenue streams. This is a trend that he believes will gain more traction in 2014.
"The year 2014 will witness the embracement of Hotspot 2.0 services. It is clear that, as Hotspot 2.0 becomes increasingly adopted by Wi-Fi infrastructure manufacturers, device manufacturers and eventually mobile operators, subscribers will feel a drastically improved experience in connecting to Wi-Fi networks, even when roaming. As a result, operators are expected to experience a whopping increase in the number of Wi-Fi service connected user and their corresponding traffic," he says.
"During the year 2014, smart operators will start to monetise their Wi-Fi networks beyond 3G offload and towards added value services such as location analytics, security services, and more."
The next year won't simply be about providing end-users with Internet access, however. According to Sherry Zameer, Head of Telecommunication Solutions, Gemalto Middle East, 2014 will see a significant rise in the popularity of machine-to-machine services.
"Mobile operators are looking to open up new consumer segments for themselves in a B2B business model or a B2B2C environment for which M2M will look to play a big part. M2M today is a trend that challenges the mobile operators to take a bigger part of the value chain by investing in a ubiquitous eco-system over which mobile operators can service the same application to multiple enterprises from the same sector," Zameer says.
Zameer adds that network convergence and mobile payments through near-field communications will continue to shake up the industry over the next year. However, perhaps the most pertinent issue that operators will need to address going into 2014 is how their infrastructures will be able to cope with the increased demand for all of these new services. According to Glen Ogden, Regional Sales Director, Middle East, A10 Networks, operators will need to invest in more equipment than ever before―and that they will soon look to other avenues in order to keep their networks running smoothly.
"The increase in smart devices has led to both IPv4 exhaustion and capacity issues with most operators revising their data centre/point of presence (POPs) throughput requirements significantly. Where in 2012, 40Gb was considered, even by the most forward-thinking operators, as adequate to meet demand, 2013 has seen those figures rise three-fold with 120Gb being seen as a stop gap whilst switches and routers can be upgraded to 40Gb or even 100Gb fibre interfaces and operators can deliver upwards of 200Gb/s per POP," he says.
"The need for more equipment to meet this demand has led many operators to consider rack space utilisation as a key planning concern driving the need for more powerful/scalable solutions in smaller form factors. Already operators recognise the need to double 2013 capacity projections and planning teams are working very hard to understand how they're going to meet this demand. This has placed a particular burden on the infrastructure vendor to produce highly scalable platforms in small form factors as rack space in POP's is normally at a premium."