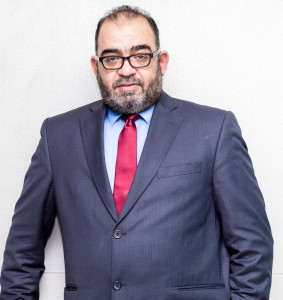 Amjad Fathi Al-Omar, General Manager, Sariya IT, reveals growth strategy and channel plans for the year. 
Security is one of the biggest concerns for all major and small to medium organisations in all markets around the globe today. And Saudi Arabia is no exception.
KSA is one of the biggest IT spending markets among the Gulf according to IDC. The research firm predicts that it will increase by 4.6 percent year-on-year in 2015 to total USD 36.95 billion. And as the country moves towards smart government initiatives, the security risks only continue to grow.
Amjad Fathi Al-Omar, General Manager, Sariya IT Distribution, says, "Security is a growing sector all over the world. It is important to have strong security policies, procedures and even systems and level of applications, starting from the bottom layer to the very top."
This also means the opportunities are immense, says the security and network infrastructure VAD.
Al-Omar says, "It is a technologically voracious market, especially in terms of security solutions. Also, the existing companies in Saudi Arabia are not able to fulfil the complete requirements. There is ample amount of potential for business to grow here."
The Saudi-based Sariya IT, which is a part of the Al Kuhaimi Group, has been in the market since 2002. Even before that it was a functional company in the early 80's, but was working only on internet solutions.
"In 2002, we changed the nature of the business and entered distribution. Our philosophy is to be a value-added distributor, we are not just a box-mover. We are providing services such as after-sales, POCs and installations, and even have service-level agreements. We are selling solutions, services and enabling partners."
As a distributor, one needs to have a varied portfolio of products. But as a specialised VAD, Sariya IT's vendors include Kaspersky Labs, Seclore and Gwava on the security side while Cyberoam and Unitrends fall in the network infrastructure portfolio.
"The market is huge. We are expecting the growth to be in double digits over the next two years in terms of the volume of business in KSA."
However what partners need to keep in mind is that when they are handling an account to deliver one particular product or solution such as document management, it is important to also see the opportunity for other solutions. "Especially in security," adds Al-Omar. "There is an opportunity to also sell UTMs and back-up solutions along with the regular products. When you start securing infrastructure and building your security solution on top of your infrastructure network, with an account like that you have the opportunity to sell four or five additional security products."
Al-Omar believes Sariya IT has an advantage in the Saudi market thanks to the benefits of using its corporate name – Al Kuhaimi Group. "We certainly stand to benefit from our group but also we offer complete solutions as we have the entire portfolio required for an account, from civil engineering, security, fire alarms, biometrics, security infrastructure, security products and even physical security such as cameras and safety. These kind of turnkey products in our portfolio allow us to penetrate the Saudi market even better."
Today many players call themselves value-added distributors, however what it means to be a VAD differs with each company. According to Al-Omar, there aren't any true VADs in Saudi Arabia.
"Some might term themselves as a value-added distributor but we are yet to see a real competition in this area. Sariya's value proposition is not to simply sell and close the relationship with the customer. Besides selling, we add value by doing pilots or POCs and offering customers after-sales services. All these factors help us to penetrate the market even more."
Sariya IT has grown 29 percent in 2014 over 2013 and is expecting to close the year with a growth of 30 to 35 percent. Al-Omar says, "We are expecting to do much more in terms of enabling and recruiting partners. Our expectation is to reach 250 percent in services while our total revenue will be around 30 to 35 percent growth year-on-year in 2015."
What differentiates Sariya IT from other players is its philosophy of being 'exclusive'.
"When we sign up with vendors, we say we should be exclusive for the first three years at least. This is because we spent a great deal of efforts in training, seminars, roadshows and enabling resellers."
He goes on to explain that at times there is competition from the resellers themselves. "Larger systems integrators (SIs) buy tenders from government and sell directly to the end user, which means they work as a sub-disti at times. But in most cases, they do not have certified engineers and certified sales person.
"The volume of security is big in Saudi Arabia today. This means we need large resellers and SIs to work on it because of the financial issues, therefore, we need to build the loyalty with the larger SIs."
With close to 3000 registered partners in its ecosystem, the distributor classifies them into three categories – registered, authorised and premier.
"Premier resellers are those who are either registered as a Gold or a Platinum reseller with any one of our vendors, they automatically become a premier reseller to Sariya. The benefits they enjoy are having priority in registering the deal with us, larger discounts compared to others and have rebates at the end of each quarter, provided our targets are achieved," explains Al-Omar.
Every market has its own set of challenges. In Saudi Arabia, one of the biggest challenge is that with the market being quite large, there are many players in the same field. "You must assume that when speaking to a customer or a reseller that they have heard about 10 other solutions already." While experience and big accounts can give you an added advantage here, one must look at approaching the market differently.
Another challenge is educating the partners. "As a distributor, we need to invest into a product but no one can compel resellers to promote those products. Therefore, we need to spend time educating our partners on the features and benefits of the line-up. We do this by offering a good partner programme."
While it is fairly easier to explain the benefits of a product, as it is tangible, it's not the same when selling services. "Not all of our customers understand the value of selling the services. Therefore, sometimes we need to go with our resellers to the end users in order to start the conversation around services."
But, this is also challenging, Al-Omar says, because most customers are price-conscious. "So if you are competing with another distributor who is not a VAD then we will lose because he is simply selling the products to the customer and not focusing on value."
In 2015, the VAD aims to continue its focus on services and security. While the market is set for growth and is getting more matured, there still remains a dearth of events on partner education, adds Al-Omar.
"We are looking to recruit even more channel partners over this year. You need to build their trust and loyalty, it is not about selling only. Resellers care only about margins and not about the services behind. What we do then is convince and show them the long-term benefits and also the value of selling the services. By selling services, partners are able to increase their profitability. This needs to be understood better in the channel community."
Al-Omar's advice to the market is "focus on big accounts from the beginning of the year itself, as large accounts do not close within a short period. The market is currently slow, but if you have a strong pipeline and loyal partners, the market scenario will not affect you much. Also, go out there and find new accounts instead of competing in one, Saudi Arabia is a large market and the potential is immense."