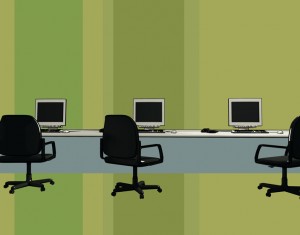 If the average IT manager in the region wants to retain his staff he would need to invest in them with training. CNME gives a few points on putting together a comprehensive training programme for IT staff.
Everybody bemoans the lack of properly trained, efficient IT staff in the region. Every CIO finds it an absolutely  troublesome, time-consuming, resource-draining task to add even one additional member to the IT personnel on his team. Consequently, they also struggle to retain the existing IT staff in a market that is highly competitive and constantly offers better options to the right IT staff.
One effective way to retain existing IT personnel is to invest in them by offering cost effective training tailored to their roles. First, you have to create clear and concise job descriptions so employees understand what is expected of them. Job descriptions also serve as a basis for building a training programme. This has to be backed by best practices
for developing and implementing a cost effective, but comprehensive training programme for your staff.
Sourcing the training
There has been a lot of research put into learning methods. Training usually is delivered in the form of five methods: books, videos, in-person instructorled courses, eLearning, and webinars, or a hybrid of any of these forms. The learning methods can be a mix of internally and external developed material and tools.
There are likely to be variations of the former in the market but it would be wise to keep things simple. The idea is to get some momentum in yourorganisation to start building a training program, not to overthink it or get caught up in the multitude of learning and development methods and practices.
The least expensive and most sustainable delivery method is eLearning. Be assured that critics will argue that  participants will retain more information using one method or the other. But we should agree that a good training  programme should consider a variation of methods to satisfy the various learning styles of participants.
For this reason, the phrase "learning tool" will be used to represent your preferred method.
Common learning tools – soft skills
The first step is to analyse job descriptions across each of the technology functions, such as, infrastructure, development and business analysis, and identify learning tools that satisfy the common soft skill requirements.
Typically, these soft skills can be applied across a variety of functional roles and are also the basis of the performance review process. Using a common set of competencies, for example, customer driven, managing conf lict, listening, action orientation, etc, can be applied to a variety of roles, in a similar direction.
Keep in mind that a level 1 employee (say, business analyst) will have different expectations for the same competency
than a director of that function. For example, you would want an analyst to have the ability to be action oriented on tasks, whereas a director, you would want to be action oriented towards people and projects. As such, you will need to find successive learning tools for each soft skill (eg beginner, intermediate and advanced action orientation eLearning courses).
Common learning tools – functional skills
After identifying the competencies and tools for common soft skills, look to identify courses for common functional skills that are necessary across the various technology functions. A good place to start would include testing skills, project management, risk management, budgeting, etc. Again, these are not "soft" skills, but rather job specific skills that are common throughout the IT function or company. In other words, if an employee in infrastructure requires the skill, so does an employee in software development. Ideally, these skills should already be clearly defined in the  standard job descriptions.
Function specific learning tools
Functional skills are where learning paths will start to deviate from the other common skills. They are typically specific to each area, but there is can be some overlap. What is important is that everyone in a function (eg business analysis)  shares the same basic job requirements. For instance, a business systems analyst in the IT sales area should have the basic requirements as a similar role in IT purchasing area (eg relationship management, requirement gathering, testing, project management, etc). If the standardised job descriptions are well written, the task of identifying learning tools is made more clear and simplified.
Some pitfalls of designing a learning curriculum for your staff can include trying to identify learning methods for each technology in your department; this amount of customisation is not sustainable, nor a good use of resources to do well. Don't try and find an individual learning tool for the one or two employees in your organisation that manages a specific piece of software. If you try and identify these learning tools, you will go down the proverbial rabbit hole and never get out.
As a best practice, contract with a third party provider or vendor that offers training for a wide array of technologies  and empower your staff to search the library for the technology specific courses.
Recognition and reward
Finally, identify methods of reward or recognition to build excitement for the training programme. Communicate successes frequently to your staff by creating a development communication plan and recognition system. Some methods can include establishing a system whereby employees that take a set number of courses achieve a membership level (bronze, silver, gold, etc). With such a system in place, you can consider hosting periodic luncheons to celebrate employees that have achieved membership in the programme.
As part of the celebration, you can hand out plaques that memorialise the accomplishment. Tangibles help to substantiate the claim of learning and development are important and rewarded by the company. Once employees  learn of their peers earning the awards and investing in their careers, they will at least be inspired take a course or two
for themselves.
Mandatory or not
Companies have different policies and practices on training, but from my experience most do not make training mandatory except for ethics type training. I think it's best to leave the learning opportunities described above as optional but encouraged.
Let your employees decide for themselves whether they want to take on the initiative to be better. Forcing training just creates resentment and resistance. Refrain from the words "retrain" or "re-develop". It's to best make the training  available and encourage your staff to invest their careers by continuing to learn and grow.