If you're looking for durability & flexibility together in one computer, the ASUS ExpertCenter D500SC is the answer. It features powerful, dependable and expandable performance, while its ultracompact, flexible and sleek small form factor allows business users to enjoy a flexible and neat workspace. It is a commercial small-form-factor (SFF) desktop you want for your business, small, versatile, capable, and packed with all the ports you might need from day to day.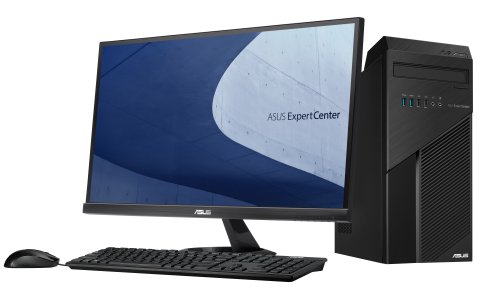 The chassis of this model is available in 9L and can be placed either horizontally or vertically, making it highly flexible and capable of fitting in anywhere. Not just that: this power-packed machine has been subject to stringent military-grade durability tests and has been specially designed for increased energy efficiency, stable performance and cost-effectiveness.
To ensure stable performance in the compact chassis, the ExpertCenter D500SC uses an innovative multi-channel cooling system. This consists of dedicated, isolated air chambers that allow independent heat-venting channels for the PC's main thermal generators — the CPU, GPU and power supply. It also includes the exclusive MyASUS app to optimise the operation of the CPU and system fans, automatically moderating the speeds and switching them off completely when possible, striking the perfect balance between maximum performance and minimum noise.
Perhaps the best feature of the ASUS ExpertCenter D500SC is its ability to let the user customise specs according to their requirements. This helps reduce overhead costs and improve work efficiency. Moreover, IT administrators can use the ASUS Control Center to diagnose problems remotely, saving further cost and labour resource escalation.
Also, the custom-designed motherboards come equipped with ASUS 5X Protection III which incorporates high quality DIGI+VRM digital power supply for stable output power. Moreover, it is powered by a cutting-edge 11th Gen Intel Core processor with the latest DDR4 RAM. An NVIDIA discrete GPU is an option for those requiring advanced graphics performance for demanding visual tasks.
To take professional conferencing to the next level, the ExpertCenter D500SC features AI-powered noise-cancelling technology that employs sophisticated machine-learning techniques. The technology includes both an upstream function to filter noise around the speaker, and a downstream function to eliminate noise from the person at the other end of the conversation. That's not all: An entire array of I/O ports is ready to connect to a wide range of business peripherals. Flexible serial and parallel ports on chassis leave more PCI slots available for additional upgrades. An SD card reader is optional for an easy transaction, data transfer, or other business-related tasks.
Its clever internal layout gives maximum space for expansion in a compact form factor. The internal steel case allows the ExpertCenter D500SC to accommodate two storage devices, while PCIe slots enable the easy addition of graphics cards, Wi-Fi connectivity and extra I/O ports.
Packed with features, sturdy and flexible, the ExpertCenter D500SC is easy to configure and ready for whatever you might need.