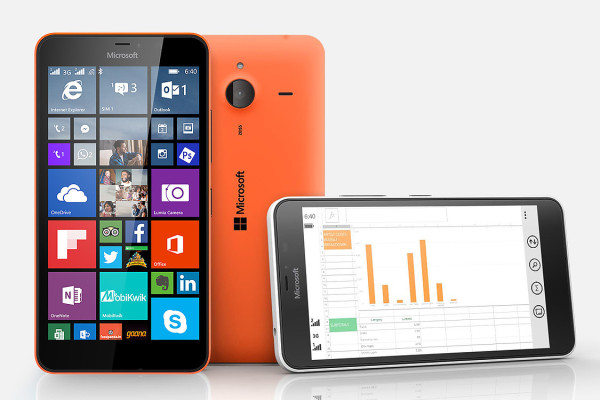 A feature rich phablet that won't break the bank.
Microsoft has a lot of ground to cover in the competitive handheld segment, before it catches up with the likes of Apple, Google, and BlackBerry. In recent times, the company has been attempting to boost awareness with product placements in popular TV shows and movies, and in tandem with that, there has also been a steady stream of new devices. With the Lumia 640 XL, Microsoft is targeting consumers in need of a capable, mid-range phablet.
Priced at US $218, the Lumia 640 XL won't break the bank, and when you look under the hood, there's plenty to celebrate. A large 5.7-inch IPS LCD screen dominates the front end, and in addition to fluid responsiveness, it's bright enough that it can be used even in mid-day sunlight. The screen runs at a native resolution of 1280 x 720 pixels, and while that means you won't be able to enjoy Full HD content without downscaling, it's acceptable considering the price point.
As a content creation device, the Lumia 640 XL is well equipped. The 13-megapixel rear camera is mated to a Zeiss lens, and the pair delivers pictures that are of far better quality than what you'd get from similarly priced Android or BlackBerry devices. The camera's performance in low-light conditions is particularly impressive, and thanks to the number of photography apps that are available for Windows Phone, you'll definitely be able to flex your creative muscle.
The 5-megapixel front camera won't let you down either; you'll be able to grab as many crisp, high-resolution selfies as you want, or dabble in video calls at your leisure. The only comment we had with the photographs from the rear camera was that they were not as richly saturated, when compared to identical photographs taken on an iPhone.
As a day-to-day device, the Lumia 640 XL proved capable. Over our two-week trial period, the device consistently offered more than a day's worth of battery life; we started the day at 9am with a full charge and by 11pm (after mixed use throughout the day), we still had 22 percent left. This is very impressive given the phablet has a 5.7-inch screen and a 1.2GHz quad-core processor.
Beyond battery longevity, the quick processor and 1GB of system RAM worked well to deliver a stutter free experience. The pre-installed apps, and games we downloaded ran without issues, and wait times were limited. The Lumia 640 XL is a dual-SIM phablet, and using either number proved a straightforward and hassle-free affair.
In hand, the phablet feels sturdy and seems like it can shrug off drops – you can even switch exterior covers if you fancy a new look for your device or the existing cover begins to look ragged. The only downside here is that while the phablet feels solid, it doesn't feel premium. It doesn't feel cheap by any means but it's also not something that you'd show off.
Out of the box the Lumia 640 XL packs only 8GB of storage, and we found ourselves out of capacity after a week of use, thanks to photos, videos, apps and games. The lack of space can, however, be addressed by taking advantage of the phablet's MicroSD card slot. If you're on a LTE network and have a carrier plan with loads of data, there's also an alternative to physical storage. The Lumia 640 XL is sold for $218 and with a one-year free subscription to Office 365, and you also get 1TB of OneDrive storage to go with that. Just remember that you'll have to pay for access to these services after the first year.
Quick read
Specifications: 1.2GHz quad-core Qualcomm Snapdragon 400 CPU, 1GB of RAM, 5.7-inch IPS LCD screen, 1280 x 720 pixels native resolution, dual-SIM ready, 13-megapixel rear camera, 5-megapixel front facing camera, 8GB internal storage, MicroSD card compatible (128GB max), A-GPS, 802.11b/g/n WiFi, 3000mAh battery, Bluetooth 4.0, USB2.0 connection port, 171g, Windows Phone 8.1, exchangeable back case, one-year warranty.
Good: Surprisingly resilient battery life, impressive camera, exchangeable covers, sturdy, decent performance, Windows 10 ready.
Bad: Limited onboard storage, screen resolution is a let down, Windows Phone still lacks popular apps.
Verdict: A well-balanced phablet that checks all the right boxes. It's not perfect but none of its flaws qualify as deal breakers.