Aimed at the gaming crowd, TP-Link's new Archer AX1100 router touts an edgy design backed by support for the latest Wi-Fi 6 standard.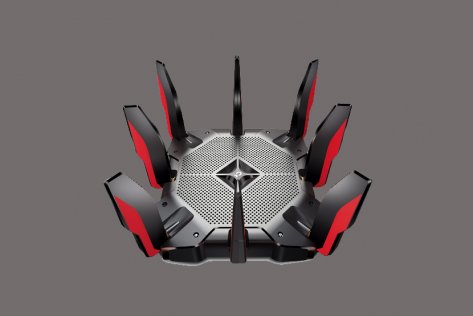 As a Star Wars fan, the design of the Archer AX1100 reminded me of Han Solo's Millennium Falcon. The device sports a look and feel that will surely appeal to the gaming generation. Its exterior has a meshed design that is drenched in black and red colours. At the base of the device are four holes to mount it on a wall.
It has eight external antennas point up and cannot be adjusted. It is equipped with eight Gigabit LAN ports, as well as a WAN port that supports speeds of up to 2.5Gbps. It also has a USB Type-A port and a USB Type-C port that can be used to connect to devices such as an external hard drive or a printer. However, the Ethernet and power cables that came with it aren't very long so it could be a disadvantage depending on the layout of the Ethernet sockets in your home.
Setting up the device was quick and easy using TP-Link's Tether App, which is available for both iOS and Android. As an iPhone user, I downloaded it from the App Store and was able to configure all the settings via my smartphone. It gave a simple step-by-step procedure on how to set up the device and it took me less than 15-minutes to finish configuring the router. The app also lets you set features such as turning on guest Wi-Fi networks and checking the list of connected clients in real-time. However, for more advanced settings such as port forwarding and VPN server, you can log into the router's Web-based interface.
With a 1.8 GHz quad-core processor and 1GB RAM, the Archer AX1100 packs a lot of power, which limits any router-caused lags allowing the CPU to effortlessly chew through any amount of throughput, guaranteeing fast speeds.
As an avid online gamer and a web developer, having a good quality WiFi coverage is important to me and the TP-Link Archer AX1100 did not disappoint. I live in an apartment compound with a lot of walls, where seven residents share the same WiFi connection. With our regular router, we all suffer slow internet connections whenever we are all online at the same time. After switching to the TP-Link Archer AX1100, we were surprised by the stable connection even when we were sitting in a room that's approximately 15 metres away from the router. I was able to get about 800Mbps download speed, which was enough to seamlessly stream 4K videos.
There were absolutely no drops nor any irritating network lags while I was playing my favourite online games such as PUBG, Dota 2, Division 2 or Counterstrike, and while streaming videos from Netflix or YouTube at the same time. On a regular basis, there were more than eight devices that are simultaneously connected to the internet via WiFi and LAN and we did not face any issues.
But, perhaps, my favourite feature of the Archer AX1100 is the Game Accelerator, which does not only automatically detect games being played on the home network but also lets you control the WiFi speed of different devices.
Overall, the Archer AX1100 is a brilliant router for gamers and for those who love binging high-quality video content. With a price tag of around AED 2,300, the router is heavy on the pocket, but for serious gamers it could be worth the buy.