Reliable, powerful and innovative – we give our take as to why these three factors make Seagate SkyHawk AI HDDs the perfect answer to your video surveillance storage needs.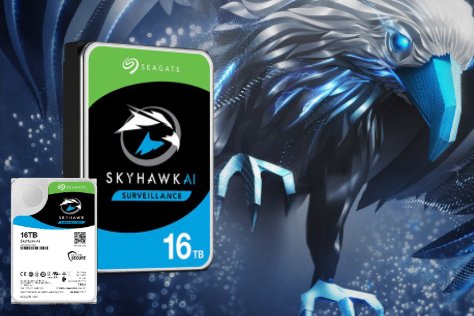 Artificial intelligence (AI) is becoming more and more prevalent across multiple fields. AI presents a plethora of benefits whether it be for eradicating time-consuming, monotonous tasks; enhancing operational efficiencies and boosting customer experiences. From a smart surveillance standpoint, AI opens the door for intelligent real-time video analysis that will enable organisations to optimise ultra-high-resolution video as proactive security asset rather than a reactive, post-incident investigation tool.
However, these AI-enabled surveillance cameras generate bigger volumes of data, which require robust video storage drives that can support both AI and video workloads.
Seagate, through its line of SkyHawk AI purpose-build hard disk drives (HDD), seeks to address this growing demand for AI-powered video surveillance solutions.
The SkyHawk AI is a 3.5-inch HDD is available in 8TB, 10TB, 12TB, 14TB and 16TB capacities. The device's body showcases the logos of both SkyHawk and Seagate, its capacity and a QR code that brings you to the drive's page on the company's official website.
The 16TB version, which is the highest one in the series, features a SATA III 6Gbps interface and a 256MB DRAM cache. It can store up to 10,000 hours of HD videos, and is capable of supporting up to 64 HD video streams and 32 AI streams. It has an average power draw of 6.71 watts when in use and 5 watts when idle.
At the core of the SkyHawk AI drives is Seagate's unique ImagePerfect AI firmware, which has been designed with an intelligent algorithm that reduces data errors, allows for perfect images to be stored without pixelisation, and prevents critical frame loss during multiple stream recordings. It also allows the HDDs can quickly wake up from idle and resume work.
In addition, ImagePerfect AI sports a special caching algorithm that allows low latency and reliable read performance to quickly locate and deliver video images and footage analysis. This feature, according to Seagate, enables on-the-edge decision making, eliminating the latency of exchanging cloud-based data and processing.
SkyHawk AI drives have been designed to meet the growing demands for heavy-duty surveillance workloads, including the tasks of real-time video recording in complex video analytics-driven environments. The devices in the series are capable of supporting a workload of 550TB per year and boast the capacity for three times the workload of standard surveillance drives.
Furthermore, the AI-enabled HDDs are equipped with the SkyHawk Health Management software and optional Rescue Data Recovery services. SkyHawk Health actively monitors and analyses drive health, empowering users to prevent, intervene and recover from potential anomalies.
Overall, the SkyHawk AI drives are perfect for delivering top storage performance while offering low power consumption. It is designed for longevity and is the ideal choice for any security and business team. If you're in the market for a reliable, powerful and innovative AI-powered HDD for your NVR and surveillance needs, we highly recommend the Seagate SkyHawk AI drives.