Injazat, a Mubadala company, has positioned itself as the go-to player for digital transformation over the last number of years in the United Arab Emirates. The government-owned company has shown incredible vision and leadership and is playing a crucial role in enabling some of the largest enterprises in the region to be prepared for all the challenges they're going to encounter in Industry 4.0.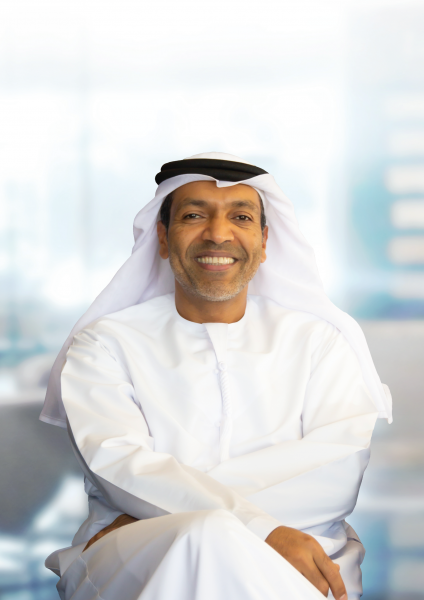 We're now living in a fully immersed digitally-centric society and our dependency on technology is going to be elevated even further as more and more disruptive technologies continue to emerge.
The scale and rapid evolution and adoption of these technological advancements has fundamentally transformed how major organizations across multiple industries now function and operate. Enterprises who resist change are at risk of becoming obsolete.
Consumer expectations have continued to evolve and the importance of providing excellence in terms of 'customer experiences' is now paramount. However, Injazat understands this and the fact its own business model is based around a customer-centric framework has ensured that it has become a leader for businesses seeking digital transformation.
Injazat CEO, Khalid Al Melhi has showed dynamic leadership in his role and highlighted how its pursuit of PPP opportunities has laid the groundwork and foundation for a lot of its success.
Al Melhi said, "We're one of a very select number of companies that can say we can deliver strategy through to execution. We've been very successful at launching Public Private Partnerships (PPP) opportunities. PPPs are a very important component of our business today and were we are already achieving our vision of empowering human achievement through both our PPPs, one in Healthcare and the other for an IOT based Fire and Safety initiative. The approach we've adopted in relation to PPPs is that we take the initiative, we invest, we build, operate and transfer. This is the win-win for both public and private sectors."
In addition to this, Injazat's CEO claimed that its unique methodologies were also a key reason behind its success and that its blueprint helped clients create new revenue and business opportunities.
He added, "We focus on both optimising operations and ultimately helping clients accelerate innovation. We enable clients to achieve this by infusing our capabilities with an ecosystem that contains specific niche partners across industry verticals. We want to be the 'go to' digital transformation partner, and we've got a proven methodology that works. We can accelerate innovation for our clients. Digital disruption means making an impact quickly, and we achieve that speed to market through our newly established agile practice and factory.
Al Melhi also highlighted how the believes its phenomenal success as a 'digital enabler' in the UAE was down largely to its holistic approach and the fact it is a trusted partner renowned for delivering excellence, expertise and knowledge on large-scale projects.
The CEO said, "Injazat has a large customer base covering many different sectors, from healthcare to defense, utilities and financial services. Digital disruption has been very challenging for all industries, but the key differentiator between them is the level of maturity and readiness across public and private organizations. Injazat plays a critical role as a digital enabler and trusted advisor to support our clients in starting or progressing in their digital transformation journey. We do this by helping them to adopt a truly holistic approach, including both traditional technology and process elements and, more importantly, the people and change management dimension – often the most critical barriers for many companies."
One other key component in the success of Injazat Data Systems is their Digital Strategy roadmap which is built around three main pillars. Al Melhi pointed to the fact the roadmap is at its heart built solely around addressing the needs of its customers and partners as another key differentiator in its market success.
Al Melhi added, "Our Digital Strategy roadmap has three main pillars which are firstly expanding our digital business advisory and digital ventures practice and capabilities through collaboration with our strategic partners. Secondly, developing a range of new solutions and services which address our client's most pressing and urgent needs and priorities through a pragmatic and agile adoption of emerging technologies and finally leveraging Injazat's InCloud platform to host and provide access to the rising number of new Emerging Technologies solutions being added to Injazat's portfolio across three main domains – AI, IoTs, Blockchain."
One of the biggest challenges facing any organization undergoing digital transformation is educating their workforce to understand the complexities and impact all these new disruptive technologies can have. Education is so important in terms of bridging any digital divide that may exist. However, Injazat has certainly not shied away from its responsibility in this regard, in fact it has led by example.
Al Melhi said, "A large part of what we do at Injazat is educate ourselves. We educate our employees to understand what disruption means, what agile means and what business impact we can have with these new technological advancements. We help our clients see the art of the possible and discover the right digital business model that gets the most value for them. We engage with our clients, we talk strategy and we ideate and reinvent. Our aspiration is to develop a frictionless digital business."
The ICT industry has been guilty of creating buzzwords and hype around certain technologies before interest diminishes and fades away from the mainstream. It's evident that this will not happen with artificial intelligence. AI is not a new technology, but technologies around AI like Machine Learning have now matured which has made the adoption of AI across so many verticals possible. However, many within the ICT ecosystem remain skeptical of AI despite its unquestionable ability to enhance the services enterprises can offer and improve the way we live our lives.
Those opposed to AI believe the technology needs to be regulated otherwise millions of people will be displaced from employment which would have devastating societal consequences. Advocates of AI say regulation would stifle its progress. Injazat's CEO is an advocate of AI and believes that there have been many previous examples of new technologies emerging to disrupt the status quo in the past and that the world has always been able to meet those challenges to learn new skills.
Injazat's CEO stated, "There are so many examples of how we can take existing talent and reposition them in terms of what value they can add. This is what happens every time a revolution comes. The first Industrial Revolution meant that we needed to learn new skills and do new things, and the new world will be the exact same. AI will accelerate the advancement of all capabilities. People have expressed skepticism and fears over AI. The greatest value is freeing us up to do other things that we simply can't imagine today. The idea is not to automate everything, the idea is to free people up and do much more than we could imagine.
As we've already highlighted Injazat has shown real dynamism in this new digital era and has positioned itself as a key enabler for change as the UAE hurtles towards the Fourth Industrial Revolution. The progressive agenda towards technological advancement from the company has been set from the top, and there's no better example of visionary leadership than that of Injazat's CEO.
Healthcare is an industry we've all got a shared interest in and if technology can be deployed which improves the lives of people fighting serious illness then that's the perfect illustration of technology being used for the greater good. Injazat recognizes the important role new technology can play in healthcare and earlier this year signed a MoU with Nuance, a company that provides AI-powered solutions.
Using speech recognition technology, physicians will be able to record patient conditions accurately and efficiently, eliminating the need to manually document patient encounters and ultimately freeing up physicians' time to focus on more meaningful interaction with the patient. Nuance's cloud-based AI-powered Dragon Medical Direct provides the flexibility for physicians to update Electronic Health Records (EHRs) regardless of device and physical location.
Al Melhi said, "Healthcare is one of the most important sectors that is being disrupted by AI. Our partnership with Nuance shows our commitment to ensure the UAE is a forerunner in implementing AI-based solutions. This solution facilitates better documentation that will help both doctors and patients in improving the quality of healthcare provided in the UAE."
To support the launch and assist with compliance with patient privacy regulations, the solution is hosted by Injazat certified hosting infrastructures in the UAE.