Oracle OpenWorld Middle East 2020 will offer the first glimpse of how we're bringing a more human-centred focus to our products and solutions, while maintaining the bold and innovative approach to technology which Oracle has long been known for.
What challenges are you facing in your business? What are you hoping to achieve? What are the roadblocks preventing you from reaching that future state? Breakthrough starts at Oracle OpenWorld. It's where solutions and successes begin—where experts, customers, and peers come together in one place to discuss what works.
Designed for attendees who want to connect, learn, explore and be inspired, Oracle OpenWorld offers numerous educational sessions led by hundreds of customers and partners sharing their experiences, first hand.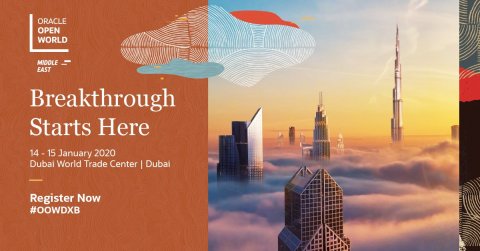 With interactive demos and hands-on labs, plus exhibitions from partners and customers from around the world, Oracle OpenWorld has become a showcase for leading cloud technologies, from Cloud Applications to Cloud Platform and Infrastructure.
It all starts here. The spark of an idea. Hard-earned knowledge of what actually works. The insights within data to make the previously undreamed of possible. Every transformative change has a beginning, and requires people to put in the work. Join the brilliant, hard-driving, stubborn, inspired, passionate people redefining what's achievable, and the technology empowering them, at Oracle OpenWorld.
Across two days, immerse yourself in the infinite possibilities of a data-driven world.
DAY 1 | Insight Starts Here | Outpace Change with Intelligence
Explore how leading companies—faced with an ever-accelerating pace of change—are unlocking insights with data to re-engineer the core of their business, elevate the value they deliver to customers, pioneer new ways of working, and drive completely new opportunities.
DAY 2 | Innovation Starts Here | Technology-Powered Possibilities
Dive deep into the transformational and autonomous technologies fundamentally changing work and life. Fuel innovation by pulling value from vast amounts of data at scale and unleashing opportunities with AI and machine learning.
Gain the benefits of being there in person, and join in the free-flowing exchange of ideas that will spark the next growth engine for your organization and shape the future of your company. It's all here. Will you be?
Bold ideas. Breakthrough technologies. Better possibilities. It all starts here.