Dubai Police has reportedly started training officers to use a flying motorbikes that will be introduced to the service by 2020, according to a tweet by the Dubai Media Office.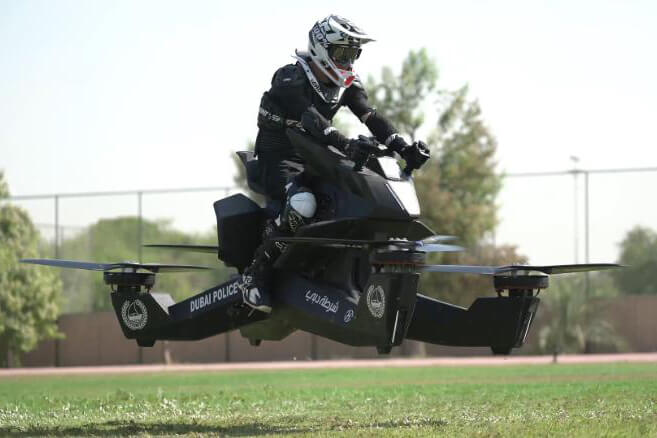 According to Brigadier Khaled Al-Razooqi, Director General of Dubai Police, the hoverbikes will be used to patrol the city and access "hard to reach" areas.
California-based startup Hoversurf has revealed a prototype of the flying bike during last year's GITEX Technology Week. The Dubai Police has then expressed interest in adding a fleet of the vehicles to its workforce.
Hoversurf has now reportedly gifted Dubai Police its first serial production unit of the S3 2019 electric vertical take-off and landing (eVTOL) vehicle and has begun training officers to fly it.
The Hoversurf, a cross between a drone and motorcycle, can seat a police officer or be controlled remotely.
"Currently we have two crews already training (to pilot the hoverbike) and we're increasing the number," Brigadier Al-Razooqi told CNN.
Hoversurf chief operating officer Joseph Segura-Conn explained that ideal candidates will be able to ride a motorcycle and have drone operating experiences.
The Dubai Media Office has published a video of one officer learning to pilot the hoverbike.
eVTOLs are typically powered with battery technology, but said advances – particularly in battery energy density, and introducing new materials like graphene – could increase flight times in the future, CNN reported.
Both Hoversurf and Dubai Police said they were working towards improving the technology to power the vehicles.