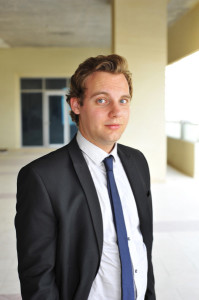 Have you ever seen the TV show, Black Mirror? Created by UK-based writer Charlie Brooker, the programme deals squarely with the dark side of technology, and the dire consequences we could find ourselves in, should we allow monumental innovations to catch on too quickly.
Regular watchers would be forgiven for feeling a little squeamish about emerging technological trends. For some, the invasion of the smartphone into almost every aspect of our private lives is already too much. But I'm afraid the worst is yet to come for anyone who feels uneasy about the pervasiveness of technology – on the first day of GITEX 2013, I glimpsed a future that could have been straight out of a Black Mirror episode.
Anyone who visited the Sharp stand in the InfoComm hall will know what I'm on about. The vendor was all about interactive displays this year, which was certainly interesting enough. However, what stuck in my mind was the fact that the solutions looked like a sort of pre-cursor to the depressing events in Fifteen Million Merits, the second episode from Black Mirror's first season.
At Sharp's stand, visitors could find an interactive video wall, loaded with apps that let you control what's happening on screen simply by waving your hands. There was also an interactive mirror, which displays advertisements on its shiny surface, and there was a digital changing room, which covers an image of yourself in whatever you're looking at buying.
No doubt it's superbly fun to play around with this new technology, but are we taking this digital stuff a little too far? That's what Fifteen Million Merits tries to ask anyway – in it, a totalitarian regime forces people to reside in tiny rooms, which have giant screens for walls. Instead of living real lives, the population lives through digital lives, buying clothes and accessories for their avatars, liking things on social networks and playing interactive games with their screens. And because the screens react so naturally to their human stimuli, everyone is under the impression that such a relationship with technology is, well, normal.
Of course, it's not normal to be all-consumed by technology, and I believe that most people realise the need for a healthy balance between physical and virtual interaction. But am I right in believing this? Head out to any restaurant in Dubai, and I guarantee you'll see at least one set of parents placating their kids by simply giving them an iPad to play with at the table. Earphones in, eyes down, these children are left in their digital worlds while the parents relax and enjoy a lovely meal together. But isn't it wrong to develop such a relationship with technology at such an early age? Given I'm not a parent, I can't say, but it certainly makes me uneasy.
Now, I'm not saying that Sharp has such a bleak future planned for all of us with its new solutions. All it was doing at GITEX was showing off the cutting edge of what's currently possible. And there are many, much less nefarious, applications for these solutions, so the company should be commended for bringing them to market.
But such technology could lead us down the wrong path. Sharp has given us a glimpse into the future with its interactive displays. Whether it's a bright or bleak future is entirely down to us.