Technology was a great help during the Covid 19 pandemic, but now that it's mostly over, will 2022 be the year where immersive reality experience becomes mainstream?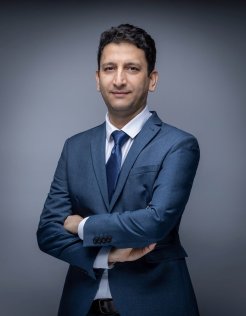 After all, assimilating technology in our lives usually takes some time. However, it is observed that certain trends including the metaverse and the rapid development of some technologies have made this possibility closer than ever before. Industry research suggests robust consumer demand for VR and AR products.
According to Fortune Business Insights, the global virtual reality market is predicted to grow from $6 billion in 2021 to over $80 billion by 2028. According to Statista, the AR and VR industry in the United Arab Emirates (UAE) amounted to an overall revenue of 81.61 million U.S. dollars in 2021 and is estimated to increase to 175.34 million U.S. dollars by 2027.
In addition, an unprecedented number of AR and VR products have been rolled out by tech giants including Sony, Panasonic, HTC, and Lenovo in CES this year, an annual trade show for Electronics that takes place in Las Vegas. With advanced software, smaller hardware, high fidelity screens and more user-friendly interface, this year's product rollout suggests that VR and AR are the future of consumer technology.
In this backdrop, Abrar Ullah, Associate Professor and Director of Postgraduate Studies at the School of Mathematical and Computer Sciences, Heriot-Watt University Dubai, discusses new experiences powered by AR and VR that will further the market's growth:
Travel Experiences:
The disruption that the travel and tourism industry experienced during the COVID-19 pandemic has prompted the use of advanced technologies such as VR and AR. Thanks to this technology, travellers can now test a location before spending money to travel there. Using virtual experiences, people can now make smarter decisions and familiarise themselves with it to get an idea of the trip's expenses.
In addition, some companies within the travel industry are developing augmented reality apps, which allow tourists to enhance physical locations and tourist attractions. This may allow a user to point their smartphone at a building or landmark and learn more about it, in real-time.
The Metaverse:
By now, we are already familiar with the role of AR and VR in enabling an immersive, experiential environment, attributes that are central to the concept of the metaverse. Recently, several tech giants have acquired video gaming companies. Metaverse, in the form of popular games, is already underway.
For example, Microsoft's acquisition of Activision Blizzard and Sony's purchase of Bungie is proof of that. With the help of AR, virtual objects can be embedded into the real physical world, and VR immerses you in a 3D virtual environment using 3D computer modelling.
Retail Experiences:
According to The App Solutions, custom software development company, Shopify, one of the biggest platforms for e-commerce experienced a 94% increase in conversions after implementation of the AR in their stores. VR and AR can enhance the customer's experience of the product through enabling them to try it on and get a feel of it. VR technology enables customers to personalise their shopping journey.
Many companies are realising the importance of VR and AR technology in helping them create connections with their brands. Nike is a good example of this; the apparel giant has acquired RTFKT studio, a digital collectibles company, which will allow the company to sell virtual sneakers to outfit people's avatars in the metaverse. The real estate market also used the full potential of virtual tours during Covid 19 and it has now become an integral part of their marketing strategies for efficient resource utilization and better customer experience.
Enhanced Training and Education
One of the most significant growth areas for AR and VR technology includes a more engaging and immersive educational environment. The disruption in education caused by COVID-19 highlighted the importance of accessible education and training imparted online and remotely. Using VR technology, students will be able to visualise concepts, making them easier to understand.
In addition, students will be able to access resources and expertise anywhere in the world through self-guided learning. This will give them the flexibility required to learn at their pace and deepen their knowledge in their fields of interest.
Although AR and VR developments have long been underway, their development has been accelerated in recent years. The disruption caused by the pandemic highlighted the importance of staying connected to our jobs, education, and other aspects of our lives regardless of our geographical location.
AR and VR are facilitating possibilities that we previously couldn't imagine would be a reality, whether through revolutionising our shopping experiences, travel and more. As we become more familiar with the place of AR and VR in our lives, it will become a norm for businesses in the foreseeable future.