Sakkeer Hussain, Director – Sales & Marketing, D-Link Middle East & Africa, tells Anita Joseph, Editor, Reseller ME in an exclusive interview, how D-Link is committed to innovation and helping its partners in their digital transformation journey.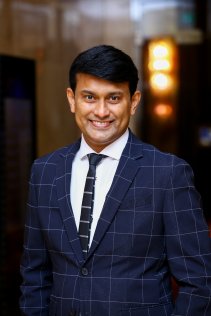 Digital transformation has accelerated in the last one year. How has D-Link's journey been and what are the key learnings?
D-Link Middle East and Africa has grown significantly in 2020, despite being a difficult year for the market. We experienced a definite growth by unveiling high demand products last year which helped businesses during the pandemic. The journey has been productive as well as full of learnings for us and for our partner ecosystem.
Over the last year we have seen remote working models being implemented almost overnight to adhere to the social distancing requirements. This has greatly accelerated the demand for networking and cloud range of products. To sustain and succeed with remote business models, organizations require robust technologies that support network performance. Technologies such as IoT, cloud, 5G, Wi-Fi 6, cybersecurity and other networking solutions will play a critical role in driving the growth of the industry going forward.
One of the key learnings has been that Business Continuity Plans are very important and must be in place well in advance, no matter the size of the company. 2020 has reinforced the fact that the future is digital-, cloud-, software- and applications-led. If businesses are not seriously planning to digitally transform, then they risk not being able to effectively communicate and engage with customers, as well as suffer huge losses in the next crisis. Another crucial learning is that securing your business comprehensively must be the first priority before anything else, especially in an increasingly digital world.
 Tell us more about D-Link's commitment to support its regional partners.
D-Link is dedicated to supporting partners with useful tools, resources, and the know-how of managing and scaling their business to new heights as well as to acquire a large customer base.
D-Link's partner ecosystem comprising resellers, VARs, systems integrators and solutions providers, have the opportunity to grow their business portfolio, significantly boost their profitability, and get the solutions to the market faster, through our elaborate programs and resources.
Our channel network has easy access to all our marketing, sales and partner-specific resources. Partners are also able to enhance their business profile by adding D-Link's business class solutions to their product portfolio, and offering customers latest advanced technologies to meet their business objectives.
Channel partners are the core of D-Link's business. We are committed to building our partners' business growth for the long-term and enabling them to leverage and unlock all the market opportunities.
At a time when spending (both consumer & commercial) is being curbed, have channel partners had to lower their revenue growth expectations for the foreseeable future?
Currently, the market continues to be challenging as COVID-19 restrictions are still effective in most countries and customers are even more cautious with their budgets. But that doesn't mean there are no opportunities or partners have to lower their revenue growth expectations.
I would say partners are in the best possible place because their role is to act as the bridge to help customers be connected with cutting-edge technologies. They have the unique knowledge of both worlds – what customers need and which technologies can help solve those challenges. They should be going beyond just selling products to being customers' trusted advisors, especially at a time like this, to help achieve business outcomes.
Organizations across verticals are accelerating their digital transformation journeys – transitioning their workloads to complete cloud and software environments, seeking robust cybersecurity solutions and deploying automation and remote technology innovations. Now more than ever, customers require experts to help them make these changes and meet their digital objectives at a quick pace. This is where channel partners can continue to play a critical role in creative ways.
Many organizations are also increasingly outsourcing their IT needs and partnering with managed service providers, which is another avenue of opportunity for the channel. By identifying areas where they have core strengths in, understanding current market trends and being proactive, channel partners can truly become the champions that customers seek.
I believe partners should not lower their revenue growth expectations but instead adopt a more positive outlook and find new areas of opportunity by thinking out of the box.
What are some of the main trends and opportunities in the digital connectivity solutions market today?
Although remote working models were accelerated as a necessity of a crisis, according to recent reports, it is here to stay; especially as both businesses and employees experience its advantages. This means organizations will continue to need advanced digital connectivity solutions to support its remote working policies and models. Customers will have to invest in solutions around IoT, cloud, 5G, Wi-Fi 6, cybersecurity and other networking technologies that offer employees flexibility, speed, seamless collaborations and uninterrupted connections. Subscription models and managed services will increasingly be adopted. This all amounts to increased opportunities for the technology industry and channel partners.
 What are some of the new, cutting edge products and services that D-Link has in the market right now?
Right from the beginning of this year, D-Link has already unveiled several innovations.
D-Link's latest offerings are around mydlink, Wi-Fi 6, 5G, and 2.5 Gigabit Ethernet solutions that digitally transform the home to meet users' needs during and post pandemic.
The new DUB-E250 is the smallest USB-C 2.5G Ethernet Adapter on the market that breaks network bottlenecks by enabling 2.5 times the bandwidth of a Gigabit ethernet connection and makes feasible many more high-performance online activities.
The DMS-106XT is our new unmanaged switch that accelerates network efficiency and delivers uninterrupted online experiences, which are increasingly becoming crucial in both business and personal lives.
D-Link has also presented its latest DCS-8300LHV2 Full HD Wi-Fi Camera with AI-based person detection. This intelligent camera can identify human motion, minimizing false alarms and ensuring that users get the alerts that matter. Not only does the DCS-8300LHV2 capture video in Full HD 1080p with a 120-degree field of view, but it also features 360-degree adjustable positioning and 5m night vision so that users see everything, even in the dark.
We have also announced our new COVR-X1870 Series Whole Home Mesh Wi-Fi 6 Systems, including multi-pack options that are all equipped with Wi-Fi 6 and mesh technology to provide faster speeds, greater capacity, and less network congestion for the modern device-dense smart home.
From launching solutions like D-Link Thermal Solution Fever Screening Kit and D-Link Temperature Measurement Face Recognition Terminal suite of products to remote work management solutions such as the Nuclias Managed Wireless Networking Solution portfolio, D-Link has also been at the forefront of innovation over the past year.