Harrison Albert, Regional Director, D-Link Middle East and Africa, tells Anita Joseph, Editor, Security Advisor Middle East, how Gajshield's context-based approach to security helps organizations find anomalies, reduce false alarm and prevent intentional & unintentional data exploitation with great efficiency.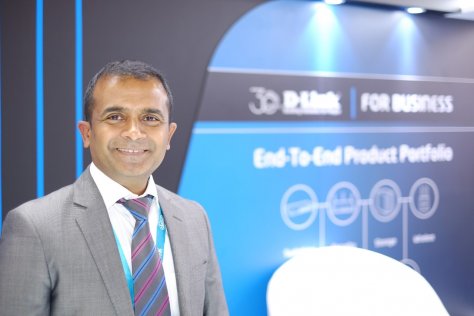 Security of cloud devices is a huge challenge. In this context, how do you ensure the security of your cloud product and service offerings?
GajShield's cloud product and services are protected using multiple layers of security. Data security is at the core of GajShield's business. We take personal data protection seriously with highest privacy and security standards. GajShield processes only limited amount of personal data with the consent of its customers, all of which is encrypted or anonymised. GajShield uses its own state-of-the art operational security technology like Intrusion Prevention System, Insider risk protection and secure access to its infrastructure through multi factor authentication with safe credentials. GajShield's infrastructure is hardened against DDOS attacks and traffic is monitored round the clock. GajShield's data centers are configured with fail-over capabilities ensuring availability and resilience of its services in case of technical incidents.
Gajshield is at the front of security, especially data security. Tell us more about the company's data leak prevention solutions.
 The Data Leak Prevention Solution is an integral part of our Data Security Firewall and acts as a core solution that helps prevent data leak through various platforms. It identifies, monitors, logs and prevents misuse and exploitation of the data when transferred from a network through deep content inspection and a contextual security analysis of transactions, DLP systems act as enforcers of data security policies. They provide a centralized management framework designed to detect and prevent the unauthorized use and transmission of your confidential information. DLP protects against mistakes that lead to data leaks and intentional misuse by insiders, as well as external attacks on your information infrastructure.
How effective is GajShield's context-based approach to security, in comparison to traditional firewall capabilities?
Based on our context security approach, we have developed a newer Contextual Intelligence Engine that allows to gain advanced visibility and understanding of data transaction over applications that uses network. Context based security is a step ahead from traditional firewall capabilities that uses deep inspection to identify various data contexts at different levels for advanced security while the Contextual Intelligence Engine understands the application and its context. With the ability to scrutinize data transactions over Web, SAAS, Network, etc., combined with Machine Learning, contextual intelligent engine helps in finding anomalies and has proven to have reduce false alarm and preventing intentional & unintentional data exploitation with great efficiency.
Ensuring the safety of email communications is a challenge that most companies still find daunting. How is Gajshield helping, in this context?
E-mail being the primary means of business and official communication, it is the most attacked medium to find way into the enterprise's network. Companies of all sizes face this daunting challenge. While E-mail threats move fast, and malicious files look more like normal files that are often used for communication.
GajShield E-mail Security enables enterprise users to communicate securely and protects them from latest email-borne threat vectors like ransomware, advance malware, spam, phishing and data leak using its unique Contextual Intelligence engine with multi-layered approach to security. Our Data Security Firewall identifies attacks and categorises it into various predefined categories to help enterprise analyse threats and take necessary actions based on intelligent and valuable actionable insights.
 What are some of the important security aspects that companies need to keep in mind, to secure their data and devices?
Keeping your data secure in today's digital world is critical for your business survival. The first step towards data security is visibility. Be aware of where your sensitive data is residing and get contextual visibility of data in motion. Classifying and categorizing data is key to its protection. Ensure that data security policies are setup to protect against breaches of critical data at all points of entries and exists, including your cloud infrastructure. Ensure only authorized users have access to it. Enable contextual visibility to get deep understanding of data and to also connect data to application and user, help you in setting up rules to prevent unauthorized users from sending sensitive data out of your infrastructure. Setup BYOD policies to minimize network security risks and finally train you employees and make them a key stake holder in your security strategy and not leave it to only technical staff to protect your data.